2021 MPSF Men's Volleyball Championship
Complete Fan Guide To MPSF Men's Volleyball Championships
Complete Fan Guide To MPSF Men's Volleyball Championships
The seven men's volleyball teams in the MPSF will kick off the 2021 MPSF Championship Tournament in Provo, Utah.
Apr 22, 2021
by FloVolleyball Staff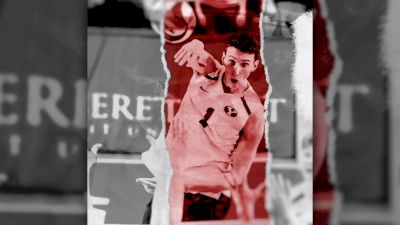 Starting Thursday, the seven men's volleyball teams in the Mountain Pacific Sports Federation will kick off the 2021 MPSF Championship Tournament in Provo, Utah. No. 1 seed and host BYU welcomes the event to the Smith Fieldhouse for the fifth time in the last eight years and the eighth time overall.
Watch 2021 MPSF Men's Volleyball Championships
April 22-24
Although BYU tops the standings with a 17-3 record, none of the teams in the conference have been truly dominant or totally without bright spots, which should make for an exciting tournament. The Cougars' three losses came at the hands of UCLA to open the season on February 4, Grand Canyon on February 25, and UCLA again on April 10 in the Cougars' last match of the regular season.
All seven players listed as seniors or graduate students on the 2020 BYU roster returned to take advantage of their extra season of eligibility. Among that group are Puerto Rican opposite Gabi Garcia Fernandez, the 2020 AVCA National Player of the Year, and fellow starters setter Wil Stanley, outside hitter Zach Eschenberg, and middles Miki Jauhiainen and Felipe de Brito Ferreira. Junior libero Mitchel Worthington and his classmate outside hitter Davide Gardini round out the starting lineup.
As the top seed in the seven team tournament, BYU has a bye in the quarterfinal round of the conference tournament, and will face the lowest remaining seed in the semis on Friday.
No. 2 seed UCLA, which faces No. 7 Concordia Irvine in the quarters Thursday, enters the tournament riding high after that defeat of BYU to end the regular season, but the Bruins have had their fair share of ups and downs since the start of action in late January. Their 14-5 record features those two extremely notable wins over BYU and a five-set victory over No. 3 seed Pepperdine, but also losses to No. 5 seed USC and Concordia Irvine.
Watch 2021 MPSF Men's Volleyball Championships
April 22-24
UCLA made a couple of key lineup changes prior to the regular season finale versus BYU. Head coach John Speraw moved Cole Ketrzynski from opposite to outside and brought Kevin Kobrine in on the right pin. Ketrzynski finished the match with 20 kills and four errors to hit .421; Kobrine led the match with 23 kills and just four errors to hit .500. The Bruins were down 18-24 in the third set when Ian Parish's kill put Austin Matautia behind the service line. The senior went on a six-point run, including serving two aces to tie the match at 24-all and give the team a chance to win the set and go up 2-1, which they did. Matautia had five aces total in the match.
With all the season-ending drama between BYU and UCLA, it's easy to forget about the excellent season Pepperdine has had, especially since the Waves last played on March 30, forced to cancel their final regular season matches due to COVID protocols. Pepperdine's only losses have come at the hands of BYU and UCLA, and the squad is led by a trio of talented seniors in outside hitters Noah Dyer and Spencer Wickens and middle Austin Wilmot, as well as redshirt sophomore opposite Jacob Steele and freshmen setter Bryce Dvorak, middle Andersen Fuller, and libero Trey Cole.
The Waves play No. 6 seed Stanford in the quarterfinals on Thursday.
Grand Canyon, seeded fourth, has the ability to dish out some upsets, as evidenced by its win over BYU back in February. Their three pin hitters Hugo Fischer, Camden Gianni, and Christian Janke led the team with 186, 173, and 143 kills, respectively, and are also all exceedingly effective from behind the service line. Gianni leads the MPSF with 0.65 aces per set (30 total on the season to date), while Janke and Fischer are not too far behind with 21 and 14 aces, respectively.
Watch 2021 MPSF Men's Volleyball Championships
April 22-24
The 8-10 Lopes will face No. 5 seed USC in the first round of tournament play. The two teams have played each other three times already in 2021, with Grand Canyon winning all three meetings.
Speaking of USC, the 5-12 Trojans come into the tournament on a four-match losing streak, but a victory over UCLA on February 13 hints at the potential of this squad. That big victory opened the season for USC after the team was forced to postpone their first three matches and pause practice for 10 days due to "COVID-19 issues in its program."
This USC team features a solid group of seniors, including kills leader Billy Fauntleroy, libero Cole Paxson, setter Chris Hall, middle Vecas Lewin, and pin hitter Clay Dickinson. In the regular season finale versus Grand Canyon, Fauntleroy set a new career-high with 31 kills — the most by an MPSF player this season — and Paxson recorded a new personal best as well with 19 digs, also the most by an MPSF player this season. The match ended in a loss for the Trojans, but those statistics, along with the final score (33-31, 25-18, 22-25, 17-25, 15-11) show just how close the match was and hint at what we can expect in Thursday's rematch between the two teams.
If you follow men's volleyball at all, then you will know about the plight of the Stanford men's volleyball team. In July, the team found out that it was among 11 programs being cut from the Stanford Athletics Department, and the 2020-21 season would be their last. Then, as other teams began training in the fall or winter, Stanford remained on the sidelines, waiting for Santa Clara County's COVID status to drop to a level where they would be able to start training again. That didn't happen until early February, so as we head into the postseason, the Cardinal have only been playing together for two and a half months.
Watch 2021 MPSF Men's Volleyball Championships
April 22-24
They finished the regular season with a 3-13 record. Those wins came over Grand Canyon on March 19 and back-to-back over Concordia Irvine to conclude the regular season. Libero Justin Lui was named MPSF Defensive Player of the Week on April 5, averaging three digs per set in the CUI matches and making just one error on 55 reception attempts, but really, this isn't a team of stars. It's a team that has been trying to make up for lost time and find a way to gel and settle on a solid lineup in time for the postseason. Certainly, they have plenty to play for, as Thursday's match versus Pepperdine could be the final match in program history.
Finally, Concordia Irvine comes in as the bottom seed, matching Stanford's 3-13 record, but of course losing both head-to-head matches to the Cardinal. The Eagles season featured a two-week COVID-related pause in February, but then they returned to action and scored an upset of UCLA on February 27, the first time CUI had beaten UCLA in program history. Raymond Barsemian led Concordia with 11 kills in that match, just as he's done throughout the season. He tops the Eagles' stat sheet with 241 kills and ranks second on the team with 18 aces and 27 blocks. The MPSF named the 6-6 grad student its offensive player of the week on March 15 after he led his team to a 2-1 finish in a three-match series versus USC, tallying 60 kills and hitting .373.
Top Players To Watch
The lineups of the seven teams in the Mountain Pacific Sports Federation are absolutely dripping with talent. Four MPSF-ers have earned national player of the week honors from the AVCA so far this season, and the reigning national player of the year also calls the conference home.
Watch 2021 MPSF Men's Volleyball Championships
April 22-24
Keep reading for a list of some of the top players in the MPSF (presented in alphabetical order), all of whom will be competing this week at the MPSF Championship in Provo, Utah.
Raymond Barsemian, 6-6, Outside Hitter, Concordia Irvine
Raymond Barsemian leads the MPSF and ranks fourth nationally with 4.30 kills per set. The La Crescenta, California, native is in his fourth season competing for the Eagles, and he led his team in kills in 2018, 2020, and so far in 2021. He earned conference offensive player of the week honors on March 15 following a 60-kill performance in three matches against USC.
Gabi Garcia Fernandez, 6-7, Opposite, BYU
Hailing from San Juan, Puerto Rico, Gabi Garcia Fernandez originally committed to Cal Baptist, and only when Cal Baptist announced that it was getting rid of its program did Fernandez find his way to BYU where he had become what one can only describe as a superstar. He was having an unreal season in 2020 when COVID cut things short: he broke the BYU single-season ace record, despite the truncated season and led the nation with 5.46 points per set. He landed on the All-MPSF First Team, was the conference player of the year, a First Team All-American, and the AVCA National Player of the Year. This season, it's more of the saem. With 56 aces on the season, he's only 12 away from setting a new BYU career ace record, and he leads the team with 244 kills, hitting .343.
Hugo Fischer, 6-8, Opposite, Grand Canyon
One of three prolific points-scorers playing on the pins for GCU, Fischer leads his team with 186 kills, adding 14 aces, 61 digs, and 37 blocks. He's a two-time MPSF Offensive Player of the Week, and a 2020 Honorable Mention All-MPSF honoree. A native of Belgium, Fischer has competed for the Beligan national team and Waremme, the first men's league in Belgium.
Click here to check out the full list of top players to watch at the MPSF Men's Volleyball Championships!
Best Potential Matchups & Predictions
The point of this article is to set up the best matchups of the upcoming 2021 MPSF Men's Volleyball Championships and provide predictions, but here's the truth: every match in the tournament should be a good one.
Watch 2021 MPSF Men's Volleyball Championships
April 22-24
The No. 7 (aka last) seed has beaten the No. 2 seed, and the No. 6 seed has taken down the No. 4 seed. The No. 1 seed has lost matches to the No. 2 and No. 3 seeds.
Assume nothing and count no one out this week.
Quarterfinal #1: UCLA vs. Concordia Irvine
4 pm ET, Thursday, April 22
With No. 1 seed and host BYU receiving a bye in the first round, the MPSF tournament will feature three quarterfinal matches on Thursday. First up, No. 2 seed UCLA plays No. 7 Concordia Irvine at 2 pm local time. In this one, I have to go with UCLA. Not simply because of the seeding, but because something seems to have clicked for the Bruins in the days leading up to the tournament. They beat BYU on April 10 with a new lineup! Opposite Kevin Kobrine has 23 kills and outside Cole Ketrzynski! They hit .374 as a team! Austin Matautia went on a six-point service run to stave off six BYU set points, and he finished the match with five aces!
None of which is to say that Concordia Irvine doesn't have an upset in them. Afterall, they beat UCLA in five sets back on February 27, and fifth-year outside hitter Raymond Barsemian has been very impressive this year. But this article is all about making predictions, so redhot UCLA has to be my final answer.
Quarterfinal #2: Grand Canyon vs. USC
7 pm ET, Thursday, April 22
USC opened the season with an upset of UCLA, but since then the Trojans have not had any signature wins, so in this matchup, I'm going with the Lopes. USC and Grand Canyon played a double header in Los Angeles just two weeks ago and GCU won both meetings, in straight sets on Friday night and in five on Saturday. In both matches, a trio of Lopes came together to create a very impressive Grand Canyon offense: outside Christian Janke (32 kills in the two matches, hitting .456), opposite Hugo Fischer (21 kills on 63 total swings), and middle Kyle Thompson (22 kills and just one error, hitting .656 for the weekend). Fischer didn't play in GCU's final pair of regular season matches versus CUI, but redshirt senior David Kisiel stepped up to lead the team with 15 kills each night.
Quarterfinal #3: Pepperdine vs. Stanford
10 pm ET, Thursday, April 22
This is the quarterfinal where I see the biggest opportunity for upset, and not because Pepperdine isn't a great team. The Waves have been having an excellent season. They boast an 11-5 record and were ranked No. 5 in the latest AVCA national coaches poll. I'm making this upset call because Pepperdine hasn't played a match since March 28 — they've been sidelined due to COVID protocols for more than three weeks. And secondly, Stanford will be fighting for the existence of their program, or at least they'll feel like they are.
As you likely are aware, the Stanford administration announced that they would cut 11 varsity athletics programs at the end of the 2020-21 academic year, and men's volleyball was among that unlucky group. Since the announcement was made in July, alumni have been fighting to reinstate the programs and fundraising like crazy. A Stanford wrestler won a national championship in his weight class and generated tons of publicity for the plight of these 11 teams, and just last week, the alumni organization 36 Sports Strong was granted a meeting with the university president.
Stanford has a lot of reasons to play their hearts out on Thursday. This is a team that didn't get a chance to start training together until early February, so we haven't seen the full extent of what they can do yet, although an upset of Grand Canyon last month gave us a small peek at that potential. Maybe it's just that I want Stanford to get to play another day, or that no good predictions article would be complete without a big upset call, but I'm going with the Cardinal.
Click here to check out the semifinal and final predictions!
Tournament Schedule
Round

Day

Date

Time (ET)

Matchup

Watch Live

Quarterfinals

Thursday

4/22/21

4pm

Concordia Irvine vs. UCLA

Quarterfinals

Thursday

4/22/21

7pm

USC vs. Grand Canyon

Watch Live

Quarterfinals

Thursday

4/22/21

10pm

Stanford vs. Pepperdine

Watch Live

Semifinals

Friday

4/23/21

6pm

Highest seeded quarterfinal winners

Watch Live

Semifinals

Friday

4/23/21

9pm

BYU vs. Lowest remaining seed

Watch Live

Finals

Saturday

4/24/21

9pm

TBD vs TBD

Watch Live
Top Storylines