2021 MPSF Men's Volleyball Championship
Resilience Deemed The Theme Of Stanford Men's Volleyball Season
Resilience Deemed The Theme Of Stanford Men's Volleyball Season
From Covid to the program being cut along with 11 other Stanford sports, it's been a tough road for the men's volleyball team.
Apr 19, 2021
by Megan Kaplon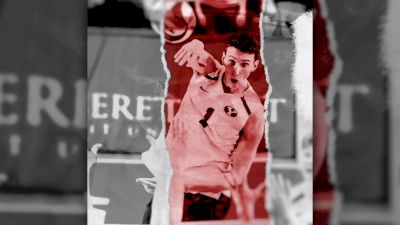 On a recent Wednesday afternoon, Cameron Kosty, son of Stanford men's volleyball head coach John Kosty, walked into his father's home office. "Dad," he said, "you're smiling. You're happy today."
Watch 2021 MPSF Men's Volleyball Championships
April 22-24
In a stretch of 13 months without much to be happy about, John Kosty was having a good day. Sure, the COVID pandemic nipped his team's 2020 season short and then just four months later, his university announced it would be cutting his program, along with 10 other varsity teams, citing an existing financial deficit made worse by the pandemic.
But on that day, Kosty had just recently learned that the team would be able to have fans at their upcoming home double header against Pepperdine, and he had spent the afternoon calling program alums and offering them tickets. The two matches might just be the last time the Cardinal men's volleyball team would ever play on the campus of Stanford University, and Kosty wanted to share the moment with the alumni who had been extra supportive of the program and contributed financially in its moment of need.
COVID struck again, however. The Pepperdine matches, originally scheduled for April 9 and 10 had already been moved to April 16 and 17 as the Pepperdine team waited out a COVID-instigated pause in competition, but as of the Wednesday before the new dates, the team was still not yet fully cleared to play and as such the matches were canceled.
It would almost be comical if it wasn't so heartbreaking. Junior libero Justin Lui said the team is kind of numb to these types of disappointments by now.
"We kind of literally expect anything that could possibly happen to happen," he said.
So with the Pepperdine matches canceled, Stanford has no choice but to keep moving forward and look ahead to the upcoming MPSF Tournament in Provo, Utah, April 22-24. The Cardinal enter the tournament as the No. 6 seed, narrowly avoiding being the bottom seed in a field of seven — the Cardinal and tournament No. 7 seed Concordia Irvine both finished the regular season with 3-13 records, but Stanford's two head-to-head victories over CIU gave them the advantage. In the first round, Stanford will face none other than the Pepperdine Waves, who were knocked down to the No. 3 spot in the conference standings by a UCLA surge at the end of the season.
It will be an interesting matchup: due to the COVID protocols, Pepperdine hasn't played since March 28. Stanford, on the other hand, didn't get to start training for the season until February 4 and prior to that hadn't been together since March 13, 2020.
Watch 2021 MPSF Men's Volleyball Championships
April 22-24
"We are going through what we normally go through in a fall, and our injuries and overuse injuries popped up about the same time as a fall training session," Kosty said. "We tried to avoid them this year, and for the most part we did, but we're heavily relying on underclassmen/freshmen and without the proper training in the weight room and the length of time to build up your body to handle an MPSF season."
Among those underclassmen are true freshmen starting outside hitters Luke Turner and Aidan Peters and sophomore setter Nathan Lietzke, but when it comes to leadership, seniors JP Reilly, Mason Tufuga, Leo Henken, and Kyler Presho have carried a heavy load this year.
"Kyler Presho has done a great job. Mason Tufuga has had a rough road through his college career and he has done a tremendous job of being so selfless this year and has filled every role I have asked him to fill, including coming in at the opposite position against Concordia in the fifth set and helping us beat Concordia a couple of Saturdays ago," Kosty said. "Then JP and Leo, I've been really proud of them too because they've had their fair share of injuries, and they still have their fair share of injuries, and they have done everything in their power to create a competitive atmosphere at practice every day and show the young guys how to really compete at a high level day in and day out, regardless of if I can actually hit a ball or not."
Absent from this year's Cardinal crew is Jaylen Jasper, a three-time AVCA Honorable Mention All-American opposite and the team's kills leader in two of the last three seasons. He chose to sit this season out, citing concerns about the pandemic.
"Jaylen is a big part of this team," Kosty said, "but we all understood that he has some concerns and I am thankful that he has respect, he has faith in his teammates and us and the comfort to make that hard decision."
Future plans weigh heavily on each and every member of the Stanford team. Multiple factors make the decision of what to do after this quarter ends exceedingly complex. For one, a Stanford degree carries such weight that transfering before graduating seems ill-advised, not to mention that the organization 36 Sports Strong, a group of Stanford athletics alumni working to get the 11 sports reinstated, has made some progress in recent days, including securing a meeting with Stanford president Marc Tessier-Lavigne which provided some hope that the programs might live to play another year.
Watch 2021 MPSF Men's Volleyball Championships
April 22-24
Every player's situation is unique, but Ontario native Lui shared some of the options he's considering.
"I'm looking at graduating this summer, finishing all my degree requirements and what not," he said. "So one option is to potentially go back to Canada to do grad school and play. Another option is to train volleyball full-time at the Canadian national team training center. Another option I'm looking at is exploring pro contracts. That's kind of hard to get but I'm still exploring that option. And then another option is continuing this coterminal program or my masters program at Stanford."
Kosty estimated that around half the team has entered the transfer portal, but really just to see what their options are.
"We've got some guys that are going to finish their education in three years ... so they do graduate with a Stanford degree but move on to a graduate school somewhere else and play," Kosty said. "Some would have graduated this year anyway and are in the transfer portal looking for graduate school opportunities for next year, and then others are freshmen that make the really, really hard decision of which one is more important."
Lui said heading into this season, despite the knowledge of the program's impending end date and coronavirus to boot, the team was optimistic that they could still compete with the best. Their delayed start date added a new layer of challenge, however, and they've managed to secure just three wins on the short season.
"I'm really just trying to enjoy my last few games playing with this team because I truly love all of my teammates," Lui said. "I'm just trying to soak up every moment and just have as much fun as possible on the court, laugh and enjoy the time together and just make as many plays as possible with the team."
Although the wins have been few and far between, each one has been pivotal for Stanford. Their first victory came on March 19 in a sweep of Grand Canyon, which was ranked No. 7 nationally at the time.
Watch 2021 MPSF Men's Volleyball Championships
April 22-24
"Any win this season is a huge shot in the arm for us," Kosty said, calling the Grand Canyon match "huge." "We had two goals coming in. One, we need to prepare for the MPSF tournament, and No. 2, is making sure everybody had the ability to play. And that's where a lot of guys got an opportunity that Friday night to come in and show what they can do, and they just played with so much heart that night. It was so much fun to watch them play. They played with energy and conviction, and they just took it to them and it was awesome, absolutely awesome. So much fun to watch."
The other two wins came over Concordia Irvine in what would ultimately be Stanford's final regular season matches and last matches (maybe ever) in Maples Pavilion.
After the late start and with so many underclassmen and true freshmen in the lineup, Stanford has been rapidly improving, and the other teams in the MPSF would be smart not to count out the possibility of a big upset in this week's conference tournament, especially when every win means extending the life of the program.
"We started and things were just shaky," Lui said. "Volleyball specifically is a hard sport to get everyone on the same page. It takes a lot of time to build that team chemistry and that team identity, so I think that was our biggest problem, trying to find that the way we work together while also trying to win at the same time.
Watch 2021 MPSF Men's Volleyball Championships
April 22-24
"But I think since then, specifically like with that Grand Canyon win and then after that we beat Concordia Irvine twice, I think we've definitely gotten the confidence and found our starting lineup for sure and it has allowed us to have more confidence when we play and just be better in executing what we need to execute. So going into the tournament, I think we're ranked last, but I feel pretty confident that we might be able to make an upset or something, so we'll see what happens. That's the hope."
The word 'resilient' came up repeatedly in conversations with members of the Stanford men's volleyball team, and having worked and developed and honed this quality over the last 13 months, they'll take it to the court on Thursday and see if resilience, combined with plenty of talent and good coaching, adds up to an upset and a chance to play another day.