2021 MPSF Men's Volleyball Championship
MPSF's Best Potential Matchups & Prediction
MPSF's Best Potential Matchups & Prediction
Every match in the 2021 MPSF Men's Volleyball Championship tournament should be a good one.
Apr 20, 2021
by Megan Kaplon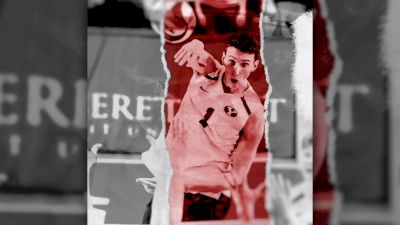 The point of this article is to set up the best matchups of the upcoming 2021 MPSF Men's Volleyball Championships and provide predictions, but here's the truth: every match in the tournament should be a good one.
Watch 2021 MPSF Men's Volleyball Championships
April 22-24
The No. 7 (aka last) seed has beaten the No. 2 seed, and the No. 6 seed has taken down the No. 4 seed. The No. 1 seed has lost matches to the No. 2 and No. 3 seeds.
Assume nothing and count no one out this week.
Quarterfinal #1: UCLA vs. Concordia Irvine
4 pm ET, Thursday, April 22
With No. 1 seed and host BYU receiving a bye in the first round, the MPSF tournament will feature three quarterfinal matches on Thursday. First up, No. 2 seed UCLA plays No. 7 Concordia Irvine at 2 pm local time. In this one, I have to go with UCLA. Not simply because of the seeding, but because something seems to have clicked for the Bruins in the days leading up to the tournament. They beat BYU on April 10 with a new lineup! Opposite Kevin Kobrine has 23 kills and outside Cole Ketrzynski! They hit .374 as a team! Austin Matautia went on a six-point service run to stave off six BYU set points, and he finished the match with five aces!
None of which is to say that Concordia Irvine doesn't have an upset in them. Afterall, they beat UCLA in five sets back on February 27, and fifth-year outside hitter Raymond Barsemian has been very impressive this year. But this article is all about making predictions, so redhot UCLA has to be my final answer.
Quarterfinal #2: Grand Canyon vs. USC
7 pm ET, Thursday, April 22
USC opened the season with an upset of UCLA, but since then the Trojans have not had any signature wins, so in this matchup, I'm going with the Lopes. USC and Grand Canyon played a double header in Los Angeles just two weeks ago and GCU won both meetings, in straight sets on Friday night and in five on Saturday. In both matches, a trio of Lopes came together to create a very impressive Grand Canyon offense: outside Christian Janke (32 kills in the two matches, hitting .456), opposite Hugo Fischer (21 kills on 63 total swings), and middle Kyle Thompson (22 kills and just one error, hitting .656 for the weekend). Fischer didn't play in GCU's final pair of regular season matches versus CUI, but redshirt senior David Kisiel stepped up to lead the team with 15 kills each night.
Quarterfinal #3: Pepperdine vs. Stanford
10 pm ET, Thursday, April 22
This is the quarterfinal where I see the biggest opportunity for upset, and not because Pepperdine isn't a great team. The Waves have been having an excellent season. They boast an 11-5 record and were ranked No. 5 in the latest AVCA national coaches poll. I'm making this upset call because Pepperdine hasn't played a match since March 28 — they've been sidelined due to COVID protocols for more than three weeks. And secondly, Stanford will be fighting for the existence of their program, or at least they'll feel like they are.
As you likely are aware, the Stanford administration announced that they would cut 11 varsity athletics programs at the end of the 2020-21 academic year, and men's volleyball was among that unlucky group. Since the announcement was made in July, alumni have been fighting to reinstate the programs and fundraising like crazy. A Stanford wrestler won a national championship in his weight class and generated tons of publicity for the plight of these 11 teams, and just last week, the alumni organization 36 Sports Strong was granted a meeting with the university president.
Stanford has a lot of reasons to play their hearts out on Thursday. This is a team that didn't get a chance to start training together until early February, so we haven't seen the full extent of what they can do yet, although an upset of Grand Canyon last month gave us a small peek at that potential. Maybe it's just that I want Stanford to get to play another day, or that no good predictions article would be complete without a big upset call, but I'm going with the Cardinal.
Watch 2021 MPSF Men's Volleyball Championships
April 22-24
Semifinal #1: UCLA vs. Grand Canyon
6 pm ET, Friday, April 23
If my predictions are correct, UCLA, Grand Canyon, and Stanford will move on to the semifinals, joining host and No. 1 seed BYU. BYU faces the lowest remaining seed, which would be Stanford, meaning UCLA and Grand Canyon would play in the first semifinal Friday afternoon.
I'm taking the Bruins again in this one. UCLA and GCU have played each other three times this season, and the Los Angeles squad has come out on top in all three meetings, utilizing a slightly different lineup each time. I also think beating BYU to conclude the regular season will give the Bruins an extra boost in the semifinals, as they'll be motivated to try and see the Cougars one more time when it really counts.
Semifinal #2: BYU vs. Stanford
9 pm ET, Friday, April 23
The magic ends here for my Cinderella squad. BYU playing in front of a home crowd on fresh legs after a bye through the first round... That's just too perfect of a situation for the Cougars, and I don't think Stanford will be able to overcome those odds. Add to that the fact that these BYU players and staff really feel like they had the talent to win it all last year. Given an extra year of eligibility for last year's seniors who have all returned, the Cougars will want to take full advantage of this opportunity to take care of unfinished business.
Final: BYU vs. UCLA
9 pm ET, Saturday, April 24
As I was going through these predictions, always in the back of my mind I knew I wanted to set up a rematch between UCLA and BYU in the final. And this is where the prediction element gets really hard for me. UCLA just beat BYU a couple of weeks ago, and the two teams are 2-2 this year head-to-head. UCLA's latest victory over the Cougars came with a new lineup and a very impressive serving run from Matautia. But that lineup won't be new to BYU anymore. You can bet the staff has studied every second that match film to figure out what they can do differently next time around. And magical serving runs that like definitely don't happen every day... So I guess where I'm going is I've got the home team in this one.
There's just too much on the line for BYU: winning in front of the home crowd, making up for what was lost last year, getting a conference championship for all the guys who came back for one extra year — putting their lives on pause to do so.
So BYU as 2021 MPSF champions is my call, but you can bet I'm going to be tuning in to see what really happens. That's the great thing about sports: you can predict it and debate it all day, but the reality has a special way of surprising you.