2021 MPSF Men's Volleyball Championship
Top Players To Watch At MPSF Men's Volleyball Championships
Top Players To Watch At MPSF Men's Volleyball Championships
The lineups of the seven teams in the Mountain Pacific Sports Federation are absolutely dripping with talent.
Apr 20, 2021
by Megan Kaplon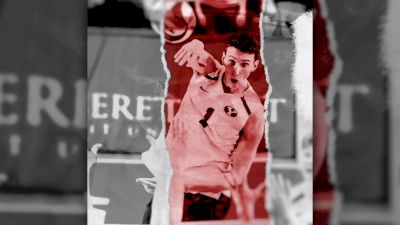 The lineups of the seven teams in the Mountain Pacific Sports Federation are absolutely dripping with talent. Four MPSF-ers have earned national player of the week honors from the AVCA so far this season, and the reigning national player of the year also calls the conference home.
Watch 2021 MPSF Men's Volleyball Championships
April 22-24
Keep reading for a list of some of the top players in the MPSF (presented in alphabetical order), all of whom will be competing this week at the MPSF Championship in Provo, Utah.
Raymond Barsemian, 6-6, Outside Hitter, Concordia Irvine
Raymond Barsemian leads the MPSF and ranks fourth nationally with 4.30 kills per set. The La Crescenta, California, native is in his fourth season competing for the Eagles, and he led his team in kills in 2018, 2020, and so far in 2021. He earned conference offensive player of the week honors on March 15 following a 60-kill performance in three matches against USC.
Gabi Garcia Fernandez, 6-7, Opposite, BYU
Hailing from San Juan, Puerto Rico, Gabi Garcia Fernandez originally committed to Cal Baptist, and only when Cal Baptist announced that it was getting rid of its program did Fernandez find his way to BYU where he had become what one can only describe as a superstar. He was having an unreal season in 2020 when COVID cut things short: he broke the BYU single-season ace record, despite the truncated season and led the nation with 5.46 points per set. He landed on the All-MPSF First Team, was the conference player of the year, a First Team All-American, and the AVCA National Player of the Year. This season, it's more of the saem. With 56 aces on the season, he's only 12 away from setting a new BYU career ace record, and he leads the team with 244 kills, hitting .343.
Listen to Fernandez discuss the upcoming tournament: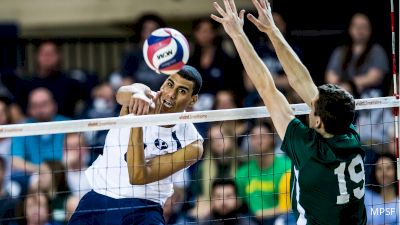 Hugo Fischer, 6-8, Opposite, Grand Canyon
One of three prolific points-scorers playing on the pins for GCU, Fischer leads his team with 186 kills, adding 14 aces, 61 digs, and 37 blocks. He's a two-time MPSF Offensive Player of the Week, and a 2020 Honorable Mention All-MPSF honoree. A native of Belgium, Fischer has competed for the Beligan national team and Waremme, the first men's league in Belgium.
Davide Gardini, 6-9, Outside Hitter, BYU
Davide Gardini is the rare player who can lead his team in digs and rank second in kills, and with 231 kills and 126 digs he's doing just that at BYU this season. Son of three-time Olympic volleyball player Andrea Gardini and a native of Ravenna, Italy, Gardini is still only a sophomore by NCAA eligibility standards. In 2019, he earned the title of MPSF Freshman of the Year, and then in 2020 he was the only player on BYU's team to play in all 64 sets prior to the cancelation of the season, once again leading the team in digs and finishing No. 2 in kills.
Watch 2021 MPSF Men's Volleyball Championships
April 22-24
Chris Hall, 6-2, Setter, USC
If you've earned a starting setter spot on an MPSF roster, you're elite in your position. But only one guy leads the league in assists per set, and that's USC's Chris Hall. A part-time starter as a freshman, Hall took the reins for the Trojans full-time in 2019 and finished the season with 1,027 assists. Last year, an injury relegated him to the bench after just nine matches, but this year he's back in good health, topping the conference stats sheet with 10.30 assists per set.
Cole Ketrzynski, 6-8, Outside/Opposite, UCLA
Still just a freshman if you're going by NCAA eligibility standards, Cole Ketrzynski has been impressive for UCLA. He's the team's kills leader with 222 on the season, hitting .322 and adding 31 aces, 69 digs, and 36 blocks. As of the last match of the regular season, UCLA coaching staff moved Ketrzynski to the left side, with great results, so we expect to see him out there again come tournament time.
Kevin Kobrine, 6-5, Outside/Opposite, UCLA
Kevin Kobrine didn't get much action in 2020, his redshirt freshman season, but he's stepped into a key role for the Bruins as they head into the MPSF tournament. The UCLA coaching staff moved Ketrzynski from opposite to outside, filling in the open spot on the right side with Kobrine. Kobrine finished the match with 23 kills and just four errors, hitting .500. He led the Bruins to an upset of the Cougars and was subsequently named AVCA National Player of the Week.
Sam Kobrine, 6-3, Setter/Outside Hitter, UCLA
He sets, he hits: UCLA senior Sam Kobrine (older brother of Kevin) can do it all, although lately he's been doing more setting than anything else and has 728 assists so far in 2021. The elder Kobrine has played in all 73 of the Bruins' sets this year, adding 57 kills, 10 aces, 119 digs, and 35 blocks to his stats line. His 61 assists versus Stanford on March 23 is tied for the conference season high, and he's the only player in the country to boast a triple-double. He achieved that impressive feat on February 13 versus USC, collecting 14 kills, 15 assists, and 10 digs.
Watch 2021 MPSF Men's Volleyball Championships
April 22-24
Luke Turner, 6-6, Outside Hitter, Stanford
Talk about a challenging season. True freshman Luke Turner arrived on campus at Stanford in the midst of a pandemic, knowing that his team was scheduled to be cut following the 2020-21 season, and then he's asked to start for this team, going up against some of the best teams in the nation, hitting against blockers on the other side of the net in their fourth, fifth, or sixth years competing at the college level. But this rookie, along with a few others on the Stanford squad, has stepped up to the challenge. He's third on the team with 94 kills, hitting .231, and he played a key role in Stanford's defeat of Grand Canyon back in March. In that match, he had 12 kills, five blocks, and four digs.
Spencer Wickens, 5-11, Outside Hitter, Pepperdine
Pepperdine hasn't played since late March, and it was in those final matches that Spencer Wickens really came alive for Pepperdine, hitting .500 and averaging a team-best 3.82 kills per set in three back-to-back victories over Grand Canyon. With 6-6, 6-7, 6-10 (!) pin hitters the norm these days, the 5-11 senior outside hitter is perhaps not who you would expect to be leading the No. 5 team in the country, and yet he's collected a team-high 184 kills, hitting .338, and adding 10 aces, a team-high 101 digs, and 18 blocks.
Austin Wilmot, 6-10, Middle Blocker, Pepperdine
Austin Wilmot transferred from UC Irvine to Pepperdine prior to the 2020 season. Last year, in the shortened season, he earned Honorable Mention All-American status and Second Team All-MPSF. This year, he's the conference's No. 2 blocker with 1.10 blocks per set, and on March 16, the AVCA named him the national player of the week.