2021 Mizuno Big South National Qualifier (Courts 1-80)
Everything You Need To Know About Mizuno Big South National Qualifier
Everything You Need To Know About Mizuno Big South National Qualifier
This weekend volleyball players will invade Atlanta for the 2021 Mizuno Big South National Qualifier.
Mar 30, 2021
by FloVolleyball Staff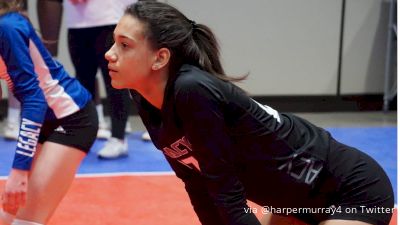 Above: Harper Murray of Legacy 16-1 Adidas discusses her team and the upcoming tournament.
This weekend volleyball players will invade Atlanta for the 2021 Mizuno Big South National Qualifier.
Watch 2021 Big South National Qualifier LIVE!
April 2-4 | 8AM ET
With the exception of 2020, this has been a seasonal pilgrimage since 2005, and this year more than 1,500 girls club volleyball teams will gather in Atlanta for the Big South National Qualifier, the largest girls volleyball national qualifier held over a single weekend.
Big South is able to maintain that designation even in this weird year when many other tournaments have been forced to limit their registration numbers or spread out over two, or even three, weekends. Big South tournament organizers accomplished this magic by renting out the entire Georgia World Congress Center, all three halls, for the tournament dates, April 2-4.
Check out the full 2021 Mizuno Big South National Qualifier schedule here!
By qualifier, of course, I mean that berths to the 2021 USA Volleyball Girls Juniors National Championship (June 26-July 5 in Las Vegas) and USAV Girls 18s Junior National Championship (April 23-25 in Columbus, Ohio) are on the line at Big South. Over the course of the 2021 season, there are numerous qualifiers located all around the country, offering many opportunities for teams to score a spot in the prestigious national tournament in the Open, USA, or American divisions.
In Open and USA, if the qualifier field has 24 or more teams in it, three bids will be awarded, while in American, you have to have at least seven teams competing in order for one bid to be awarded. (GJNC also has National and Patriot divisions, but bids for National are awarded through the 40 USAV regions, while Patriot is open to any team willing to register and pay the entry fee.)
Watch 2021 Big South National Qualifier LIVE!
April 2-4 | 8AM ET
So far this year, there have been 12 qualifiers, either 18s only, a combination of 18s and younger age divisions, or everything but 18s. Five (!) qualifiers will be played this weekend (March 26-28), while another four, including Big South, will take place April 2-4, and then 10 or so more after that leading up to the end-of-season tournaments in late April and late June.
I know, it's confusing, but as a Big South spectator/fan/parent, the important thing to know is that at this point in the season, especially in the 18s division a generous number of nationals berths have already been secured, so sometimes the teams that ultimately secure the bid finished fourth or fifth or seventh even. This trickle-down possibility means that come championship Sunday, which also happens to be Easter Sunday, it's not just the first-place or third-place match that will matter — expect to see teams giving it their all all the way down the bracket.
Click here to read the full preview of the Mizuno Big South National Qualifier!
Qualifier season is well underway and we're turning our focus to the Mizuno Big South National Qualifier in Atlanta, which is always one of the biggest and most competitive tournaments of the club season.
Watch 2021 Big South National Qualifier LIVE!
April 2-4 | 8AM ET
Top Teams To Watch
Attracting teams from California to Washington, D.C., Chicago to Houston, and everywhere in between, the 2021 edition of Big South will be one to watch, with bids on the line for teams from 18s to 11s in divisions Open, American, and USA.
Here are some of the top teams competing in the 18 Open and 17 Open.
18 OPEN
Houston Skyline 18 Royal
This Texas team has size and experience playing together, a deadly combination. In 2020, they finished third at the prestigious Triple Crown National Invitational and scored a fifth-place finish at the Sunshine Qualifier, just barely missing a bid. Of course, the season was cut short soon after, so you get the feeling these athletes might have a sense of unfinished business. Already they've got the qualifying piece of the puzzle out of the way: they earned their 2021 nationals bid at the AVC Dallas Qualifier in early February. 18 Royal boasts seven players standing taller than six feet, and every single one is committed to play at the next level, including two players heading to current national No. 6 Baylor.
Mintonette m.81
A first-place finish at the Girls Winter Volleyball Championships in January not only earned m.81 a spot at USAV's Girls Junior National Championships, but it also proved that this team has what it takes to win a grueling, three-day tournament. The interruption of the 2020 season might have affected the chemistry of some teams, but this squad shouldn't have any problems in that department: most of the players have been competing together since before they were in middle school. Coached by former Ohio State great Audrey Flaugh, and featuring her talented daughter Logan Flaugh (Xavier) in the setter position, m.81 is known for ball control, thanks in large part to libero Kayla Hardy (UAB) and outsides Sydney Taylor (Ohio State) and London Davis (Kansas).
A5 18 Scott
PrepVolleyball's preseason No. 1 A5 18 Scott won Triple Crown in 2020 and has already secured a spot at the 2021 GJNC with a second-place finish at the Florida Girls National Qualifier. Everyone returns from that solid 2020 squad, including four athletes ranked among the top 50 players in the Class of 2021. Although the hard hitting of Jacque Boney (Michigan), Ngozi Iloh (Duke), and Kate Perryman (Air Force) will be the first thing to catch your eye, I'll be watching Stanford-bound setter Kalissa Green and Florida State signee Emery Dupes in the libero jersey.
Watch 2021 Big South National Qualifier LIVE!
April 2-4 | 8AM ET
Coast 18-1 Ozhan
Not only is Coast 18-1 ranked No. 1 in California's PVL league, but they've only only lost one match (to WAVE 18 Kevin, and the margins were as small as they could possibly be — 25-27, 25-20, 20-18) over the three weekends of PVL competition to date. Opposing teams will have their hands full trying to contain 6-6 Stanford-bound outside hitter Sami Francis — considered by PrepVolleyball to be the No. 5 recruit in the Class of 2021 — not to mention 6-3 middle Colby Neal (Oregon), middle/opposite Abby Tadder (Virginia), and outside Brynne Faltinsky (Harvard 2022). The defense and setting on this squad looks to be superb as well, with Raquel Aguirre (Harvard) and Molly Wilson (Washington) running the offense and Sarah Schrag (Cal) and Gala Trubint (USC 2022) patrolling the backcourt.
OTVA 18 T Dexter
Based in Tampa, this team finished fifth at the early season Florida Girls 18s National Qualifier (Jan. 23-25) and then qualified with a second-place finish at the Beast of the Southeast qualifier in Atlanta over President's Day weekend. Coach Dexter Rogers has at his disposal a number of Division I recruits, including Lilou Stegeman (Albany), Camryn Carlo (Cornell), Marisa Armer (New Hampshire), and Mila Yarich (Yale).
Click here to read about the top teams from the 17 Open Division!
Top Players To Watch
The rosters of teams competing at the Big South National Qualifier in Atlanta feature so many elite players, narrowing them down to any sort of manageable list was quite a task.
Watch 2021 Big South National Qualifier LIVE!
April 2-4 | 8AM ET
This is by no means a ranking of the top players you'll see on the courts inside the Georgia World Congress Center. Instead, it's just a collection of some of the absurdly talented athletes competing in 18 Open, 17 Open, and 16 Open who caught our eye for one reason or another.
18 Open
Kalissa Greene
Setter, A5 18 Scott
Greene has been one of the top setters in the Class of 2021 for some time, but her focus on high-level academics along with athletics made her college choice a little bit different than most. Originally committed to Princeton, Greene changed her commitment to Stanford in December. The Palo Alto school provides what seems like the perfect fit, offering Greene the opportunity to continue her high level of achievement in academics, without sacrificing a bit on the competitiveness of the volleyball team. The first team Under Armour All-American runs the offense for one of the top club teams in the country.
Molly Wilson
Setter, Coast 18-1 Ozhan
In a press release announcing his 2021 signees, University of Washington head coach Keegan Cook called Wilson "one of the best kept secrets in the 2021 class, particularly in Southern California." Wilson won a state championship with her Vista Murrieta High School team in 2019, and she gets her athleticism from her parents: mom Desiree broke a Texas high school record in the 300m hurdles and went on to play basketball at Loyola Marymount, while her dad Travis played baseball at LMU and was eventually drafted by the Milwaukee Brewers. This is her second consecutive season setting for the 18s team at Coast.
Sami Francis
Outside Hitter, Coast 18-1 Ozhan
Wilson's teammate Francis (and a future teammate of Greene's at Stanford) earns respect on the court simply for her height, but her skill goes beyond her 6 feet, 6 inches. "Typically, 6-5 girls just stand at the net," her Torrey Pines High School coach Tina Kinkead said in an interview with the San Diego Union-Tribune, "but Sami can do everything on the court." The middle-blocker-turned-pin-hitter is already on the radar of the national team, having trained at the U.S. Olympic Training Center in Colorado Springs in the summer of 2019.
Allie Sczech
Opposite, Houston Skyline 18 Royal
One of three juniors playing up for Houston Skyline 18 Royal, Sczech has already made her college commitment, joining teammate Sophia Keene in pledging her loyalties to Baylor. PrepVolleyball ranked the 6-4 lefty opposite as the No. 23 recruit in the Class of 2022, and she utilizes her height well, absolutely bombing balls from the right side and occasionally running some tricky stuff out of the middle.
Click here to see the full list of top players to watch!
---
How to Watch:
STREAMING: Watch the 2021 Mizuno Big South National Qualifier on FloVolleyball. SIGN UP HERE.
On Your TV: Now Available on Roku, Fire TV, Chromecast & Apple TV.
Cast: Cast to your smart TV including Vizio, Samsung and LG TVs.
On The Go: Download the FloSports app on iOS or Android.
---
Archived Footage
Video footage from the event will be archived and stored in a video library for FloVolleyball subscribers to watch for the duration of their subscription.
---
Join the Conversation on Social
Follow us on Twitter @flovolleyball.
Follow us on Instagram @flovolleyball.
Like us on Facebook.