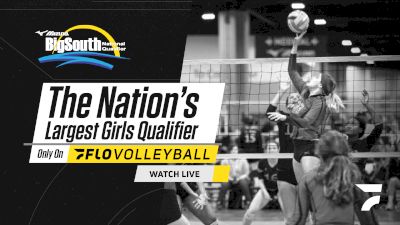 The first weekend in April, volleyball players will invade Atlanta.
Watch 2021 Big South National Qualifier LIVE!
April 2-4 | 8AM ET
With the exception of 2020, this has been a seasonal pilgrimage since 2005, and this year more than 1,500 girls club volleyball teams will gather in Atlanta for the Big South National Qualifier, the largest girls volleyball national qualifier held over a single weekend.
Big South is able to maintain that designation even in this weird year when many other tournaments have been forced to limit their registration numbers or spread out over two, or even three, weekends. Big South tournament organizers accomplished this magic by renting out the entire Georgia World Congress Center, all three halls, for the tournament dates, April 2-4.
By qualifier, of course, I mean that berths to the 2021 USA Volleyball Girls Juniors National Championship (June 26-July 5 in Las Vegas) and USAV Girls 18s Junior National Championship (April 23-25 in Columbus, Ohio) are on the line at Big South. Over the course of the 2021 season, there are numerous qualifiers located all around the country, offering many opportunities for teams to score a spot in the prestigious national tournament in the Open, USA, or American divisions.
In Open and USA, if the qualifier field has 24 or more teams in it, three bids will be awarded, while in American, you have to have at least seven teams competing in order for one bid to be awarded. (GJNC also has National and Patriot divisions, but bids for National are awarded through the 40 USAV regions, while Patriot is open to any team willing to register and pay the entry fee.)
Watch 2021 Big South National Qualifier LIVE!
April 2-4 | 8AM ET
So far this year, there have been 12 qualifiers, either 18s only, a combination of 18s and younger age divisions, or everything but 18s. Five (!) qualifiers will be played this weekend (March 26-28), while another four, including Big South, will take place April 2-4, and then 10 or so more after that leading up to the end-of-season tournaments in late April and late June.
I know, it's confusing, but as a Big South spectator/fan/parent, the important thing to know is that at this point in the season, especially in the 18s division a generous number of nationals berths have already been secured, so sometimes the teams that ultimately secure the bid finished fourth or fifth or seventh even. This trickle-down possibility means that come championship Sunday, which also happens to be Easter Sunday, it's not just the first-place or third-place match that will matter — expect to see teams giving it their all all the way down the bracket.
Founded in 1990 in Tampa, Big South moved to Atlanta in the early 2000s, and it's always had a special aura around it, maybe because of the sheer size of the event. Mackenzie Tichenor (nee Dagostino), daughter of tournament founders Lauri and Randy Dagostino, said she competed in the event from the time she was just 10 years old until her senior year of high school, just before she joined the University of Florida team. Today she serves as the head of social media, public relations and marketing for Tampa Volleyball Events, the company which hosts Big South, among other club tournaments.
Watch 2021 Big South National Qualifier LIVE!
April 2-4 | 8AM ET
"I remember having some of the best matches of my life at Big South," she said. "I just remember it being the best event for us to prepare ourselves for, I guess it's Junior Nationals now, but we called it JOs at the time, Junior Olympics, and we had some of our best matches at Big South. It was just always really great competition and you walked away feeling like you got better and you walked away with no voice whatsoever. That's the other thing I remember."
It's been a strange year, but with all three halls of the convention center reserved for volleyball action and some of the best club teams in the country on the list of registered teams, I wouldn't expect this year's Big South to be any less exciting than in year's past, whether you're attending in person or planning on tuning in to the FloVolleyball live stream. Nine teams in 18 Open ranked in PrepVolleyball's preseason top 50 this year, with 14 teams in 17 Open among that prestigious group for their age division.
2020's Big South event, unsurprisingly, was cancelled. Well, first it was postponed to April, then to May, and then finally, and painfully officially cancelled. "It was sad because we had people coming from both sides, of 'how are you guys even trying to run this right now with what's going on?' and the other side of 'please don't cancel this, our girls want to play so badly,'" Tichenor said. "And so our hearts were being tugged in both directions, but we knew the right thing to do was cancel and make sure that everyone was safe."
Finally able to get back in action, Big South might just offer a slice of normalcy for players and fans alike, a chance to reconnect with the joy of competing, and of course, attempt to win the ultimate prize: a spot at GJNCs.