2021 Mizuno Big South National Qualifier (Courts 1-80)
Top Teams At Mizuno Big South National Qualifer
Top Teams At Mizuno Big South National Qualifer
Qualifier season is well underway and we're turning our focus to the Mizuno Big South National Qualifier in Atlanta, GA.
Mar 23, 2021
by Megan Kaplon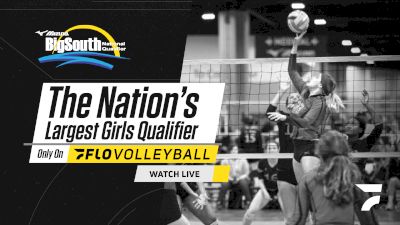 Qualifier season is well underway and we're turning our focus to the Mizuno Big South National Qualifier in Atlanta, which is always one of the biggest and most competitive tournaments of the club season.
Watch 2021 Big South National Qualifier LIVE!
April 2-4 | 8AM ET
Attracting teams from California to Washington, D.C., Chicago to Houston, and everywhere in between, the 2021 edition of Big South will be one to watch, with bids on the line for teams from 18s to 11s in divisions Open, American, and USA.
Here are some of the top teams competing in the 18 Open and 17 Open.
18 OPEN
Houston Skyline 18 Royal
This Texas team has size and experience playing together, a deadly combination. In 2020, they finished third at the prestigious Triple Crown National Invitational and scored a fifth-place finish at the Sunshine Qualifier, just barely missing a bid. Of course, the season was cut short soon after, so you get the feeling these athletes might have a sense of unfinished business. Already they've got the qualifying piece of the puzzle out of the way: they earned their 2021 nationals bid at the AVC Dallas Qualifier in early February. 18 Royal boasts seven players standing taller than six feet, and every single one is committed to play at the next level, including two players heading to current national No. 6 Baylor.
Mintonette m.81
A first-place finish at the Girls Winter Volleyball Championships in January not only earned m.81 a spot at USAV's Girls Junior National Championships, but it also proved that this team has what it takes to win a grueling, three-day tournament. The interruption of the 2020 season might have affected the chemistry of some teams, but this squad shouldn't have any problems in that department: most of the players have been competing together since before they were in middle school. Coached by former Ohio State great Audrey Flaugh, and featuring her talented daughter Logan Flaugh (Xavier) in the setter position, m.81 is known for ball control, thanks in large part to libero Kayla Hardy (UAB) and outsides Sydney Taylor (Ohio State) and London Davis (Kansas).
A5 18 Scott
PrepVolleyball's preseason No. 1 A5 18 Scott won Triple Crown in 2020 and has already secured a spot at the 2021 GJNC with a second-place finish at the Florida Girls National Qualifier. Everyone returns from that solid 2020 squad, including four athletes ranked among the top 50 players in the Class of 2021. Although the hard hitting of Jacque Boney (Michigan), Ngozi Iloh (Duke), and Kate Perryman (Air Force) will be the first thing to catch your eye, I'll be watching Stanford-bound setter Kalissa Green and Florida State signee Emery Dupes in the libero jersey.
Coast 18-1 Ozhan
Not only is Coast 18-1 ranked No. 1 in California's PVL league, but they've only only lost one match (to WAVE 18 Kevin, and the margins were as small as they could possibly be — 25-27, 25-20, 20-18) over the three weekends of PVL competition to date. Opposing teams will have their hands full trying to contain 6-6 Stanford-bound outside hitter Sami Francis — considered by PrepVolleyball to be the No. 5 recruit in the Class of 2021 — not to mention 6-3 middle Colby Neal (Oregon), middle/opposite Abby Tadder (Virginia), and outside Brynne Faltinsky (Harvard 2022). The defense and setting on this squad looks to be superb as well, with Raquel Aguirre (Harvard) and Molly Wilson (Washington) running the offense and Sarah Schrag (Cal) and Gala Trubint (USC 2022) patrolling the backcourt.
OTVA 18 T Dexter
Based in Tampa, this team finished fifth at the early season Florida Girls 18s National Qualifier (Jan. 23-25) and then qualified with a second-place finish at the Beast of the Southeast qualifier in Atlanta over President's Day weekend. Coach Dexter Rogers has at his disposal a number of Division I recruits, including Lilou Stegeman (Albany), Camryn Carlo (Cornell), Marisa Armer (New Hampshire), and Mila Yarich (Yale).
Watch 2021 Big South National Qualifier LIVE!
April 2-4 | 8AM ET
17 OPEN
A5 17 Jing
One of the home teams of Big South, A5 17 Jing impressed me early on this season when they won the 18 Open division at Lil' Big South without dropping a set. At the Sunshine Classic Qualifier earlier this month, 17 Jing narrowly missed earning a berth with a fourth-place finish, trailing Houston Skyline 17 Royal, Metro 17 Travel, and Madfrogs 17 National Green (more on those guys in a minute). Every player on this team is elite and headed to top Division I schools, but especially keep an eye on Mari Singletary, a 6-5 Texas recruit; Alexa Markley, a 6-1 outside hitter headed to Penn State; and Cheridyn Leverette, a 6-0 UCLA-bound outside hitter.
AVC 17 Red
A second-place finish at the Bluegrass Championship hints at what AVC 17 Red is capable of. Three members of this squad — Kirsten Barrett (Georgia Southern), Cadence Shea (UNC), and Mya Sopata (North Florida) — made the JVA's 2021 Watch List, with Kathryn Randorf (Northwestern) and Caroline Jurevicious, a 6-2 sophomore opposite who touches 10-4, making the JVA 2021 National Team.
Metro 17 Travel
Metro 17 Travel punched its ticket to nationals with a second-place finish at the Sunshine Classic. PrepVolleyball ranked this squad 21st in its preseason rankings, but with that finish at Sunshine, they made a good argument for a higher ranking next time around, finishing above preseason No. 2 Houston Skyline 17 Black, No. 6 A5 17 Jing, No. 11 Rockwood Thunder 17 Elite, No. 15 Madfrog 17N Green, and No. 18 Legacy 17-1. All 13 players return from Metro's top 16s team in 2020, including 6-3 middle Hannah Sherman (Louisville), 6-1 middle Zaria Ragler (Ohio State), and 5-11 outside hitter Laila Ivey (Maryland).
Madfrog 17 National Green
A stacked group of talented high school juniors makes up this Madfrog squad that qualified at the Sunshine Classic with a third-place finish, matching their impressive 2020 Triple Crown finish. Three athletes — outside Maya Duckworth (Iowa State), setter/opposite Ana Heath (Arizona), and middle Ifenna Cos-Okpalla (Texas A&M) — rank in PrepVolleyball's Class of 2022 Top 150. With no pressure to secure a bid, I'm excited to see how Madfrog competes against even better competition than they saw at Sunshine.
Rockwood Thunder 17 Elite
There will be no lack of firepower coming from Rockwood Thunder 17 Elite's side of court. Setters Anne Arand and Joelle Alexander have a triple threat of weapons in outside Madison Scheer (Auburn) and middles Vanessa Polk (Pepperdine) and Madilyn Sell (Missouri). They finished just two spots away from qualifying at Sunshine, so expect them to be highly motivated at Big South.
NC Academy 17 Diamond
Missouri-bound setter Riley Buckley leads this well-rounded team from Raleigh. Outside hitter Kayla Burbage is headed to Mizzou this fall, while 6-3 outside/opposite/middle Sophia Kruczko has given her verbal commitment to join East Carolina's recruiting class of 2022. Libero Laney Choboy brings plenty of steady ball control and defense to this team — still just a sophomore, Choboy made the JVA All-National Team in 2020. At Sunshine, 17 Diamond finished eighth, but I have a feeling they have the potential to do even better than that this time around.