The U.S. Women's National Team kicks off its 2019 season on the road in Ruse, Bulgaria, for the first of five weeks of Volleyball Nations League pool play.
Watch the 2019 FIVB Volleyball Nations League LIVE on FloVolleyball
The Americans enter the tournament as the reigning champs and the third-ranked team in the world. The top five teams at the end of the preliminary round will join host China in the Final Six.
Here's everything you need to know about the national team's matches this week in Bulgaria.
Team USA
After seeing the preliminary 30-player roster and then the 25-player roster for the USA squad, we knew some young players might have a chance to earn their first FIVB travel spots, and maybe even some playing time.
Now, with USA Volleyball having released the 14-player travel roster for the first week of VNL, the influence of youth on this year's team is guaranteed.
U.S. Women's National Team Roster for FIVB Volleyball Nations League Week 1 in Bulgaria
# - Player (Position, Height, College, Hometown)
1 – Micha Hancock (S, 5-11, Penn State, Edmond, Oklahoma)
2 – Jordyn Poulter (S, 6-2, Illinois, Aurora, Colorado)
9 – Madi Kingdon Rishel (OH, 6-1, Arizona, Phoenix, Arizona)
11 – Annie Drews (OPP, 6-4, Purdue, Elkhart, Indiana)
12 – Jordan Thompson (OPP, 6-4, Cincinnati, Edina, Minnesota)
13 – Sarah Wilhite Parsons (OH, 6-2, Minnesota, Eden Prairie, Minnesota)
17 – Megan Courtney (L, 6-1, Penn State, Dayton, Ohio)
18 – Mikaela Foecke (OH, 6-3, Nebraska, West Point, Iowa)
19 – Hannah Tapp (M, 6-3, Minnesota, Stewartville, Minnesota)
20 – Dana Rettke (M, 6-8, Wisconsin, Riverside, Illinois)
21 – Simone Lee (OH, 6-1, Penn State, Menomonee Falls, Wisconsin)
22 – Haleigh Washington (M, 6-3, Penn State, Colorado Springs, Colorado)
24 – Chiaka Ogbogu (M, 6-2, Texas, Coppell, Texas)
27 – Mary Lake (L, 5-7, BYU, Palm Springs, California)
#USAVwnt begins its @FIVBVolleyball #VNL title defense in Bulgaria May 21-23, and eight Americans will be making their #FIVB debuts against Belgium, Japan and Bulgaria. Go 🇺🇸

Roster and Preview | https://t.co/hNwXT6KsGy pic.twitter.com/jMyqWLWOlw

— USA Volleyball (@usavolleyball) May 17, 2019
Eight players on the roster will make their FIVB debuts in Bulgaria, and three of those players are still in college—Dana Rettke (Wisconsin), Mary Lake (BYU), and Jordan Thompson (Cincinnati).
Only five players in the group—Megan Courtney, Annie Drews, Micha Hancock, Madi Kingdon Rishel, and Sarah Wilhite Parsons—competed in last year's VNL and/or World Championships, and Hannah Tapp is making her return to top-level international action after spending most of last summer sidelined due to injury.
Perhaps even more notable than who was included in the first travel roster of the year is who wasn't. No captain Jordan Larson. No setter Carli Lloyd. No veteran middles whatsoever, so Tapp, Washington, Ogbogu, and Rettke should be getting some valuable reps.
The Competition
Belgium | Tuesday, May 21, 9 AM CT | Watch Live
USA faces two "challenger" teams in the first week of play. First up, Belgium: a youthful team whose oldest player is 29 years old, the youngest is 18, and the average age is 22. (For comparison, even with a sizeable group of recent college grads and current collegiate athletes included on the USA's 25-player roster, the average age is still 25.)
Captain Ilka Van de Vyver leads this Belgium squad. The 26-year-old setter plays professionally for Vilsbiburg, which recently finished fifth in the regular season of Germany's Bundesliga before losing in the quarterfinals of the playoffs. In last year's VNL preliminary round, Van de Vyver topped the best setters chart with a total of 924 running sets.
Belgium went 4-11 in the 2018 VNL competition for a 13th place finish.
"For a young team from a small country, this result was satisfactory, with an eye on the future," Van de Vyver told fivb.com. "Nobody likes to lose, but we never gave up and kept fighting through the last game with a positive mindset. We went together through the wins and losses and grew a lot during the VNL."
Belgium's 25-player roster also features Jutta Van de Vyver, Ilka's younger sister, who also plays setter. Other players to watch include 19-year-old outside hitter Britt Herbots and opposite Kaja Grobelna. Both athletes play professionally for Unet E-Work Busto Arsizio of the Italian league, which won the 2019 CEV Cup and finished fifth in the Serie A regular season. Herbots even led Busto Arsizio with 22 points in the CEV Cup final.
Japan | Wednesday, May 22, 9 AM CT | Watch Live
The second match of the week looks to be the toughest for USA as the Americans take on world No. 6 Japan. The Asian squad struggled some in the 2018 edition of VNL, finishing in 10th with a 7-8 record, but bounced back later in the summer to take sixth at the World Championships at home in Japan.
Speaking of World Championships, the fifth place match between USA and Japan was both team's last match of the 2018 season. The four-set victory for the Americans saw Kim Hill tally 25 points with Micha Hancock, while Karsta Lowe, Jordan Larson, Foluke Akinradewo, and Rachael Adams all also made it to double digits in scoring. Risa Shinnabe (16 points) and Sarina Koga (15 points) were Japan's top scorers.
The USA and Japan—which is coached by Kumi Nakada, a three-time Olympic setter who was hired in 2016 and is the first woman to coach the Japan women's national team—played each other a total of three times in 2018, with the U.S. women sweeping in the preliminary rounds of VNL, Japan winning a friendly match (against a relatively young USA squad that also featured a number of players making their first appearance after rehabbing injuries) in California in July, and USA taking the World Champs fifth-place match in four sets.
"Japan is not the tallest team, not the highest jumpers, but they are one of the smartest teams," USA head coach Karch Kiraly said after the July 27 friendly. "Nobody plays harder than Japan does, nobody plays smarter than Japan does. They really control the ball well."
With Japan famous for its defense, libero Kotoe Inoue will be a player to watch, along with Koga, who led her team with 171 total points at the 2018 World Champs.
Bulgaria | Thursday, May 23, 12:30 PM CT | Watch Live
Bulgaria, host of this week's action, earned promotion into the 2019 VNL thanks to winning the 2018 Challenger Cup.
At last year's World Championship, Bulgaria finished 12th, taking sets from world powers China and Russia and earning valuable victories over Azerbaijan, Canada, Cuba, and Thailand.
Professionally, nine of Bulgaria's roster of 25 play for Maritza Plovdiv, the top team in the Bulgarian league that went undefeated on its way to the 2019 Superliga title and also competed in the 2018-19 Champions League.
A few of the country's top athletes do compete professionally abroad, including Gergana Dimitrova and Mira Todorova, who play for Volero Le Cannet in France's Ligue A, and Petya Barakova, who plays for Romania's Alba Blaj, a Champions League team.
But far and away the top player for Bulgaria is captain Elitsa Vasileva. The 6-foot-4, 29-year-old outside hitter played for Dinamo Kazan in the Russian league from 2015 to 2018 before transferring to Scandicci of the Italian league ahead of the 2018-19 season. Her professional resume also includes stints in Brazil, Korea, and Turkey.
Vasileva spent last summer recovering from shoulder surgery, and Bulgarian head coach Ivan Petkov is no doubt thrilled to have her back.
Non-USA Match of the Week: Brazil vs. China (May 21)
China knocked Brazil out in the quarterfinals of the Rio Olympics
The USA has a relatively lax first week of competition. China, on the other hand, opens VNL with a bang, taking on No. 4 Brazil, No. 5 Russia, and No. 10 Dominican Republic. All three matches should be worth watching, but if you only have time for one, tune into China versus Brazil at 6 PM CT on May 21.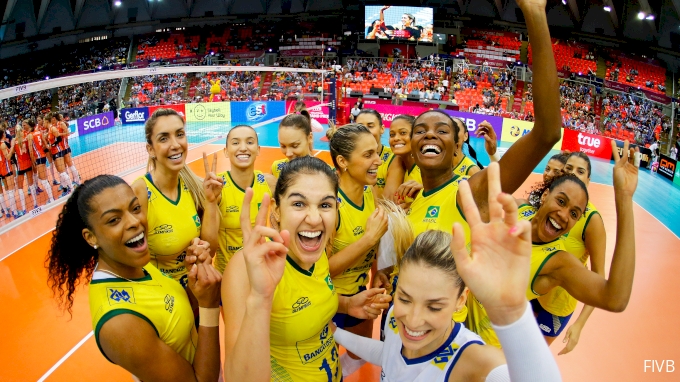 China knocked Brazil out in the quarterfinals of the Rio Olympics (where of course host Brazil was expected to compete for gold), so Brazil, which will be the host team for this week's matches, will no doubt be looking to make a statement in front of its fans.
China, as host of the VNL Final Six, doesn't have to rely on its pool play results to qualify, so expect head coach Jenny Lang Ping to experiment with lineups and possibly showcase some young talent.