Top 10 Liberos in NCAA Volleyball
Top 10 Liberos in NCAA Volleyball
Liberos make the defensive plays that make everyone else on the court look good. Here are the top 10 liberos in NCAA volleyball right now.
Oct 18, 2016
by Megan Kaplon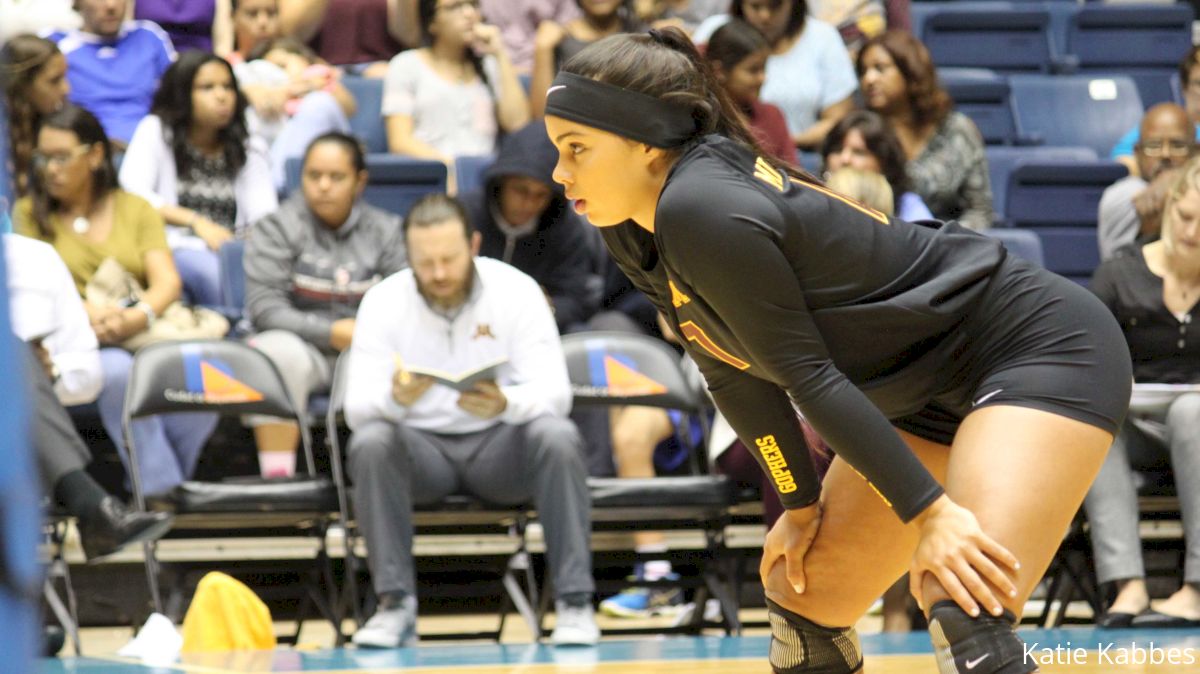 The powers that be in the volleyball world created the libero position in the late 1990s in hopes of fostering longer rallies and more flashy defensive plays. Today, the libero is one of the most key players on the court at any given time. The libero captains the backcourt, taking the lead on serve receive and patrolling from sideline to sideline scooping up digs.
The list of the best liberos in NCAA history includes Stacy Sykora, Natalie Hagglund, Nicole Davis, and Kayla Banwarth, just to name a few, and the group of defensive dynamos currently competing collegiately is no less strong. Here are our picks for the top 10 liberos in NCAA volleyball.
10. Mary Lake, Freshman, BYU
Only a week into her collegiate career, BYU freshman Mary Lake was earning national recognition. At Ohio State's Sports Imports D.C. Koehl Classic, Lake collected 61 digs in three matches and was named tournament MVP. That week, espnW and the West Coast Conference each named her its Player of the Week. Her 38 digs versus Ohio State set a BYU rally-scoring era record. Lake currently leads the Cougars with 282 digs and is third in the WCC with 4.07 digs/set.
[instagram url="https://www.instagram.com/p/BJyPK7NA_EP/?taken-by=byuwvolleyball" hide_caption="0"]
9. Taylor Whittingham, Senior, USC
A three-year starting libero for the Trojans, Taylor Whittingham has collected double-digit digs in 15 matches so far this year and ranks sixth all-time at USC for total digs. The senior walked-on as a freshman, but earned the starting libero spot the very next season. Whittingham had led the Pac-12 in digs the past two seasons.
[instagram url="https://www.instagram.com/p/BLJXlZsh76F/?taken-by=uscwomensvolley" hide_caption="0"]
8. Caroline Knop, Junior, Florida
Caroline Knop played outside hitter for Michigan for two years before transferring to Florida after the 2015 season. Now the Gators' starting libero, the 5-foot-8 California native leads the team with 248 digs (4.07/set), admirably filling the hole left by the graduation of Nikki O'Rourke.
[instagram url="https://www.instagram.com/p/BLJL95jjkiT/?taken-by=gatorsvb" hide_caption="0"]
7. Cat McCoy, Junior, Texas
Cat McCoy has dug and passed her way to two Final Four appearances with the Texas Longhorns. Coach Jerritt Elliott said the three-year starter is the epitome of what a libero should be, and with 222 digs so far this season, the junior leads the Longhorns.
[tweet url="https://twitter.com/TexasVolleyball/status/786999300257488896" hide_media="0" hide_thread="1"]
6. Dalianliz Rosado, Junior, Minnesota
Dalianliz Rosado is a quiet but essential force for the Gophers who have held strong inside the top 10 all season long. The starting libero since her freshman year, Rosado leads her team with 232 digs (3.80/set) and boasts a .967 reception percentage in addition to collecting 55 assists as the team's second setter.
5. Cassie Wait, Senior, Kansas
Cassie Wait has been named Big 12 Defensive Player of the Week three times so far this season. Her 5.18 digs/set leads the conference and ranks 18th in the country, and with 1,724 digs in her career, she's chasing the Kansas record. An incredible athlete, Wait holds the state high school record in the pole vault, and she's beginning law school this year, while finishing out her final season of eligibility on the court.
[instagram url="https://www.instagram.com/p/BLgmukUjb7J/?taken-by=kuvolleyball" hide_caption="0"]
4. Amanda Benson, Senior, Oregon
In her fourth year as the starting libero for the Ducks, Amanda Benson averages 5.10 digs per set, a figure that leads the Pac-12 and ranks 23rd nationally. Her defensive efforts have helped lead Oregon to a .178 opponent hitting percentage, which is fourth-best in the conference.
[instagram url="https://www.instagram.com/p/BKrSzoyBkTp/?taken-by=amandasbenson" hide_caption="0"]
3. Jenna Lerg, Sophomore, Michigan
Sophomore Jenna Lerg leads the ultra-competitive Big Ten in digs per set with 4.53. The second Lerg sister to play for Michigan (older sister Lindsey played from 2012-15), Jenna is in her second season as the starting libero for the Wolverines. The Big Ten named her its Defensive Player of the Week on September 12.
[instagram url="https://www.instagram.com/p/BKRKHBhjiwW/?taken-by=umichvball" hide_caption="0"]
2. Justine Wong Orantes, Senior, Nebraska
Third-team All-American Justine Wong-Orantes' 555 digs in 2015 ranked third all-time in Nebraska history. The reigning Big Ten Defensive Player of the Year has 214 digs so far this season and is chasing the school career digs record. She ranked fourth all-time at the end of her junior season.
[tweet url="https://twitter.com/Huskervball/status/787088838824824832" hide_media="0" hide_thread="1"]
1. Taylor Formico, Senior, UCLA
Taylor Formico started her collegiate career at UC Santa Barbara where she led the nation with 792 digs (5.87 per set) as a freshman, but after coach Kathy Gregory's retirement, Formico looked into transferring. She found a spot at UCLA where she now holds the No. 2 spot in the Pac-12 with 5.06 digs/set and leads with 344 total digs. She's garnered two Pac-12 Defensive Player of the Week honors so far in 2016.
[tweet url="https://twitter.com/Pac12Network/status/788071819819487232" hide_media="0" hide_thread="1"]
More NCAA Volleyball:
Top 10 Freshmen in NCAA Volleyball
Latest RPI
Player of the Week: October 17
Must See
In FloVolleyball's exclusive two episode FloFilm documentary, see TEAM USA women like never before. Step inside the gym to see the team's journey from the London 2012 Olympics to the Rio 2016 Olympics. Hear from head coach Karch Kiraly, Courtney Thompson, Christa Harmotto, Jordan Larson, and Karsta Lowe.
Watch trailer here.


Get All the Hype
It's time to step up your game. Fill in the information below to get the best of FloVolleyball delivered directly to your inbox.