2023 MPSF Men's Volleyball Championship
BYU, Stanford, Grand Canyon Join UCLA Volleyball In MPSF Semifinals
BYU, Stanford, Grand Canyon Join UCLA Volleyball In MPSF Semifinals
With first Round wins in the 2023 MPSF Volleyball Championship, BYU, Grand Canyon and host Stanford advanced to join UCLA in the semifinals.
Apr 20, 2023
by Kyle Kensing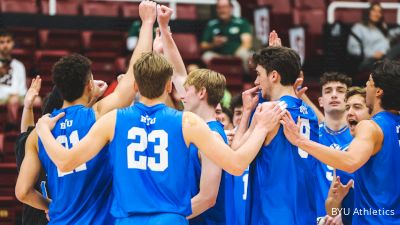 Unlock this video, live events, and more with a subscription!
Get Started
Already a subscriber? Log In
Each of BYU, Grand Canyon and Stanford scored 1st Round wins in the 2023 MPSF Men's Volleyball Championship on Wednesday, advancing to Thursday's semifinals along with top-seeded UCLA.
All three of the opening-round winners took care of business efficiently, none yielding more than a set. Their wins set up a semifinal with all four of the top seeds still alive.
Semifinal 1: Grand Canyon Vs. UCLA
Regular-season MPSF champion and top overall seed UCLA storms into the tournament playing outstanding volleyball, but Bruins coach John Speraw said the 1st Round bye isn't much of a reward.
Speraw cited the importance of momentum in a postseason setting; that may have hamstrung UCLA a season ago when, as the No. 1 seed and host, it fell in the semifinals to fifth-seeded Stanford.
The 2023 Bruins are "a new team" compared to 2022, however, and playing for a new result this time around.
UCLA took both matches from Grand Canyon during the regular season, winning March 31, 3-1; and 3-0 on April 1. Ido David and Ethan Champlin shined in the series, with David serving up three aces in the first match and making a team-high 13 kills in the second.
Champlin delivered 25 combined kills in the two matches.
Grand Canyon looks to reverse its fortunes against the Bruins while parlay its impressive performance from the 1st Round into a semifinal stunner.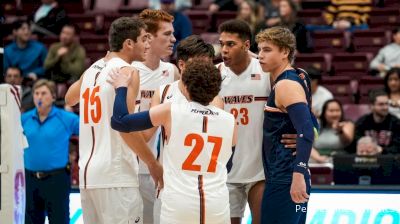 Unlock this video, live events, and more with a subscription!
Get Started
Already a subscriber? Log In
The 'Lopes took down Pepperdine in three straight sets thanks in part to Camden Gianni's 10 kills and two aces apiece from Jackson Hickman and Christian Janke.
Pinpointing a weakness of UCLA's to attack is a tall order for GCU — or any team, really. The Bruins are strong in all phases, but the 'Lopes will have to find ways to win at the net against a talented corps of middle blockers and outside hitters.
Semifinal 2: Stanford Vs. BYU
BYU finished the regular season undefeated at home, capping a perfect campaign in Provo last week with dominant wins over Stanford. The challenge now facing the Cougars is replicating that success on the Cardinal's home court.
Stanford began its MPSF Championship hosting duties on Wednesday with an impressive, 3-1 win over USC. The Cardinal big three of Kevin Lamp, Will Rottman and Theo Snoey combined for 44 kills in the match, including Lamp's set-winner in a pivotal, 26-24 third frame.
A hard-fought, 26-24 third set proved pivotal; Stanford avoided going down 2-1, then rode the positive momentum into a dominant, 25-15 final set.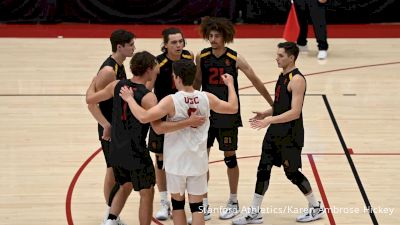 Unlock this video, live events, and more with a subscription!
Get Started
Already a subscriber? Log In
BYU dispatched 1st Round opponent Concordia similarly, rallying after the Cougars dropped the first set to win three straight and the last in a 25-15 romp.
Kupono Browne — a transfer to BYU from Stanford — played a monster opening round. His 20 kills and three service aces powered the Cougars to the win and a date in the semis opposite Browne's former team.
Browne had 25 combined kills, 18 of which came in one of the two matches, in the Cougars' strong showing vs. Stanford last week.