2023 MPSF Men's Volleyball Championship
Players To Watch At The 2023 MPSF Men's Volleyball Championship
Players To Watch At The 2023 MPSF Men's Volleyball Championship
The 2023 MPSF Championship is a stage for some of the conference's experienced stars to shine, and a chance for newcomers to break out.
Apr 16, 2023
by Kyle Kensing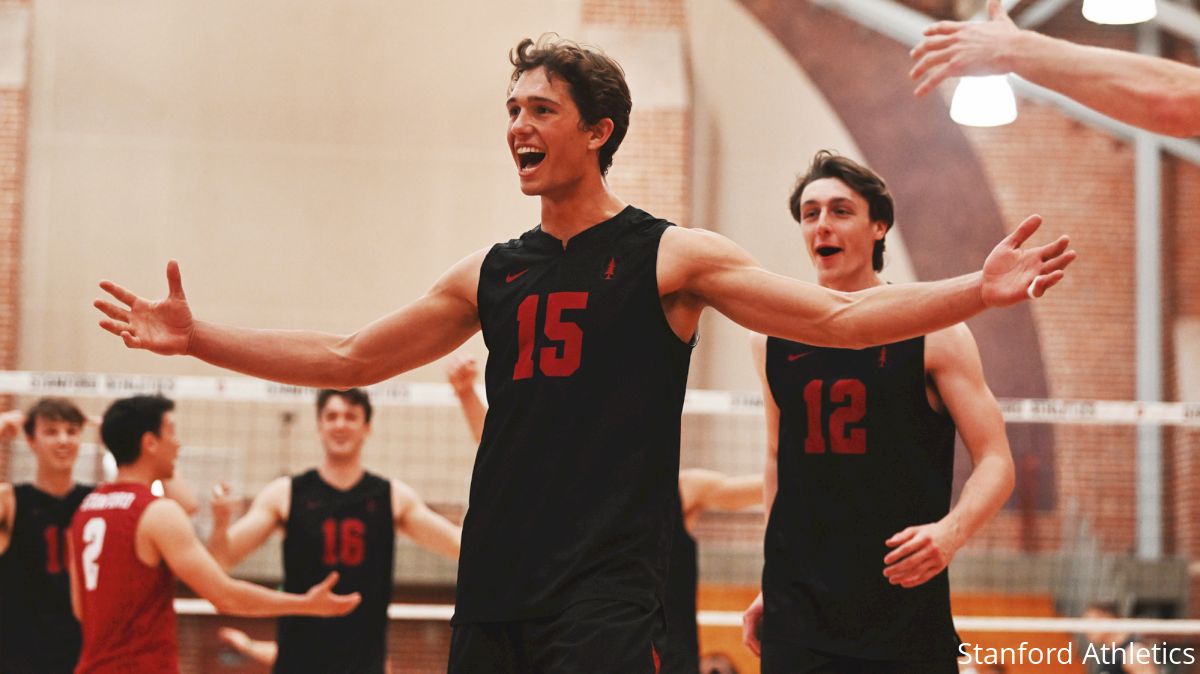 The 2023 MPSF Championship provides some of college volleyball's top performers a high-stakes platform to shine. A talent-rich field meets beginning April 19 at Stanford, offering any number of prospective breakout stars.
Names from a dominant UCLA team are among the potential difference-makers to watch at the MPSF Championship, as well as proven commodities like host Stanford's All-American, Will Rottman.
But this being postseason play, don't be surprised to see an unexpected game-changer emerge from the pack. Such is the beauty of championship season.
Uriel Batista, Opp., Concordia
Six-foot-four veteran opposite Uriel Batista leads upset-minded Concordia into Stanford. Batista is one of the top scorers in the MPSF with 371 points through April 13, thanks in part to his 25 service aces.
Batista also boasts 322 kills to lead the Golden Eagles.
A kill by Uriel Batista forces BYU to call time out. Concordia leads 12-9 in set 2 as Batista is up 6 kills for the Eagles. Let's see if the Eagles can keep this up. #NCAAMVB pic.twitter.com/egPImhnMxh

— Set Point (@Set_PointIE) February 26, 2023
Ido David, OH/Opp., UCLA
After earning recognition as one of the league's top freshman a year ago, Ido David developed into one of the MPSF's top players, period, as a sophomore.
David is an all-around difference-maker who checks in at or right near the top of a variety of statistical categories for the Bruins, including service aces (34); kills (289); digs (90); and hitting percentage.
Camden Gianni, OH, Grand Canyon
With 38 service aces for 0.51 a set, Camden Gianni leads the entire MPSF. But that's not all the 2022 AVCA All-American honorable mention has done in this 2023 season.
Gianni averages 3.54 points per set, and has been strong on defense with 93 digs and 22 blocks.
Jackson Hickman, OH, Grand Canyon
Jackson Hickman has stepped up in a big way in his third season at Grand Canyon. The redshirt junior outside hitter leads the Antelopes with 340.5 points on the campaign, including 293 kills — up from 63 a season ago.
The combination of Hickman and Gianni is among the MPSF's most formidable in service, as well.
Jaylen Jasper, OH, Pepperdine
Jaylen Jasper made an immediate splash upon his transfer to Pepperdine, earning All-American honors for the fourth time in his career a season ago. He closes out his tenure with the conclusion of this season, so don't be surprised to see the exceptionally talented Jasper go out with a bang in his last MPSF Championship.
Congrats on an excellent career so far Jaylen Jasper - can't wait to see what you do next! #WavesUp #ForeverWaves pic.twitter.com/8qP9pSpp4c

— Pepperdine Men's Volleyball (@PeppVolleyball) April 9, 2023
Jasper's 500 kills are far-and-away most in the conference, and he's one of only two players in all of Div. I men's volleyball to average 5-plus kills per set.
Dillon Klein, OH, USC
In what has been an uncharacteristically trying campaign for USC volleyball, Dillon Klein's play has been an undeniable positive. The first-year Trojan burst onto the MPSF scene in 2023 with 376.5 points, a team-high and the fifth-most prolific production in the conference.
The freshman product of nearby Loyola High School has also been a top-notch defender for USC with 111 digs and 49 blocks.
Justin Liu, Libero, Stanford
As one of the top defensive players in the country, Justin Liu figures prominently into Stanford's MPSF aspirations. The redshirt senior libero has 177 digs to his credit on the season, and the highest average in the conference at 2.16 per set.
With the abundance of outstanding offense around the league, a rock-solid defensive presence just might be this tournament's x-factor.
Merrick McHenry, MB, UCLA
"Merrick has the capacity to be a pretty dominant player," UCLA coach John Speraw said of Merrick McHenry, the Bruins redshirt junior veteran at middle blocker.
Dominant is certainly a fair description of McHenry, who has 190 kills and a staggering hitting percentage greater than 50. His steadying presence helps steer a UCLA team looking to avenge the early exit from last year's MPSF Championship.
A kill in the middle from Merrick McHenry gives @UCLAMVB set 2 from UC Irvine 25-23 and this match is even at 1-1. The Bruins held the Anteaters to only .107 in that set while hitting .353. UCLA is outblocking UCI 6-3.5. @IESportsRadio @offtheblock11 #NCAAMVB pic.twitter.com/PiPzg0s2t4

— Set Point (@Set_PointIE) February 25, 2023
Miks Ramanis, OH, BYU
BYU may be the leading dark horse set to challenge what's been an untouchable UCLA bunch, thanks in no small part to the outside hitter tandem of Kupono Browne and Miks Ramanis.
Ramanis warrants specific mention for his combination offensive and defensive presence. The redshirt sophomore leads the Cougars with 276 kills, good for 3.45 a set, and is BYU's second-leading player in digs with 117 on the season.
Will Rottman, OH, Stanford
The accomplishments Will Rottman has accumulated in his time at Stanford are dizzying, among them 1st Team All-American and All-MPSF Championship recognition a season ago. He was integral in the Cardinal's MPSF Championship semifinal upset of UCLA a season ago, delivering 22 kills and 10 digs in the win.
With Stanford a prime candidate to pull off the upset this year thanks to its home-court advantage, Rottman's opportunity to shine intensifies in 2023. He comes into the tournament producing more than 4.1 points per set, tops among the Cardinal. He has 75 digs and 28 blocks on the season, as well.
Andrew Rowan, Setter, UCLA
The departure in February of 2022 MPSF Player of the Year Miles Partain could have been a debilitating blow to UCLA's title hopes. Could have been, at least, had freshman Andrew Rowan not been ready to step up to the challenge as the Bruins' setter.
Rowan has had to fill big shoes, and done so admirably with 874 assists and 42 aces. The freshman's continued growth may well be the catalyst for a UCLA national championship pursuit.
Teon Taylor, MB, BYU
Last spring, Utah's Deseret News chronicled that Teon Taylor was uncertain about pursuing collegiate volleyball until his senior year at Centennial High School in Las Vegas. Better late than never, it turns out, as Taylor is a key figure for the Cougars in 2023.
The middle blocker has the most blocks in the MPSF and second-most per set with 112 for 1.30. His presence at the net could be huge for BYU's NCAA Tournament hopes.