2023 MPSF Men's Volleyball Championship
Stanford Looks To Score On Home Court At MPSF Men's Volleyball Championship
Stanford Looks To Score On Home Court At MPSF Men's Volleyball Championship
2023 MPSF Men's Volleyball Championship host Stanford can capitalize on its home-court advantage against a top field.
Apr 16, 2023
by Kyle Kensing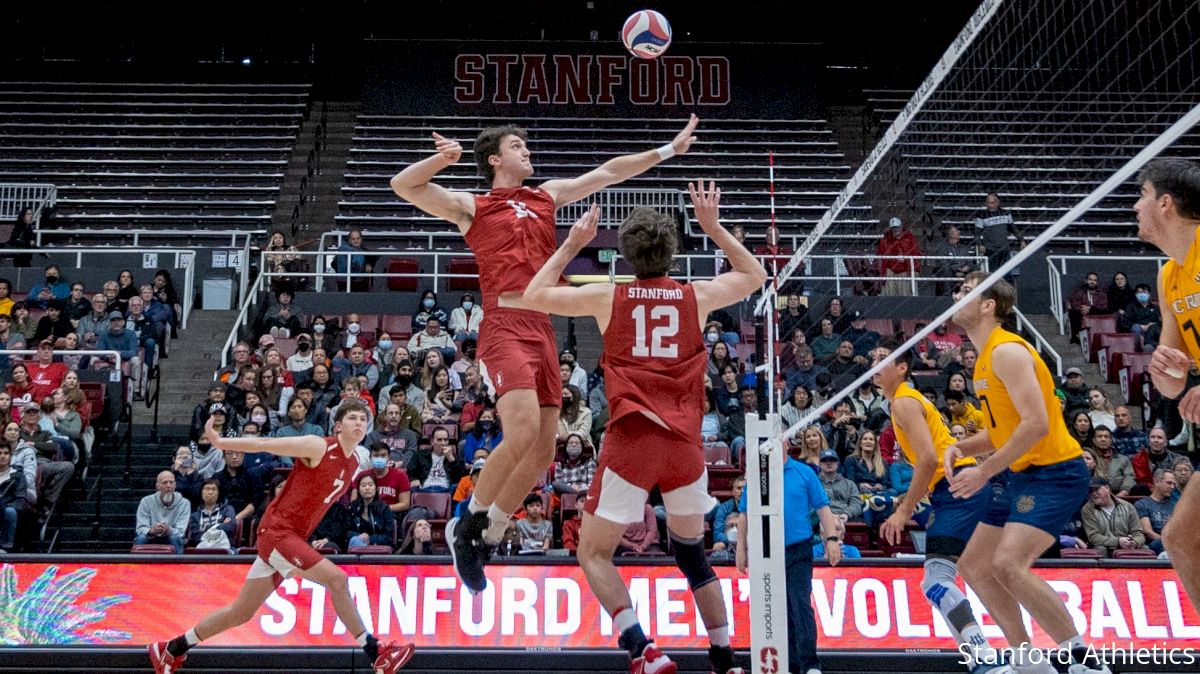 Host of the 2023 MPSF Men's Volleyball Championship and No. 3 seed Stanford can parlay its home-court advantage into an NCAA Tournament berth with a run through the tournament field.
The Cardinal open the MPSF Championship against USC, a tough six-seed that split the regular-season series when they met in Los Angeles. Theo Snoey and Will Rottman combined for 35 and 32 kills in the series, part of the season-long trend with the two as Stanford's leading scorers.
Snoey heads into the MPSF Championship with 287 points, Rottman with 311. In addition to their kill totals of 244 and 271, Snoey and Rottman have delivered 21 and 24 service aces. Along with Nathan Lietzke's 22, they lead the Cardinal.
Stanford will need all of that offense to navigate a challenging MPSF field, too.
The Cardinal finished league play 6-6 after dropping the regular-season finale at BYU. The sweep elevated the Cougars to the tournament's second seed and left Stanford in third place.
The 3-1 and 3-0 defeats at BYU came one series after Stanford looked dominant against then-No. 6-ranked Grand Canyon. In an indication of the league's week-to-week variance, Stanford rolled in 3-0 and 3-2 wins against the Antelopes thanks in part to the play of Kevin Lamp.
Statement earned 😏#GoStanford #NCAAMVB pic.twitter.com/gZQzemCda7

— Stanford Men's Volleyball (@StanfordMVB) April 9, 2023
The outside hitter Lamp is a potential X-factor for the Cardinal, having played some of his best volleyball late in the season, including with his team-high in kills against GCU. Lamp also produced an 18-kill showing in a midseason win against Pepperdine.
Lamp, Ethan Hill and Nathaniel Gates are all capable weapons around the leading duo of Rottman and Snoey. Hill has produced 185.5 points on the season, while Gates adds 158.
Couple the variety of potential offensive difference-makers with one of the top defensive players in the MPSF — libero Justin Liu — and Stanford has the pieces to make a surprise title run.
Liu has 192 digs on the season and a MPSF-leading average of 2.16 per set. Liu also sports a reception percentage of nearly 95.
Stanford has had additional key defensive contributions from Hill and Lietzke with 55 and 37 blocks.
While Stanford's opponent hitting percentage ranks right in the middle of the MPSF pack, the Cardinal are one of four teams in the league limiting opponents to less than .300; their season-long yield is .295.