2023 MPSF Men's Volleyball Championship
MPSF Men's Volleyball Tournament 2023 Bracket And Schedule
MPSF Men's Volleyball Tournament 2023 Bracket And Schedule
MPSF Men's Volleyball Tournament begins on April 19 at Stanford as No. 1-Ranked UCLA Men's Volleyball eyes Men's Volleyball NCAA Tournament championship.
Apr 17, 2023
by Joe Harrington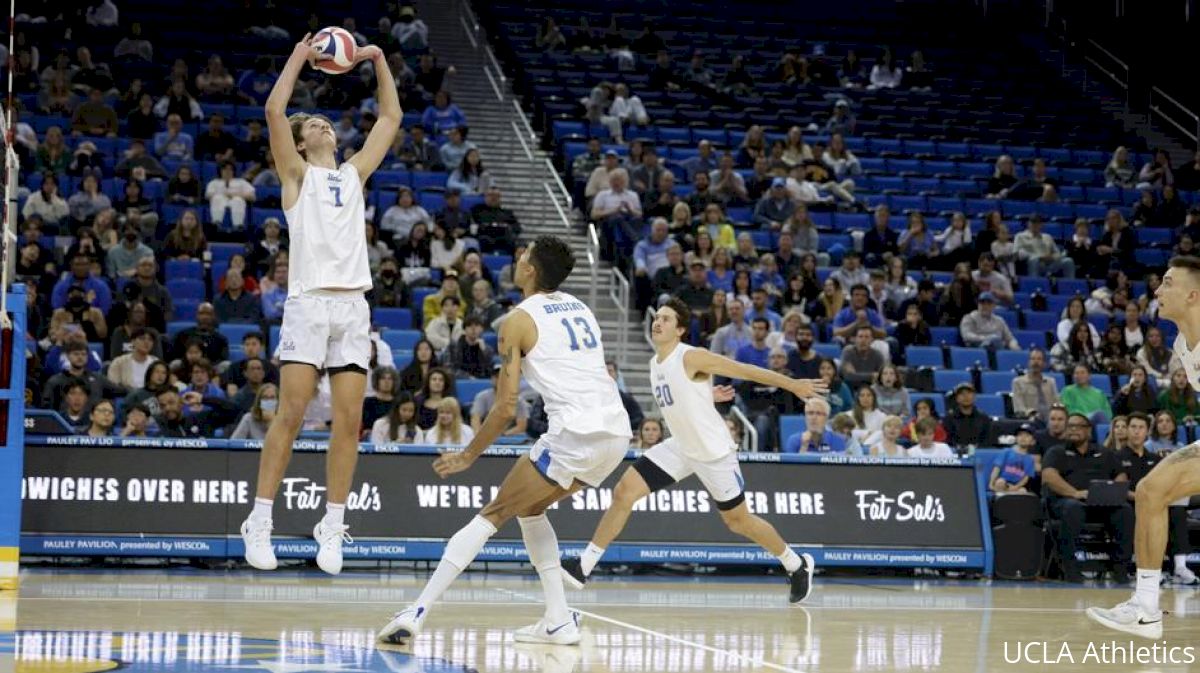 The Mountain Pacific Sports Federation Men's Volleyball regular season ended this weekend and now teams head to Stanford for the 30th MPSF Men's Volleyball Tournament.
Games begin on April 19 at 6:05 p.m. ET at Maples Pavilion on Stanford's campus.
The winner of the tournament will receive the automatic bid for the Men's NCAA Volleyball Tournament, which is May 4-6 at EagleBank Arena in Fairfax, Virginia.
Subscribe to FloVolleyball To Watch the 2023 MPSF Men's Volleyball Tournament
Players To Watch At The 2023 MPSF Men's Volleyball Championship
The MPSF regular season ended on April 15, as No. 1-ranked UCLA Men's Volleyball capped off an undefeated 12-0 conference season and a 27-2 overall record with a. 3-1 win over rival Pepperdine.
How dominant did UCLA play in MPSF season? The Bruins lost just five sets in conference play.
Here's how the bracket looks for this year's tournament.
2023 MPSF Men's Volleyball Tournament Bracket
No.1 UCLA (27-2)
No. 2 BYU (18-6)
No. 3 Stanford (13-12)
No. 4 Grand Canyon (21-6)
No. 5 Pepperdine (16-13)
No. 6 USC (10-15)
No. 7 Concordia Irvine (8-18)
Stanford Looks To Score On Home-Court At MPSF Men's Volleyball Championship
BYU Rides Momentum Into 2023 MPSF Men's Volleyball Championship
MPSF Men's Volleyball Quarterfinals: Wednesday, April 19
No. 1 Seed UCLA---Bye
No. 2 Seed BYU vs. No. 7 Seed Concordia---6:05 pm ET
No. 3 Seed Stanford vs. No. 6 Seed USC---8:35 pm ET
No. 4 Seed Grand Canyon vs. No. 5 Seed Pepperdine---11:05 pm ET
MPSF Men's Volleyball Semifinals: Thursday, April 20
Lowest Remaining Seed vs. No. 1 Seed UCLA---7:35 pm ET
Highest-Seeded Quarterfinal Winners---10:05 pm ET
MPSF Men's Volleyball Championship: Saturday, April 22
Semifinal Winners---9:05 pm ET
Can Pepperdine Men's Volleyball Win MPSF Again?
Defending tournament champion Pepperdine shocked No.1 seed UCLA in the tournament last year. The Bruins, who beat Pepperdine in the NCAA Tournament a few days later, had gone 11-1 in the regular season but lost 3-2 to Pepperdine in the championship.
Will UCLA Men's Volleyball be the No.1 seed in the NCAA Tournament?
The Bruins were upset in this tournament a year ago, but still made the NCAA Tournament as an at-large team. This year the Bruins could be the NCAA Tournament favorite in Fairfax.
Ranked No.1 in the most recent men's volleyball poll, the UCLA Men's Volleyball team will look to halt No. 2-ranked Hawaii's two-year championship run.
Hawaii is seeking to become the first men's volleyball program to win three-straight NCAA championships since UCLA won four-straight titles from 1981-1984.
The Bruins have won 19 championships but none since 2006.
Men's Volleyball Rankings: How Many are at MPSF Tournament?
After UCLA, No.5 Grand Canyon is the highest-ranked team and probably the biggest threat to UCLA. BYU is No. 7 and finished second in conference play, while host Stanford is ranked No. 11.
Pepperdine (No. 14) and USC (No. 22) are also ranked.
How To Watch The MPSF Men's Volleyball Tournament?
The MPSF Men's Volleyball Tournament is streaming live on FloVolleyball and the FloSports app.