CAA Women's Volleyball
CAA Volleyball Report | September 12, 2022
CAA Volleyball Report | September 12, 2022
Catch up on the CAA Volleyball weekly news, notes, and awards.
Sep 13, 2022
by FloVolleyball Staff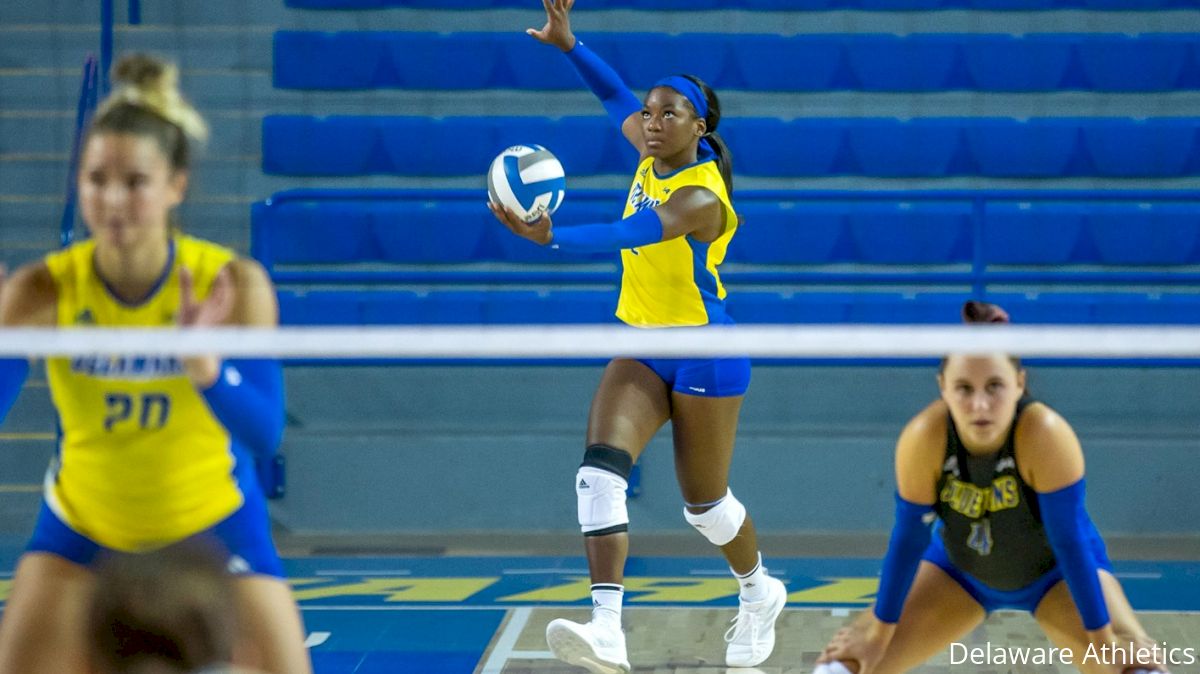 WEEKLY HONORS
OFFENSIVE PLAYER OF THE WEEK
Lani Mason, Delaware
Senior | Outside Hitter | Chester, Va. / Matoaca
Mason was named the MVP at the Winthrop Tournament, recording 6.33 kills per set on a .330 hitting percentage while adding 2.56 digs per set to lead Delaware to a 3-0 weekend without dropping a set. Mason opened the tournament with 18 kills, posting a .429 hitting percentage, adding six digs and two blocks against Wyoming. She followed the performance with 19 kills, hitting .343 and recording eight digs with three blocks versus Winthrop; before concluding the weekend with a 20-kill, nine-dig performance against Davidson. Mason has recorded double-digit kills in every match this season and leads the CAA in total kills (154) and kills per set (5.13).
DEFENSIVE PLAYER OF THE WEEK
Lydia Wiers, Towson
Senior | Middle Blocker | Willard, Ohio / Willard HS
Wiers recorded 14 blocks, 1.40 per set, helping Towson extend its winning streak to 10 matches after a 3-0 weekend. The senior middle blocker matched a team-high for the Tigers, who averaged 3.30 blocks per set as a team at the Panther Challenge. In the weekend finale, Wiers tallied six blocks, helping Towson out block No. 7 Pittsburgh 16-3 as the Tigers earned their first win over a ranked team in program history. Wiers recorded at least four blocks in all three matches over the weekend and has at least four blocks in eight straight matches. She also added 12 kills and six digs to round out her performance last week.
ROOKIE OF THE WEEK
Ryann Love, William & Mary
Freshman | Middle Blocker | Chesapeake, Va. / Hickory HS
Love tallied 18 kills on a blistering .739 hitting percentage, along with 10 blocks in a 2-0 weekend for William & Mary. On Friday, the freshman middle blocker recorded 10 kills on 13 swings without an error, hitting .769 with one block in a straight-set victory over Maryland Eastern Shore. She concluded the weekend with eight kills and nine blocks while swinging .700 in a reverse sweep against George Mason. The nine blocks were the most by a William & Mary freshman since 2017.
CONFERENCE NOTES
CAA PLAY BEGINS SATURDAY
• The conference portion of the volleyball schedule will begin on Saturday as 10 teams start their CAA slates this weekend. Teams will play a 16-match conference schedule against eight opposing CAA teams, with both matches against a single opponent occurring either at home or on the road.
STREAKING INTO CONFERENCE PLAY
• Four teams will enter CAA play this weekend with winning streaks of at least three matches. Towson is tied for the nation's longest active winning streak, having won 10 straight to begin the season. William & Mary has won five consecutive matches, while Delaware and Hampton have each claimed victories in their previous three contests.
BIG TIME TIGERS
• Towson continued its hot start to the season with a 3-0 weekend at the Panther challenge. The Tigers defeated Bowling Green, American and seventh-ranked Pittsburgh to remain unbeaten this season. The Tigers have caught the nation's eye as Towson received votes in the latest AVCA top-25 poll.
• The win over No. 7 Pittsburgh is Towson's first victory over a ranked opponent in program history. It was the second straight week the Tigers took down a Power Five foe after defeating Rutgers on Sept. 3.
NEW ERA OF CAA RIVALRIES
• The opening weekend of conference play in CAA Volleyball will feature two matchups with in-state foes going head-to-head.
• On Long Island, Hofstra and Stony Brook will get together at Pritchard Gymnasium for the first time as conference opponents. The Pride and Seawolves have faced on 12 occasions all-time, including the past eight seasons. Hofstra holds an 11-1 record against Stony Brook and has won nine straight matchups.
• In Greensboro, North Carolina A&T will host Elon at Moore Gymnasium. The series between the Phoenix and Aggies dates back to 1978, playing 40 matches between the two schools. Elon holds a 31-9 advantage in the all-time series, and it when the teams meet, it will be the first time since 2018, snapping a three year hiatus.
TEAM NOTES
Charleston
• Lexi Wierzbicki was named to the CofC Invitational all-tournament team and surpassed 500 career kills over the weekend. She totaled 41 kills (4.56 per set) to lead Charleston.
• Emma Falk contributed to the Cougars' victory on Friday with a career-high 11 kills. She posted a .409 hitting percentage for the match and added three blocks.
• Freshman Olivia Mae Van Der Werff put down a season-high eight kills on 20 swings against Wofford and finished the weekend with 15 kills.
Delaware
• Lani Mason was dominant at the Winthrop Tournament, recording 57 kills (6.33 per set) on a .330 hitting percentage and 23 digs (2.56 per set) en route to MVP honors. Mason ranks fifth in the NCAA in kills per set (5.13) and seventh in total kills (154).
• Lily Rogers was named to the all-tournament team after an efficient weekend on the attack. Rogers hit at a .417 clip, recording 25 kills (2.78 per set) and had at least eight kills in each match.
• Ezgi Basaranlar racked up 99 assists, 11.00 per set, recording over 30 in all three matches for the Blue Hens. She leads the CAA with 9.96 assists per set this season.
Elon
• Leah Daniel paced the Phoenix with 46 kills (3.54 per set) and moved into sixth all-time for career kills (1,352) at Elon. She extended her streak with double-digit kills to five matches with three such performances last week.
• Haylie Clark recorded double-doubles in all three matches last week, extending her double-double streak to five contests. She tallied 103 assists (7.92 per set) and 33 digs (2.54) throughout the week.
• Freshman Sydney Daniels tallied 54 digs (4.15 per set), including her first two double-figure dig performances. Daniels racked up 22 digs on Friday before a season-high 28 on Saturday.
Hampton
• On Wednesday, Hampton defeated Norfolk State in five sets to improve to 3-0 for the first time since 2014.
• Gabby Calloway paced the Hampton attack, recording season-highs with 16 kills and four service aces. It is the most kills in a match for Calloway since Sept. 18, 2021.
• Genevieve Reynolds and Madison Clark also reached double-digit kills with 10 and 13, respectively. Reynolds added five blocks and two service aces, while Clark tallied three service aces.
Hofstra
• Beatriz Alves recorded double-doubles in three of the four matches for the Pride last week. She tallied 38 assists and 10 digs in a win over St. Francis Brooklyn, 25 assists, and a career-high 10 kills against Syracuse, along with 20 assists and 11 digs versus Yale.
• Chiara Cucco tallied 70 digs (5.00 per set) and recorded at least 10 in all four matches, including a season-high 23 on Wednesday.
• Clara Bal recorded her fourth double-double this season with 10 kills and 10 digs against Syracuse. She totaled 39 kills (2.79 per set) for the week and reached double-figures twice.
North Carolina A&T
• With the straight-set victory over North Carolina Central on Friday night, the Aggies have won 12 straight matches against their rival.
• Naiya Sawtelle led North Carolina A&T, recording 32 kills (3.56 per set) and 27 digs (3.00 per set). She recorded her second double-double this season, with 13 kills and 11 digs in the Aggie victory.
• Addy Warfield tallied her first double-double this season with 13 assists and 12 digs against North Carolina Central. She recorded double-digit assists in all three matches, making it five straight in double figures.
UNCW
• All three teams UNCW faced this past weekend were NCAA tournament teams in 2021. The Seahawks rallied to win the last two sets of a five-set win over UIC on Saturday.
• Grace Melnick had 24 kills over the weekend and hit .293 for the tournament. Melnick recorded a career-high 12 kills against UIC.
• Katie Lanz paced UNCW with 28 kills (2.55 per set) and added 25 digs (2.27 per set) for the tournament. She recorded her second double-double this fall with 17 kills and 12 digs in the victory on Saturday.
Northeastern
• Erica Staunton recorded double-digit kills in all three matches for the Huskies, totaling 58 (4.83 per set) over the weekend. Staunton has at least 10 kills in all nine contests this season.
• Nailah Jenkins recorded her first career double-double with 13 kills and a career-high 10 blocks against Georgia. She finished the weekend with 26 kills (2.17 per set) and 15 blocks (1.25 per set).
• Jessica Frannea tallied her third double-double this season with 29 assists and 11 digs against Iona. For the tournament, she recorded 105 assists (8.75 per set), surpassing 35 twice.
Stony Brook
• With a five-set victory over Seton Hall on Sunday. It marks Stony Brook's first win over the Pirates since 2004.
• Kali Moore concluded the weekend with back-to-back double-doubles and now has four this season. She recorded 15 kills and 13 digs against Seton Hall, followed by 20 kills and 12 digs versus Sacred Heart.
• Torri Henry picked up her fourth double-double of the season with 27 assists and a season-high 15 digs against Princeton. She finished the weekend with 120 assists (10.00 per set) to lead the Seawolves.
Towson
• Don Metil became the all-time winningest coach (202) in Towson volleyball program history, following a 3-0 week that saw the Tigers earn their first-ever win over a ranked opponent.
• Victoria Barrett paced Towson with 41 kills (4.10 per set) and hit .381 for the tournament. She reached double-digit kills in all three matches, including a season-high 16 on a .520 hitting percentage against No. 7 Pittsburgh.
• Lydia Wiers and Aayinde Smith each recorded 14 blocks as the Tigers racked up 33 team blocks (3.30) over the weekend.
William & Mary
• The Tribe extended its winning streak to five matches following wins over UMES and George Mason. It is the Tribe's longest winning streak since 2012, when they won seven straight.
• Anna Porter racked up 44 digs (5.50 per set) over the two matches, including a career-high 32 against George Mason. The 32 digs are the most by a Tribe player since 2006.
• Ryann Love recorded 18 kills (2.25 per set) on a blistering .730 hitting percentage with 10 blocks (1.25 per set). She racked up a season-high nine blocks against George Mason, the most by a Tribe freshman since 2017.