CAA Women's Volleyball
2022 CAA Volleyball Preview: Towson & Elon Picked To Duke It Out Again
2022 CAA Volleyball Preview: Towson & Elon Picked To Duke It Out Again
After a classic in the 2021 CAA Championship Game, Towson and Elon are again the favorites to contend for the conference championship.
Aug 23, 2022
by Kyle Kensing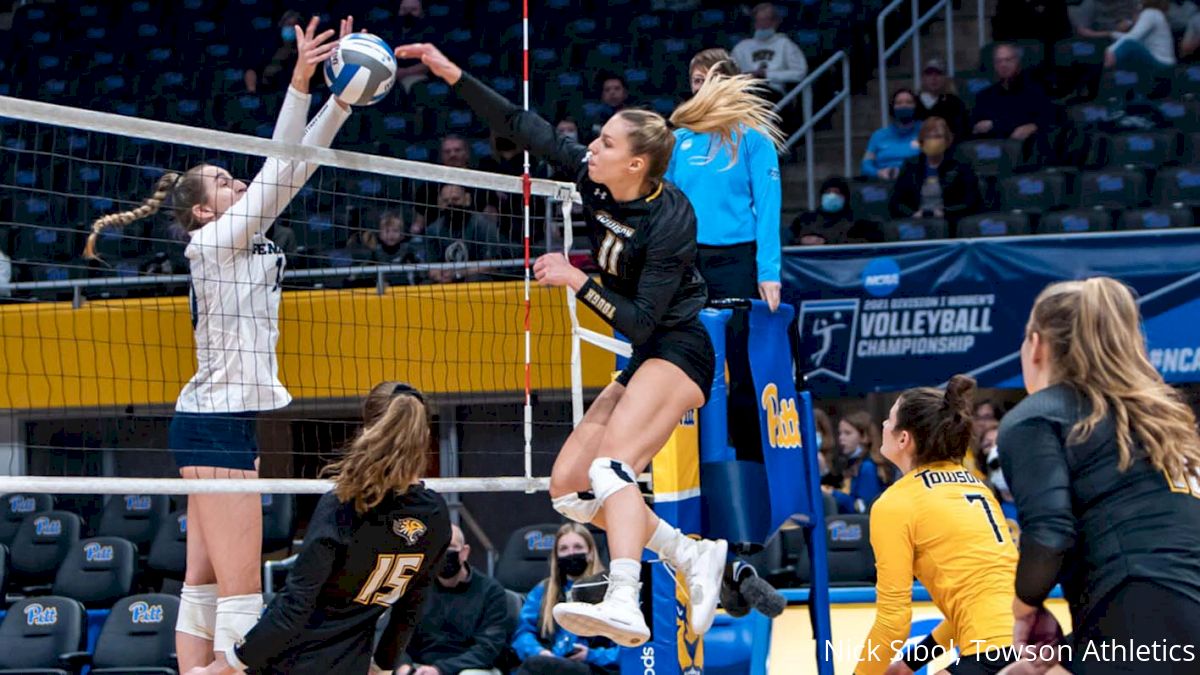 With three preseason 1st Team All-Conference honorees in the fold, reigning Colonial Athletic Association champion Towson looks like the squad to beat in 2022.
Towson went 26-5 en route to the 2021 CAA title and berth in the NCAA Tournament, and played its best down the stretch of the season. The Tigers won seven of their last eight regular-season matches before holding off Elon in a thrilling CAA Tournament title round.
The Phoenix are again projected as Towson's primary competition for the Colonial championship, thanks in no small part to the return of 2021 All-CAA selection Leah Daniel.
While there's plenty of familiarity shaping CAA volleyball in the season to come, the league offers no shortage of change. James Madison and 2021 Player of the Year Miëtte Veldman are gone, but the Colonial welcomes Hampton, North Carolina A&T and Stony Brook this fall.
Charleston
HEAD COACH: Jason Kepner, 15th season
2021 RECORD: 16-12, 9-7 (4th)
COUGARS OVERVIEW
Charleston seeks its 10th all-time NCAA Tournament appearance and sixth in Jason Kepner's tenure as head coach. Kepner, a two-time CAA Coach of the Year, heads into the 2022 season with a lineup that includes 2021 1st Team all-league selection and outside hitter Lexi Wierzbicki.
Wierzbicki's 339 kills ranked third in the CAA.
5️⃣ | Drop the HAMMER, @wierzbicki_lexi!🔥

🌴 2
🦁 1#comeCus 🌴🏐 pic.twitter.com/3vvcCtIZwQ

— CofC Volleyball (@CofCVolleyball) November 19, 2021
Middle blocker Claire Campbell finished 10th in the league in hitting percentage, and All-Rookie setter Jasmin Goei ranked eighth with 5.63 assists per set.
Delaware
HEAD COACH: Kimberly Lambert, first season
2021 RECORD: 15-13, 8-8 CAA (5th)
BLUE HENS OVERVIEW
Kimberly Lambert takes over as head coach in 2022, but is no newcomer to Blue Hens volleyball. A staff member since 2017, Lambert served as associate head coach on a '21 Delaware team that finished the season strong.
UD won four straight, all in straight sets, before falling to Towson at the CAA Tournament. Lani Mason returns to lead the Blue Hens after earning All-CAA recognition last season. Mason registered a team-high (and second-most in the conference) 344 kills and 38 service aces.
Mason was one of four Blue Hens to rank in the top seven of the CAA in service aces along with Savannah Seemans (45), Lily Rogers (41), and Ezgi Basaranlar (38). Basaranlar also was fourth in the conference with 8.6 assists per set. All four return for a Blue Hens bunch picked fourth in the preseason poll.
Elon
HEAD COACH: Mary Tendler
2021 RECORD: 17-11, 11-5 (2nd)
PHOENIX OVERVIEW
2021 CAA Coach of the Year Mary Tendler's Phoenix were on the cusp of an NCAA Tournament berth a season ago. This year, Elon aims to finish the goal with a veteran lineup that includes the preseason Player of the Year, spring 2021 All-American and outside hitter Leah Daniel; as well as1st Team setter/right side Haylie Clark.
Elon also returns 2021 All-Rookie Team honoree Sydney Love, an outside hitter whose 228 kills were second on the squad to Daniel's league-leading (and 68th among all Div. I players) 391.
The Phoenix garnered three first-place votes in the preseason poll, and have all the pieces necessary to make the NCAA Tournament. The celebration in the Schar Center's Sydel Curry Locker Room should Elon win a CAA title might even put the NBA champion Golden State Warriors to shame.
There's wedding presents. Then there's what @sdotcurry & @StephenCurry30 surprised @sydelcurry with tonight. The @ElonVB locker room will now be named the Sydel Curry Locker Room thanks to the Curry family! pic.twitter.com/oEX2YgKvFy

— Elon Phoenix (@ElonPhoenix) August 29, 2018
Hampton
HEAD COACH: Sonja Masimovic, second season
2021 RECORD: 3-20, 2-14 (Big South Conference)
PIRATES OVERVIEW
CAA newcomer Hampton joins from the Big South searching for a resurgence under the guidance of an all-time program great player. Pirates coach Sonja Maksimovic captained Hampton in 2014 when it finished 21-11 and reached the NCAA Tournament. She was tabbed to take over as head coach in 2020, but the pandemic delayed her debut in the role until last season.
The 2021 campaign was a rebuilding season for Hampton, which finished last in the Big South. HU's growing pains could continue with the team losing blocks leaders Margaret Daramola and Isis Black, as well as digs leader Jessica Pugh.
Veterans Clara Smith and Gabby Calloway return after leading the Pirates in kills and combining for 43 blocks last season, however. The two will be pillars as Hampton aims to surprise in 2022.
Hofstra
HEAD COACH: Emily Mansur, ninth season
2021 RECORD: 15-14, 8-8 (6th)
A young Hofstra team ago takes the experience of a finish on the right side of .500 into a promising new season. Paced by '21 All-Rookie selection and preseason 1st Team All-CAA nominee Chiara Cucco. who averaged 4.89 digs per set, the Pride have three second-year pillars who were key contributors in their first season.
Florencia Wolkowyski is tops among Hofstra returning players in kills, while Beatriz Alves ranked in the top 50 of all Div. I players with her 1,054 assists.
Hofstra's youngsters-turned-leaders make the Pride potential dark horses to watch in the CAA title hunt.
North Carolina A&T
HEAD COACH: Hal Clifton, 10th season
2021 RECORD: 20-11, 11-5 (Big South Conference)
BULLDOGS OVERVIEW
North Carolina A&T earned the highest selection in the preseason poll among the CAA newcomers, and with good reason. The Bulldogs won 20 matches a season ago and finished top four in the Big South behind a lineup that included Naiya Sawtelle. The freshman standout earned 2nd Team All-Big South recognition a year ago, and heads into her sophomore campaign named a preseason All-CAA performer.
Fellow sophomore Hannah Howell joins Sawtelle to give the Bulldogs a pair of solid outside hitters who were also among the Bulldogs leaders in digs per set a year ago along with their more-than-500 combined kills. A&T brings back Mallory Porcher, a force at the net playing middle blocker. She recorded more than 100 blocks last year and will be central to the Bulldogs' defensive efforts.
While the top-half of the CAA is loaded, the Bulldogs have enough returning talent that, if it gets some big-time contributions out of freshmen like Sawtelle and Howell in '21, they could climb into that upper echelon.
Northeastern
HEAD COACH: Lenika Vazquez, third season
2021 RECORD: 12-15, 8-8 (7th)
HUSKIES OVERVIEW
With a 1st Team honoree (opposite hitter Erica Staunton) and a pair of honorable mention selections (middle blocker Nailah Jenkins and libero Kayla Martin), Northeastern boasts as many preseason All-CAA players as reigning champion Towson. That's enough of a foundation to suggest the Huskies could vastly outperform their selection at No. 6 in the preseason poll.
We had 3️⃣ earn preseason honors from the CAA!🤩

Congratulations to Erica, Nailah, and Kayla!💪

🔗 - https://t.co/aHN0KCWgEW#HowlinHuskies pic.twitter.com/tPx2G2MjHj

— Northeastern Volleyball (@GoNUwvolleyball) August 17, 2022
Finishing stronger than it did in 2021 will be critical for Northeastern to avoid another lower-half finish, however. The Huskies struggled down the stretch with losses in six of their final seven, four of which were decided in straight sets.
There's plenty of reason for optimism despite going into the offseason on a sour note, starting with the return of Staunton. She recorded a team-best 246 kills to pace the offense, while Martin ranked 140th nationally among all Div. I players with 4.12 digs per set.
Stony Brook
HEAD COACH: Kristin Belzung, sixth season
2021 RECORD: 13-14, 7-5 (America East Conference)
SEAWOLVES OVERVIEW
Stony Brook's profile coming out of 2021 is quite interesting. The Seawolves finished with a sub-.500 overall record, but performed well enough in America East Conference competition to earn their way into the league's four-team tournament.
Stony Brook also landed three on the All-America East team, one of whom returns and is a preseason All-CAA honoree ahead of the program's inaugural Colonial season (middle blocker Abby Campbell). Campbell joins a lineup that returns the leader in kills (outside hitter Leoni Kunz) and assists (setter Torri Henry). Henry also finished 2021 in the nation's top 50 for service aces with 39.
While picked eighth in the preseason poll, Stony Brook's another squad with potential to surprise — and perhaps even factor into the CAA title race.
Towson
HEAD COACH: Don Metil, 10th season
2021 RECORD: 26-5, 12-4 (1st; Lost to Penn State, NCAA Tournament 1st Round)
TIGERS OVERVIEW
Don Metil's tenure as head coach, particularly in recent years, has set Towson as the standard for CAA volleyball. The Tigers have lost just 10 matches combined over the past three seasons, with two of those coming against perennial national powerhouse Penn State in NCAA Tournament meetings.
With trips to the tournament in each of the last two fall seasons, including a 1st Round win over American in 2019, Towson aims to elevate the bar further in 2022.
Time to dance.

🐯🆚🦁
📅 - Friday
📍 - Pittsburgh, Pa.
⌚️ - 4 p.m.@TowsonU x @NCAAVolleyball pic.twitter.com/lfV13BDrMs

— Back to Back to Back CAA Champs (@Towson_VB) November 29, 2021
The international flair with 1st Team All-CAA nominees Fay Bakodimou (Greece) and Nina Cajic (Serbia) at outside hitter give Towson a potent offensive punch. Bakodimou registered 307 kills in 2021, with Cajic averaging 2.62 kills per set en route to 212 total.
Meanwhile, fellow 1st Team honoree Lydia Wiers powers the Tigers defense at middle blocker, coming off a season with a Colonial-leading 138 blocks. The Towson defense is further fortified with the return of Rachel Hess as DS. Hess's 471 digs ranked in the top 50 of Div. I in '21.
UNC Wilmington
HEAD COACH: Dottie Hampton, third season
2021 RECORD: 4-23, 3-13 (8th)
UNC Wilmington endured a challenging slate in Dottie Hampton's first full season as head coach. The Seahawks lost 12 of their first 13, but showed considerable improvement by the start of CAA play with wins over Northeastern and James Madison.
The 2022 campaign should bring considerable, tangible improvement for a group returning its top outside hitter, Katie Lanz; leading middle blocker, Brooke Hanshumaker; and top libero, Jadyn Barry.
Lanz was named a preseason 1st Team All-CAA selection after a 2021 campaign with 261 kills and 162 digs.
William & Mary
HEAD COACH: Tim Doyle, fifth season
2021 RECORD: 5-16, 2-14 (9th)
A young William & Mary team heads into 2022 looking for a resurgence. The Tribe finished at the bottom of the CAA standings a year ago, and head into the new campaign replacing their top two leaders in kills. It's not a complete restart for William & Mary, however: setter Amy Schwem paced the Tribe with 551 assists and was second to fellow returnee Anna Porter in aces with 14.
The libero Porter's 20 aces, meanwhile, led the team, along with her 257 digs.
William & Mary will look for outside hitters to step up and fill the voids left by Julie Brown and Lauren Merrill.