CAA Women's Volleyball
CAA Volleyball Report | August 22, 2022
CAA Volleyball Report | August 22, 2022
Catch up on the CAA Volleyabll weekly news, notes, and awards.
Aug 22, 2022
by FloVolleyball Staff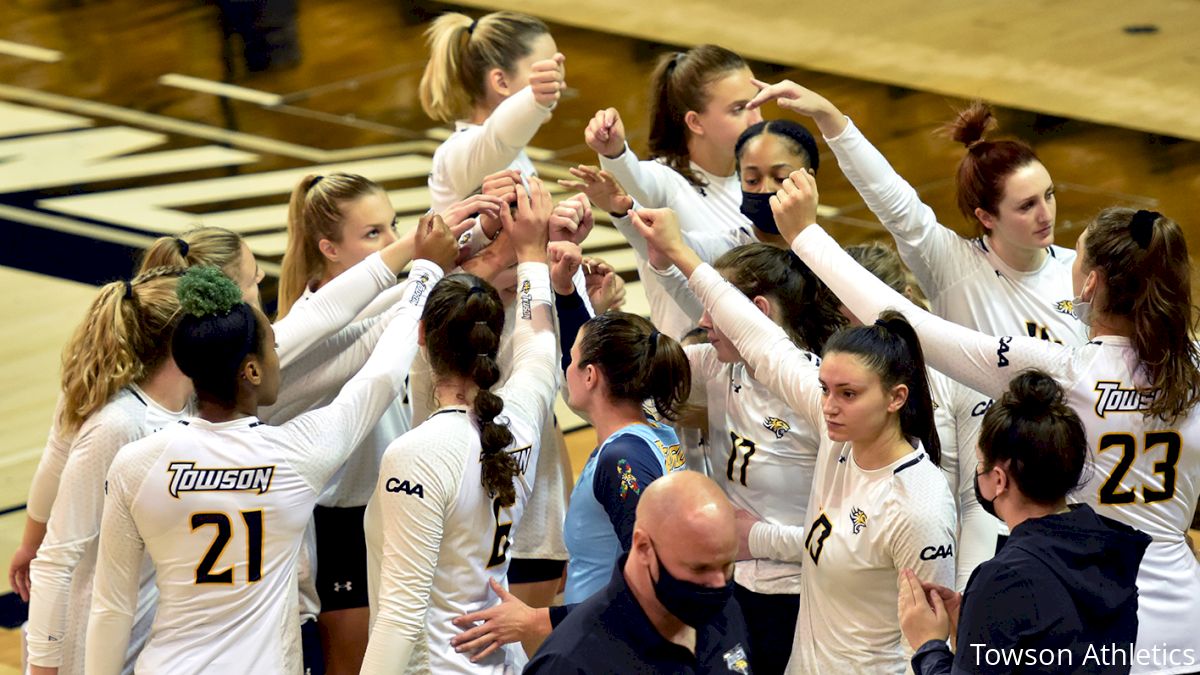 PRESEASON HONORS
PLAYER OF THE YEAR
Leah Daniel, Elon
Senior | Outside Hitter | Zionsville, Ind./Zionsville Community
Daniel continues to be highly regarded as one of the top athletes in CAA volleyball, as the 2020 Player of the Year earns Preseason Player of the Year accolades for the second straight season. The senior outside hitter led the conference last season with 391 kills and 427 points. Last fall, Daniel tallied 3.87 kills per set, swinging at a .237 clip and recorded 10 or more kills in 24 of her 28 matches.
CONFERENCE NOTES
TOWSON TOPS PRESEASON POLL
• Three-time defending champion Towson collected seven first-place votes and 96 points to sit atop the CAA Volleyball Preseason Poll. It is the second consecutive season the Tigers have been favored in the preseason poll.
POLL PARITY
• Three teams received first-place votes in the CAA Volleyball Preseason Poll, while the teams ranked fourth through sixth were separated by four points and the teams seven through ten by six points.
DANIEL HEADLINES PRESEASON TEAM
• Elon senior outside hitter Leah Daniel was selected as the 2022 Preseason Player of the Year for the second straight season. She was joined on the Preseason All-CAA team by her teammate Haylie Clark, three Tigers: Fay Bakodimou, Nina Cajic and Lydia Wiers, Charleston's Lexi Wierzbicki, Delaware's Lani Mason, Hofstra's Chiara Cucco and Erica Staunton of Northeastern.
WE'RE GLAD YOU'RE HERE
• CAA Volleyball has three new members this season, with Hampton and North Carolina A&T joining from the Big South and Stony Brook coming over from the America East.
HELLO, ELEVEN
• Hampton, North Carolina A&T and Stony Brook join CAA Volleyball in 2022 as the membership increases to 11 conference teams. It marks the largest conference field since there were 10 members from 2005-2011.
EIGHT IS GREAT
• For the first time in league history, eight teams will participate in the CAA Volleyball Championship. It will be the largest championship field in conference history. Seven teams participated in the conference tournament from 1995-99, but the field has been six teams since 2011, excluding the spring of 2021.
SECU AT TOWSON IN NOVEMBER
• The 2022 CAA Volleyball Championship presented by Primis returns to SECU Arena on the campus of Towson University on November 17-19. It will be the third straight season the conference tournament has been held at Towson, marking the longest streak at one venue in league history.
ORDER FOR A DOZEN
• On August 3, the Colonial Athletic Association announced that Campbell will join the conference as a full member for the 2023-24 season. The Fighting Camels come from the Big South and will make CAA Volleyball a 12-team league next year.
TEAM NOTES
Charleston
• Preseason All-CAA honoree Lexi Wierzbicki returns for Charleston after leading the Cougars in kills (339) and kills per set (3.03) last season.
• Gabi Bailey, who led the CAA with 12 double-doubles last season, is back in the Cougars lineup this fall. She was second on the team with 318 kills (2.84 per set) and led the Cougars with 278 digs (2.48 per set).
• In 2021, Charleston had four players with over 200 digs and paced the conference with 15.11 digs per set.
Delaware
• Lani Mason was pegged on the Preseason All-CAA team after ranking second in the conference in kills (344) and third in kills per set (3.37) last season.
• Ezgi Basaranlar received preseason honorable mention recognition. The senior setter was fourth in the CAA in assists (774) and assists per set (8.60) last season.
•Delaware led the CAA with 2.16 service aces per set last fall and had four student-athletes top five in the conference in service aces.
Elon
• CAA Preseason Player of the Year Leah Daniel has led the CAA in total kills each of the past three seasons and averaged over 3.80 kills per set over that span.
• Haylie Clark was named to the Preseason All-CAA team after earning CAA Setter of the Year honors last fall. Clark had at least 20 assists in every match last season, including 40 or more eight times.
• Last season, Elon posted a program-best 11-5 record in CAA play and advanced to the program's first CAA Championship match appearance.
Hampton
• Hampton joins the CAA for its inaugural season. The Pirates have played the past four years in the Big South.
•Hampton returns six players that played in all 23 matches for the Lady Pirates last season.
• Clara Smith and Gabby Calloway recorded over 200 kills last fall to lead the Hampton attack. Smith paced the team with 210 kills (2.56 per set), while Calloway followed closely with 207 (2.46 per set).
Hofstra
• Hofstra returns two major award winners from last season's CAA semifinalist team.
• Reigning CAA Libro of the Year Chiara Cucco was pegged on the All-CAA Preseason team. Cucco led the league with 528 digs and 4.89 digs per set last season.
• Beatriz Alves earned CAA Rookie of the Year honors last fall and received Preseason All-CAA honorable mention recognition. Alves paced the CAA with 1,054 assists and 9.76 assists per set a year ago.
North Carolina A&T
• North Carolina A&T joins the CAA after four straight winning seasons, including a 20-win season last fall and an NCAA Tournament appearance in the spring of 2021.
• Naiya Swatelle had a stellar freshman campaign in 2021, leading the Aggies with 396 kills and ranking third in the Big South with 3.36 kills en route to all-conference accolades.
• Mallory Porcher helped the Aggies lead the Big South in blocks per set (2.33) last season. Porcher was third in the conference in blocks (106) and blocks per set (1.03).
UNCW
• Katie Lanz earned Preseason All-CAA honorable mention. Lanz topped the Seahawks with 261 kills and 2.58 kills per set while adding 162 digs (1.60 per set).
• Jadyn Berry came on late in the season last year and ended the fall leading UNCW in digs (215) and digs per set (4.06).
• UNCW retains seven players that played in at least 23 matches last season, including a pair of players that started all 27.
Northeastern
• Preseason All-CAA honoree Erica Staunton led Northeastern with 246 kills and ranked fourth in the CAA with 3.15 kills per set.
• Kayla Martin led the Huskies with 400 digs last season and was second in the CAA with 4.12 digs per set. She earned preseason honorable mention accolades entering the season.
• Nailah Jenkins was recognized with honorable mention distinctions this preseason after recording 2.19 kills per set and 0.78 blocks per set last fall.
Stony Brook
• Stony Brook enters its first season in the CAA, joining from the America East. The Seawolves have won back-to-back AE Championship titles in 2017 and 2018.
• Abby Campbell was Preseason All-CAA honorable mention. She paced the Seawolves with 74 blocks (0.80 per set) and was third on the team with 214 kills (2.30 per set).
• Leoni Kunz returns for Stony Brook after leading the team with 271 kills and ranking second with 2.85 kills per set.
Towson
• Towson has won three straight CAA Championships, becoming the first team to do so since 1994-96. The Tigers will look to become the third team in league history to win four straight titles this fall.
• Towson returns three of their top four kill leaders from last season in preseason All-CAA honorees Fay Bakodimou (307), Nina Cajic (212) and Lydia Wiers (222).
• Last season, the Tigers led the CAA in hitting percentage (.265), kills per set (13.00), assists per set (11.97), blocks per set (2.63) and opponent hitting percentage (.136).
William & Mary
• The Tribe returns five players that started at least seven matches last year and eight that appeared in over half of William & Mary's contests.
• Anna Porter led William & Mary with 257 digs last season and was fifth in the conference with 3.72 digs per set.
• Amy Schwem recorded five double-doubles in her freshman season. She led the Tribe with 551 assists (8.35 per set) and was second on the team with 128 digs (1.94 per set).