CAA Women's Volleyball
Elon's Daniel Named Preseason Player Of The Year, Towson Tops Poll
Elon's Daniel Named Preseason Player Of The Year, Towson Tops Poll
Towson was selected atop the CAA Volleyball preseason poll, and Elon's Leah Daniel was chosen as the CAA Preseason Player of the Year.
Aug 18, 2022
by FloVolleyball Staff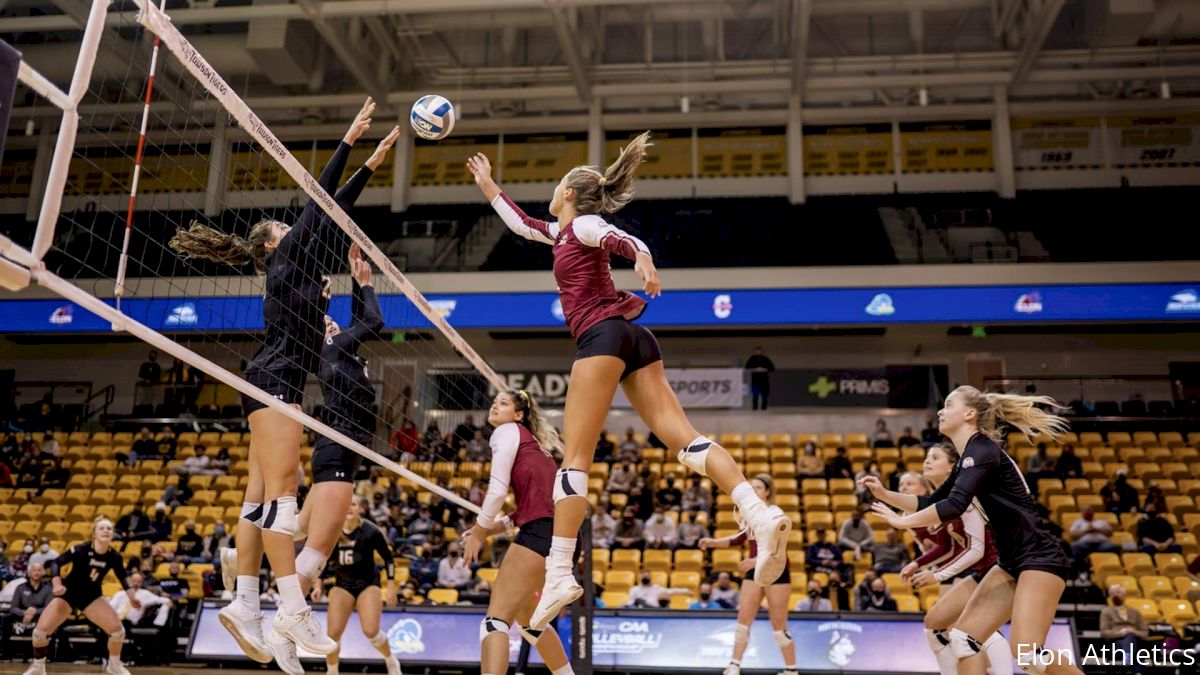 For the second consecutive season Towson was selected atop the Colonial Athletic Association Volleyball preseason poll, and Elon's Leah Daniel was chosen as the CAA Preseason Player of the Year, according to a vote by the league's 11 head coaches.
The Tigers collected seven first-place votes and 96 total points to rank first in the conference's preseason poll. Last year's runner-up, Elon, came in second, receiving three first-place votes and 89 points, while Charleston followed, gathering the final first-place vote and 77 points. Teams four through six were separated by four points, with Delaware accumulating 68, Hofstra tallying 65 and Northeastern totaling 64. Places seven through 10 were just as close, separated by six points with newcomers North Carolina A&T and Stony Brook, ranking seventh and eighth, collecting 38 and 34 points, respectively. UNCW and William & Mary tied for ninth with 32 points, while Hampton rounded out the 11-team poll.
Daniel continues to be highly regarded as one of the top athletes in CAA volleyball, as the 2020 Player of the Year earns Preseason Player of the Year accolades for the second straight season. The senior outside hitter led the conference last season with 391 kills and 427 points. Last fall, Daniel tallied 3.87 kills per set, swinging at a .237 clip and recorded 10 or more kills in 24 of her 28 matches.
Towson completed the three-peat in dramatic fashion last season, overcoming a 2-0 deficit and becoming the first team since 1996 to win three straight CAA volleyball titles. The Tigers' three returning starters made up nearly 50% of the team's production in 2021. Fay Bakidmou led Towson with 307 kills, averaging 2.74 per set, and topped the CAA with 61 service aces (0.54 per set) en route to first team All-CAA accolades last season. Despite missing time due to injury last fall, Nina Cajic still put together an All-CAA season, recording 212 kills (2.62 per set) while posting a .339 hitting percentage to rank fourth in the conference. Lydia Wiers contributed in a big way for the Tigers at the net, leading the CAA with 136 blocks (1.20 per set) and ranking third with a .348 hitting percentage, tallying 222 kills (1.93 per set).
Elon had a historic run last season, posting a program-best 11-5 record in CAA play and advanced to its first CAA Championship match in program history. The Phoenix retains three key contributors from last fall Daniel, Haylie Clark and Jenn Krzeminski. Clark's game was well-rounded last season, averaging 9.55 assists per set and 2.07 digs per set, in addition to 78 kills (0.77 per set), 36 service aces (0.36 per set) and 58 blocks (0.57 per set). At the net, Krzeminski led the CAA with a .389 hitting percentage last fall, recording 2.75 kills per set, and was fourth in the conference in blocks per set (1.14).
Charleston has qualified for the CAA tournament eight times in the last decade, including back-to-back years, and should be among the contenders again this fall. Lexi Wierzbicki had an impressive season in 2021, leading Charleston with 339 kills, averaging 3.03 per set with a .226 hitting percentage. Wierzbicki ranked third in the CAA in total kills and sixth in the league in kills per set, earning first team All-CAA honors.
Delaware returned to the CAA Tournament last season after a year hiatus and advanced to the semifinals for the second time in three years. Lani Mason and Ezgi Basaranlar are back for the Blue Hens after earning all-conference recognition last fall. Mason led the Delaware attack, ranking second in the CAA with 344 kills and third averaging 3.37 kills per set. Additionally, she tallied 2.40 digs per set, recording seven double-doubles last season. Basaranlar averaged 8.60 assists per set running the Blue Hen offense, and added 38 service aces (0.42 per set).
Hofstra has been a consistent threat in CAA Volleyball, reaching the CAA tournament six times over the past seven seasons and winning the CAA title most recently in 2018. The Pride had a wealth of young talent last season, including the reigning CAA Libro of the Year Chiara Cucco and Rookie of the Year Beatriz Alves. Cucco led the conference with 528 digs and 4.89 digs per set, while Alves paced the CAA with 1,054 assists and 9.76 assists per set during their freshman campaigns.
Northeastern reached the CAA Tournament for the sixth straight season and will look to return to the Championship match after falling during the 2021 spring season. Despite missing early season action, Erica Staunton continued to show why she is one of the top hitters in the league. She tallied 246 kills and ranked fourth in the league averaging 3.15 kills per set, hitting .224. Nailah Jenkins and Kayla Martin are also key contributors for Northeastern, who join Staunton, earning preseason recognition.
North Carolina A&T joins the CAA after four straight winning seasons. The Aggies won 20 matches last season after an 11-2 record and NCAA Tournament appearance in the spring of 2021. Naiya Swatelle had a stellar freshman campaign in 2021, leading the Aggies with 396 kills and ranking third in the Big South with 3.36 kills en route to all-conference accolades.
Stony Brook will also join the conference for the first time this season. The Seawolves have had success in the America East over the past five seasons, winning the conference championship in 2017 and 2018. Abby Campbell has earned all-conference honors each of her first two seasons with the Seawolves and posted a .302 hitting percentage with 2.30 kills per set and 0.80 blocks per set last season.
Senior Katie Lanz will look to lead UNCW again this season. Last fall, Lanz topped the Seahawks with 261 kills and 2.58 kills per set while adding 162 digs (1.60 per set).
William & Mary will be tasked with replacing the production of three starters from last season. The Tribe returns five players that started at least seven matches last year and eight that appeared in over half of William & Mary's contests.
Hampton is the final new addition to the CAA and will look to be competitive after returning six players that appeared in all 23 matches for the Lady Pirates last fall.
CAA volleyball will feature 11 teams for the first time, with the 2022 season beginning Friday, August 26. The season will culminate November 17-19 at SECU Arena on the campus of Towson University for the 2022 CAA Volleyball Championship presented by Primis, consisting of an eight-team tournament for the first time in league history.
2022 CAA Volleyball Preseason Poll
| | |
| --- | --- |
| Team | Points |
| 1. Towson (7) | 96 |
| 2. Elon (3) | 89 |
| 3. Charleston (1) | 77 |
| 4. Delaware | 68 |
| 5. Hofstra | 65 |
| 6. Northeastern | 64 |
| 7. North Carolina A&T | 38 |
| 8. Stony Brook | 34 |
| T9. UNCW | 32 |
| T9. William & Mary | 32 |
| 11. Hampton | 10 |
( ) = First-place votes
2022 Preseason Player of the Year: Leah Daniel, Elon
2022 Preseason All-CAA Volleyball Team
| | | | | |
| --- | --- | --- | --- | --- |
| Name | School | Class | Pos. | Hometown |
| Fay Bakodimou | Towson | Gr. | OH | Subotic, Serbia |
| Nina Cajic | Towson | Jr. | OH | Athens, Greece |
| Haylie Clark | Elon | Sr. | S/RS | Saint Cloud, Fla. |
| Chiara Cucco | Hofstra | So. | L/DS | Buscate, Italy |
| Leah Daniel | Elon | Sr. | OH | Zionsville, Ind. |
| Lani Mason | Delaware | Sr. | OH | Chester, Va. |
| Erica Staunton | Northeastern | Sr. | OPP | Orland Park, Ill. |
| Lydia Wiers | Towson | Sr. | MB | Willard, Ohio |
| Lexi Wierzbicki | Charleston | Sr. | OH | Easley, S.C. |
Honorable Mention: Beatriz Alves (S), Hofstra; Ezgi Basaranlar (S), Delaware; Abby Campbell (MB), Stony Brook; Nailah Jenkins (MB), Northeastern; Jenn Krzeminski (MB), Elon; Katie Lanz (OH), UNCW; Kayla Martin (L/DS), Northeastern; Naiya Sawtelle (OH), North Carolina A&T