2021 Marquette vs Villanova - Women's
Big East Preview: Creighton Looks To Continue Dominance
Big East Preview: Creighton Looks To Continue Dominance
Creighton has taken nine consecutive trips to the NCAA Tournament and will be looking for number 10 this fall.
Sep 20, 2021
by Megan Kaplon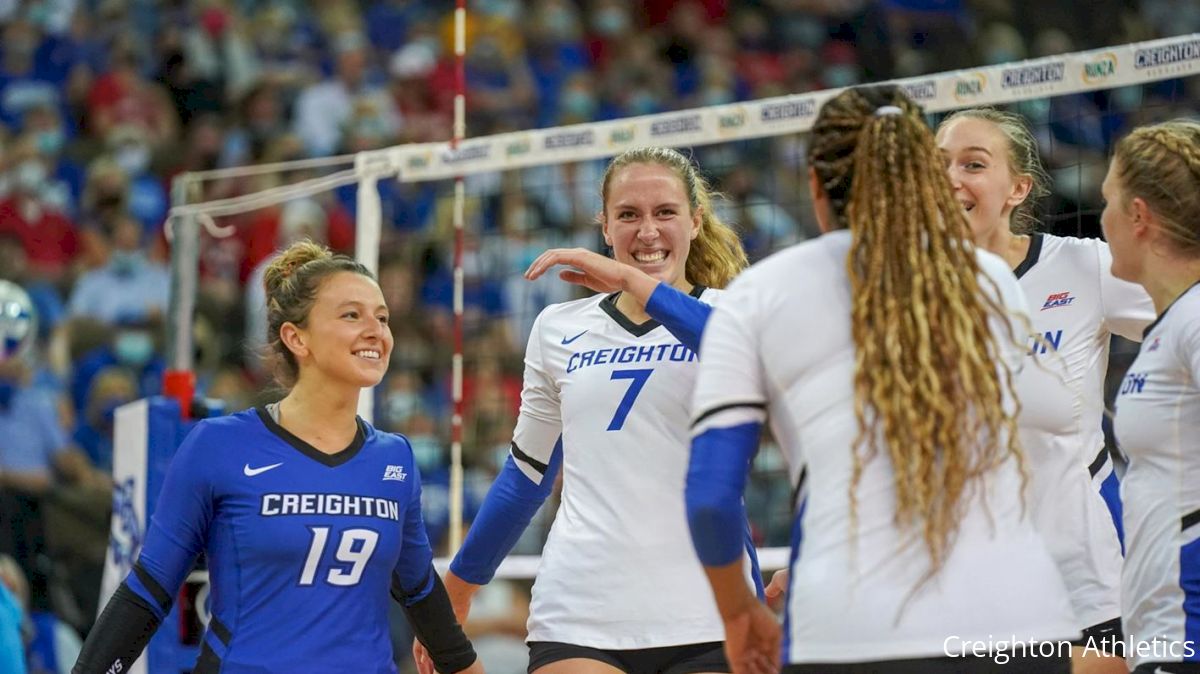 Big East volleyball has become more competitive over the last few years. Creighton has taken nine consecutive trips to the NCAA Tournament and will be looking for no. 10 this fall. Marquette made its first NCAA Tournament in 2011 and advanced all the way to the Sweet 16 just three seasons ago. In 2019, St. John's broke through and won the league, making its first NCAA Tournament appearance in 12 years.
Big East Conference play kicks off this week, right here on FloVolleyball. Before you dive in and start watching the matches, here are the top players and teams to watch.
Top Teams
Creighton
Creighton is currently ranked No. 17 in the country and sporting a record with only a single blemish (a loss to No. 3 Nebraska on September 8). The Bluejays' 11-1 start to 2021 marks their best beginning to a season in program history, and they've brought back all starters from the 2021 spring season except for setter Mahina Pua'a. But not all of those returning starters have retained their spots in the lineup because head coach Kirsten Bernthal Booth also brought in a top-10 ranked recruiting class which features three members of the 2020 VolleyballMag.com Fab 50. The reigning Big South Player of the Year, grad transfer libero Abby Bottomley, and outside hitters Norah Sis, Eve Magill and setter Kendra Wai, have all cracked the starting seven.
Creighton went 12-4 in the spring, winning the Big East regular season, tournament championship, and advancing to the NCAA Tournament. But, Morehead State upset the Bluejays in the first round. Creighton squad appears ready to compete on a national scale once again. Already in the first month of the season, Creighton pulled off a sweep of then-No. 3, and reigning national champ, Kentucky, and boasts some very solid victories over Missouri, Northern Iowa and Illinois.
Marquette
Marquette is absolutely in the conversation when it comes to the Big East title this season, but the team also has the potential to make some noise in the NCAA Tournament. Already receiving votes in the AVCA Coaches Poll, Marquette boasts a 9-2 record heading into the conference portion of the season after going 10-4 in the abbreviated spring season. The Golden Eagles only losses this season have come at the hands of Kentucky and Wisconsin, ranked No. 8 and No. 2 in the country at the time.
Marquette also has experience on its side. Head coach Ryan Thesis welcomes back his entire starting lineup from the spring season, which includes three grad students who chose to extend their careers past the usual four-year limit.
St. John's
St. John's University is not always associated with volleyball prowess, but over the past few years the school has established itself as a contender in the Big East. In 2019, St. John's won the conference, upsetting both Marquette and Creighton in the conference tournament to make its third NCAA Tournament appearance. The Red Storm also won the league in 2007 and took the regular season title in 2006 and 2008.
Head coach Joanne Persico, now in her 28th year at the helm of the Red Storm squad, has created a robust international recruiting pipeline. One of the 11 international players on this year's team is Efronsini Alexakou, the reigning Big East Player of the Year and 2021 Preseason Player of the Year, and you'll learn plenty more about her up next in the Top Players section.
Top Players
Efrosini Alexakou, St. John's
As the much-hyped top player of the spring season and predicted top player of 2021, it seems apt to start the top players list off with St. John's Efronsini Alexakou.
The senior outside hitter has started for St. John's since her freshman year, twice earning AVCA Honorable Mention All-American honors and three times appearing on the All-Big East Tournament team. In the spring, she led the league with 4.19 kills per set and ranked second with 4.54 points per set and collected seven double-doubles. In a three-year career she ranks 10th in program history with 1,154 career kills.
Abby Bottomley, Creighton
In the spring, her senior season at High Point, Abby Bottomley earned the title of Big South Player of the Year. Creighton head coach Kirsten Bernthal Booth said, "I think it's quite an honor to be selected Player of the Year as a libero. You don't hear that very often." It happens so rarely, in fact, that Bottomly is the first libero to ever earn the Big South's top annual honor. With 2,158 career digs heading into her fifth season, Bottomley ranks second among all active Division I players. She lost no momentum in transferring to Creighton, quickly claiming the libero jersey and averaging 5.33 digs per set.
Melody Davidson, Butler
Two-time All-Big Easter, Melody Davidson redshirted her true freshman season in 2017, but she made her collegiate debut in 2018 and never relinquished her spot in Butler's starting lineup. As a sophomore, she ranked first in the Big East and in the top 50 nationally with 134 blocks, and in 13 matches so far this fall, she boasts 177 kills, hitting .322, with a team-high 50 blocks.
Naomi Hickman, Creighton
Any team or player that has matched up against Creighton in the last four years knows Naomi Hickman. And much to their disappointment, I'm sure, she's back for a fifth season. Hickman is as effective as a blocker as she is at attacking and finished the spring season ranked third in the conference with 1.18 blocks per set, and hitting .330. Her 12 kills and five blocks on .579 hitting earned her the title of Big East Championship Most Outstanding Player, and this fall, the super senior has already stuffed 53 of her opponents' attacks to the floor in just 12 matches.
Carrigan O'Reilly, Xavier
Carrigan O'Reilly stepped into the starting setter role for Xavier at the start of the spring season, and she averaged 10.69 assists per set, second in the Big East and 30th in the NCAA. She also recorded a triple-double and seven double-doubles. In a match against Kansas on February 26, she doled out 62 assists, setting a new conference record. That number also ranks third in NCAA history for assists in a four-set match. The 2020-21 All-Big East Team member is also a preseason All-Big East player.
Caylee Parker, UConn
Starting in her sophomore season, Caylee Parker became a performance leader for UConn. In 2019, she led the team with 309 kills, 3.32 kills per set, and 238 digs, recording nine double-doubles on the year. She once again led UConn with 3.67 kills per set in the spring and was second on the team with 2.64 digs per set, tallying nine double-digit kill matches and five double-doubles. She's the No. 3 attacker in the league, with 3.67 kills per set through the non-conference portion of the season.
Savannah Rennie, Marquette
Savannah Rennie might just have the most inspirational story of any active Division I volleyball. While a member of the team at Cal from 2015 to 2019, she survived a liver transplant and post-transplant lymphoma, and also tore her ACL. In transferring to Marquette prior to the spring season, however, Rennie got a fresh start and she seems to be taking full advantage of it. She earned All-Big East honors and a spot on the Big East Championship Team after collecting 108 kills (hitting .312), 51 blocks, 16 aces, and 37 digs. So far this fall, she's the team's top offensive option with 104 kills (hitting .364) and top blocker with 54 blocks, 11 of them solo.
Kendra Wait, Creighton
She's only had 12 college matches in which to prove herself, but Kendra Wait is the real deal. The freshman setter snatched up the starting spot in coach Bernthal Booth's lineup and hasn't looked back. Creighton is hitting .248 as a team while she averages 10.21 assists per set. And if the scouting report is any good, opposing blockers know they can't break early because Wait is an offensive force all her own, with 50 kills to date.
Hope Werch, Marquette
On September 5, Hope Werch scored 10 kills, five aces, and four digs to become the only player in Marquette volleyball history to collect 1,000 kills, 1,000 digs, and 150 aces in her career. The 2017 Big East Freshman of the Year is also a two-time All-Big East honoree and a member of the 2020-21 All-Big East Championship Team. In the spring, she tallied 121 kills (2.37 per set), 122 digs (2.39/set), and a team-best 19 service aces.
Taylor Wolf, Marquette
Back for her extra year of eligibility, graduate student setter and right side hitter Taylor Wolf is easily the most versatile player in the league. In the spring, she led Marquette with 2.82 kills per set and ranked second on the team with 5.02 assists and 3.08 digs per set and third with 0.63 blocks per set. Wolf spent the first three seasons of her collegiate career at Green Bay where she twice earned the Horizon League's Player of the Year honor.
Jaela Zimmerman, Creighton
Even in high school, Jaela Zimmerman was raking in big-time honors: 2017-18 Nebraska Gatorade Player of the Year, Second Team Under Armour All-American, No. 49-ranked recruit in the class of 2018. In three years at Creighton, that success has only continued. After the spring 2021 season, she added Honorable Mention All-American and AVCA East Region Player of the Year to her resume, along with a second appearance on the All-Big East list. Last month, the Big East coaches unanimously named her to the All-Big East preseason roster, an expectation she's living up to as Creighton's top scorer in the first 12 matches of the year.