CAA Women's Volleyball
CAA Season Preview: Towson Looking To Repeat
CAA Season Preview: Towson Looking To Repeat
A lot has changed since the last time we had a "normal" NCAA volleyball season, and yet, in the CAA, Towson remains the team to beat.
Sep 16, 2021
by Megan Kaplon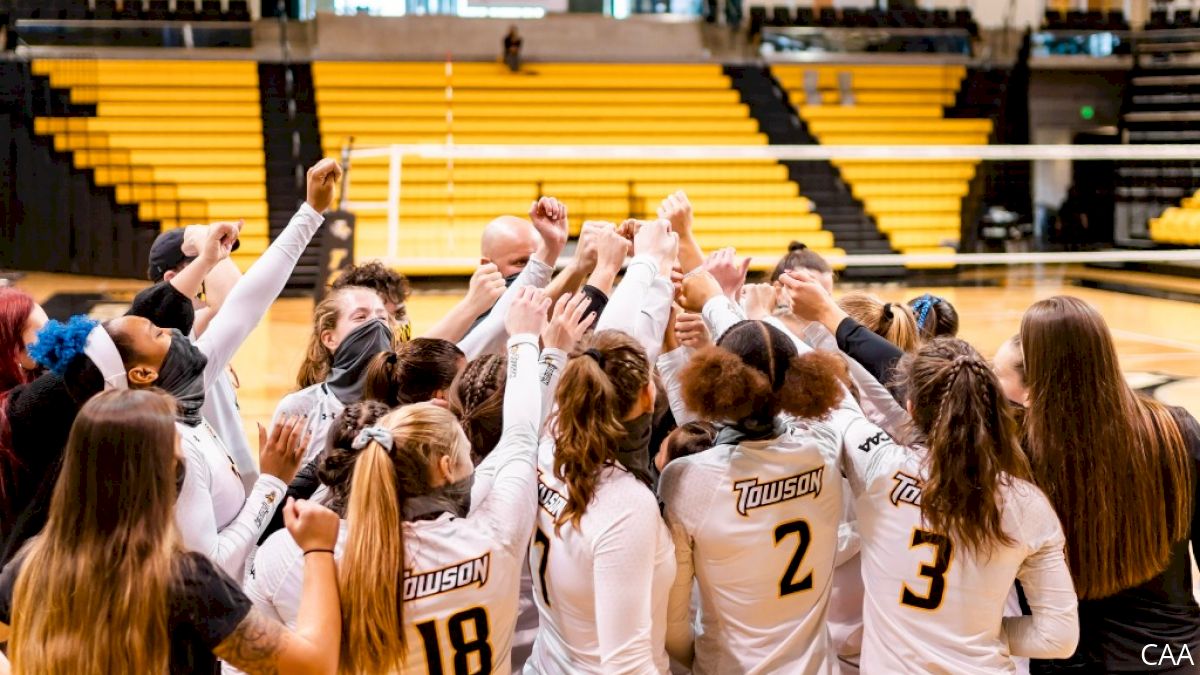 A lot has changed since the last time we had a "normal" NCAA volleyball season, and yet, in the Colonial Athletic Association, Towson remains the team to beat just as it was back in the age of innocence, aka 2019, and throughout the abbreviated 2020-21 spring season.
Not only are the Tigers the two-time reigning conference champs, but they have kicked off the 2021 season with a 12-and-counting-match win streak.
With conference play commencing this weekend, and matches available to watch right here on FloVolleyball, we're here to get you caught up on the teams and players that will be making an impact in the CAA this season.
Top Teams
Towson
As already mentioned, Towson has won this league the past two years and the squad is a favorite to win it again this season, at least according to the league's coaches which ranked it No. 1 in the conference preseason poll. This fall marks head coach Don Metil's ninth season at Towson, and the Tigers will be aiming for not only a CAA championship and the accompanying NCAA Tournament berth, but also another first-round win like the one they scored in 2019 over American. Already boasting a 12-0 record for the still-young 2021 season, Towson looks poised to rival that 2019 team's success, which included becoming the first CAA team to finish 16-0 in league play and setting a new program high season winning percentage (.933, 29-3). They welcome back everyone who saw court time during the spring 2021 season, and upperclassmen Emily Jarome, Lydia Weirs, and Asia Goins all played key roles on that record-breaking 2019 team.
James Madison
The Tigers long-time rival James Madison ranked second in the coaches preseason poll. The Dukes, who won the league in 2016 and 2017, were upset by Northeastern in the semifinals of the spring championship, and are off to a solid 6-2 start to the fall 2021 season. The absence of graduated defensive players Karis Beasley and Zarah White will certainly be felt by the Dukes, but head coach Lauren Steinbrecher's back row options remain plentiful with senior Savannah Marshall in the libero jersey and freshmen Jaydyn Clemmer and Madilyn O'Toole providing depth and added ball control. So far Sophia Davis and Chloe Wilmoth have been the top offensive weapons, but more on them later.
Northeastern
Northeastern ranked third in the conference preseason poll. Second-year head coach Lenika Vazquez, Northeastern's third coach in four years, accepted the position in February 2020, so she has only had the opportunity to play 21 matches so far with her team, despite being in the job for more than 18 months. The spring season, however, can only be described as a great success for Vazquez's first season, as the Huskies went 8-3 and advanced to the league championship match. So far in 2021, Northeastern is 4-6, having lost some tough five-setters to Northern Colorado, Villanova, Boston College, and Sacred Heart, but just last Saturday taking down Harvard in five
Players to Watch
Leah Daniel, Elon
Recently named the CAA Preseason Player of the Year, Leah Daniel earned Honorable Mention All-American honors as well as conference player of the year during the spring season. Although she only got to play 10 matches in her junior year, Daniel set new career match highs in kills, assists, digs, and aces in the spring on her way to leading the team with 177 total kills, a conference high 4.43 per set. The 6-1 native of Zionsville, Indiana, has kicked off the fall right where she left off, leading the league with 3.94 kills per set over the first three weeks of play.
Nina Cajic, Towson
Serbia opposite Nina Cajic had quite the freshman season, bursting onto the CAA scene and snagging the Most Outstanding Performer award at the spring championship. She's started the season off incredibly strong, earning CAA Co-Offensive Player of the Week honors on September 6. That week, she led the squad to four victories, hitting .437 with 41 kills and 13 blocks. Cajic comes from an impressive volleyball lineage: her mother played for Yugoslavia's national team, her father and grandfather both played professionally, and her brother Luka recently finished a four-year career on the Missouri Baptist men's team.
Miette Veldman, James Madison
Miette Veldman, the 2020-21 CAA Rookie of the Year finished the spring season with 4.20 kills per set, trailing only Daniel in the overall conference stats, and ranked fourth in points per set with 4.47. She also recorded five double-doubles in just nine games in the spring. So far in the young fall 2021 season, she boasts a total of 140 kills despite not seeing the court at all during the first weekend of play. Since she's returned to the lineup, Veldman has led the team in kills in four of five matches.
Nailah Jenkins, Northeastern
In the spring, middle Nailah Jenkins ranked second in the CAA with a .386 hitting percentage, a stat which put her inside the top 30 nationwide. The 6-foot Atlanta native is anything but one dimensional, however. Last season, she racked up a league-leading 21 aces to go along with 1.38 blocks per set. So far in her junior season, Jenkins leads the Huskies with 94 kills, hitting .323, adding on seven aces, 24 digs, and 30 blocks.
Lani Mason, Delaware
Delaware outside hitter Lani Mason might only be 5-9, her height certainly doesn't hold her back. If anything it just makes it more fun to watch her score kills against much taller blockers. The Virginia native did not play in the spring season, but as a freshman in 2019, she ranked second on the tem with 261 kills, and so far this year she's the team's leader with 97 kills.
Named CAA Co-Offensive Player of the Week on September 6, Mason led Delaware to a 3-0 record at the Delaware Invitational where she was named tournament MVP.
Chiara Cucco, Hofstra
Yet another one of the CAA's fabulous international talents, Italian native Chiara Cucco earned the title of CAA Rookie of the Week after opening weekend and the following week secured the Defensive Player of the Week honor. Collecting double-digit digs in every match so far this season, Cucco set her career-high of 32 in a four-set victory over Kent State on September 3. Cucco is just a freshman, but she has plenty of high-level competition on her resume already, including competing with Unet E-Work Busto Arsizio in Italy's Serie A1 league.
Julia Brown, William & Mary
A senior in 2020, Julia Brown chose to take advantage of an extra year of eligibility and pursue an MBA while spending one more season with her William & Mary team. So far this season, the 6-2 middle, a starter in all four years of her career to date, has almost twice as many kills as the next highest contributor on the roster with 62 and is hitting .431, good for best in the league. The conference has taken notice, naming her its first Offense Player of the Week of the 2021 season.
Caroline Dozier, James Madison
Setter Caroline Dozier came into her own during the abbreviated spring season. Despite only having the opportunity to compete in 10 matches, she collected 357 assists and 85 digs and set new career highs for assists in a match (51 versus UNCW on 2/27) and digs in a match (18 versus Elon on 3/24). This year, she tops the conference, averaging 9.78 assists per set.
Sophia Davis, James Madison
One of Dozier's many offensive weapons, middle Sophia Davis plays a very well-rounded game. She ranks sixth in the CAA with a .362 hitting percentage, 1.07 blocks per set, and 3.04 kills per set, which combined make her the third-highest points scorer in the league. Just last weekend, Davis averaged 1.71 blocks per set and 2.57 kills per set, earning her the CAA Defensive Player of the Week honor.
Fay Bakodimou, Towson
Fay Bakodimou locked in her starting spot in the spring and in the eight months since has established herself as one of the top hitters in the league. Last weekend, Bakodimou, who hails from Athens, Greece, averaged 4.00 kills per set at a .446 clip. On the season, she's collected double-digit kills in seven of 10 matches.