2019 FIVB Volleyball Nations League
USA's Road To Gold Runs Through Poland & Brazil
USA's Road To Gold Runs Through Poland & Brazil
For Team USA, the road to a repeat gold medal at the Volleyball Nations League runs through Poland and Brazil.
Jun 30, 2019
by Megan Kaplon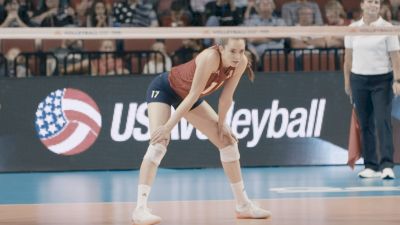 For the U.S. women's national volleyball team, the road to a repeat gold medal at the Volleyball Nations League runs through Poland and Brazil.
Those two formidable opponents along with Team USA make up Pool B at the Final Round of the 2019 VNL, and to advance to the semifinals, USA will need to finish first or second in the group of three.
Of course, USA played both Poland and Brazil in the preliminary rounds—falling to Brazil in four in Week 3 and defeating Poland 3-1 in Week 4—but those results mean little now. The Final Round pool offers the Americans the challenge of beating a scrappy Poland team twice and the opportunity for redemption against Brazil.
With USA's 14-player travel roster now out, here's a breakdown of the three teams in Pool B.
Team USA
After playing 15 different lineups in 15 different games and traveling with a slightly different group of players every week, head coach Karch Kiraly has selected the 14 players he thinks will give his team the best chance to win gold.
USA Roster | Final Round
2 – Jordyn Poulter (S, 6-2, Illinois, Aurora, Colorado)
6 – Tori Dixon (M, 6-3, Minnesota, Burnsville, Minnesota)
7 – Lauren Carlini (S, 6-2, Wisconsin, Aurora, Illinois)
10 – Jordan Larson (OH, 6-2, Nebraska, Hooper, Nebraska)
11 – Annie Drews (OPP, 6-4, Purdue, Elkhart, Indiana)
12 – Jordan Thompson (OPP, 6-4, Cincinnati, Edina, Minnesota)
14 – Michelle Bartsch-Hackley (OH, 6-3, Illinois, Champaign, Illinois)
17 – Megan Courtney (L, 6-1, Penn State, Dayton, Ohio)
18 – Mikaela Foecke (OH, 6-3, Nebraska, West Point, Iowa)
20 – Dana Rettke (M, 6-8, Wisconsin, Riverside, Illinois)
22 – Haleigh Washington (M, 6-3, Penn State, Colorado Springs, Colorado)
23 – Kelsey Robinson (OH, 6-2, Nebraska, Manhattan Beach, California)
24 – Chiaka Ogbogu (M, 6-2, Texas, Coppell, Texas)
27 – Mary Lake (L, 5-7, BYU, Palm Springs, California)
The group includes all three of the national teamers who are still in college—Mary Lake, Jordan Thompson, and Dana Rettke—as well as rookies Jordyn Poulter and Mikaela Foecke, also in their first summer playing with Team USA.
The biggest surprise in this roster, in my opinion, is the inclusion of Poulter at the setter position. Lauren Carlini seemed like a given—having started all but one of the last five matches of the preliminary round—but I would have assumed Kiraly would bring Carli Lloyd or Micha Hancock as the second setter.
I think the answer is simply that Kiraly is serious about giving his younger team members a chance, and not just in the preliminary rounds.
"We have some younger people who gave us some special contributions [in the VNL]," Kiraly said to USA Volleyball. "We wanted to see who out there, even some with remaining college eligibility, who might have the most promise and the most chance to have an impact on the USA future, both for the near term as in this year's Volleyball Nations League and also in the quite, slightly less near-term looking through the last 14 months of this Olympic cycle, and then of course far beyond 2020."
Poland
When it comes to Poland, Malwina Smarzek starts and ends the conversation about how far this team can go. For the second year in a row, Smarzek led all players in the VNL preliminary rounds in total points, this year topping her 2018 figure by four points for a total of 365. Six times this year, she topped the 30 points mark in a match, even scoring 41 against Bulgaria on May 28.
As impressive as Smarzek is, one has to worry about the sheer quantity of swings she's taken in the last month and wonder how long she can keep this pace up. Also, with an offense so reliant on one player, the top-level defenses and blockers of the Final Six teams will know exactly what to expect.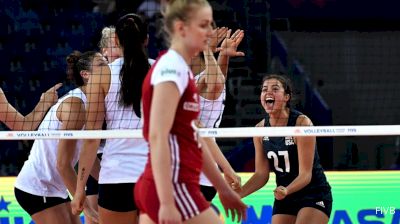 Poland's biggest win of the tournament, a five-set defeat of Brazil, came in Week 2, but the Poles also pushed Final Six contenders Turkey and Italy to five sets.
Regardless of what happens in Nanjing, simply making the Final Round represents a huge accomplishment for Poland, which has not won a major international medal on the women's side since the 1960s.
Brazil
It seems only fitting that USA should play Brazil in the Final Round. One of only three teams to score a victory over the Americans in the preliminary rounds, the South American squad advanced with an 11-4 record.
Gabi Guimares has played the role of star attacker for Brazil, leading the team with 234 points, while also serving as the team's top passer with a 30.46 efficiency percentage.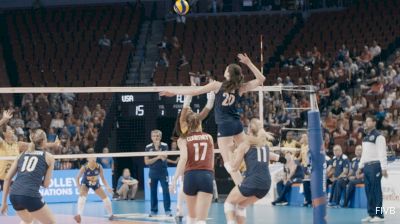 Like many of the other teams in VNL, Brazil has not traveled with all of its top players every week. Captain Natalia Pereira played only sparingly, finishing the prelim rounds ranked sixth on the team in points, and opposite Tandara Caixeta and middle Ana Carolina da Silva, aka Carol, have yet to make a travel roster at VNL, but were included on the 25-player VNL roster and therefore could be called up for the Final Six.
Another side note as we head into the Final Round:
The Chinese women played four of the five weeks of preliminary play in their home country, and of course, as hosts of the Final Six, that good fortune continues. And if you don't think that matters, consider this: China lost just three matches throughout the preliminary rounds and two of those losses were in Week 1, the only week that China was forced to travel. (The third of course was to USA, so that's a good sign for Team USA fans.)