2019 FIVB Volleyball Nations League
Another Big Week Awaits USA Women
Another Big Week Awaits USA Women
Another big week of Volleyball Nations League competition awaits the U.S. women's national team as it travels to Jiangmen, China.
Jun 10, 2019
by Megan Kaplon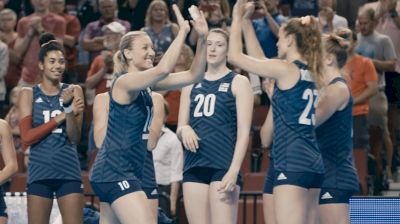 Another big week of Volleyball Nations League competition awaits the U.S. women's national team as it travels to Jiangmen, China, to face Turkey, Poland, and China.
Only two weeks of pool play remain and the USA is in a good spot, sitting second in the standings with a 7-2 record and 21 points, but some of its toughest opponents still await.
This week, with a roster fortified by more returning veterans making their 2019 debuts, USA takes on Turkey, the current No. 1 team in the VNL standings; upstart Poland; and reigning Olympic champion and world No. 1 China.
Here's what to expect from this week's matches.
Team USA
Lauren Carlini, Karsta Lowe, and Michelle Bartsch-Hackley all played in the CEV Champions League Super Final on May 18 and will this week rejoin the national team after a few weeks of rest.
Carlini takes the place of rookie setter Jordyn Poulter, who started in five of the USA's nine matches so far in the tournament. Carli Lloyd, after making her 2019 debut in Lincoln, but playing only in Wednesday's match versus Germany, also makes the trip to China.
Middle Haleigh Washington returns to the travel squad after missing Week 3's trip to Lincoln. She replaces 20-year-old Dana Rettke, who with 72 points is tied for second most on the team after three weeks of play.
Kiraly chose veterans Jordan Larson, Michelle Bartsch-Hackley, and Kelsey Robinson as his outsides for this week, while Mikaela Foecke and Madi Kingdon travel back to Anaheim.
Karsta Lowe joins Annie Drews and Jordan Thompson to fortify the opposite position.
Only liberos Megan Courtney and Mary Lake, middle Chiaka Ogbogu, Drews, and Thompson have traveled to all four weeks of VNL, so the USA should benefit from fresh legs in the coming matches.
Turkey | Tuesday, June 11, 3 AM CT | Watch Live
Turkey handed the USA one of just two losses at last year's VNL, then in the Final Six, the American squad beat Turkey twice, the second time in the gold-medal match. After that silver-medal showing at VNL, however, Turkey finished a disappointing 10th at World Championships.
For the second year in a row, Turkey looks poised to achieve a good finish at VNL. It enters Week 4 with an 8-1 record, the only loss coming at the hands of Japan.
A young cast of characters leads the way for Turkey. Outsides Ebrar Karakurt, 19, and Hande Baladin, 21, along with 19-year-old middle Zehra Gunes are the team's leading scorers.
Poland | Wednesday, June 12, 3 AM CT | Watch Live
Led by Volleyball Nations League's top scorer Malwina Smarzek, No. 26 Poland enters Week 4 with a 7-2 record, having upset No. 15 Germany, No. 14 Thailand, No. 16 Bulgaria, No. 4 Brazil, No. 7 Netherlands, No. 19 Belgium, and No. 5 Russia.
Smarzek's 247 total points makes her the tournament's top scorer by more than 50 points. The 23-year-old opposite earned the Most Valuable Player and Best Opposite awards on her way to leading Poland to a gold medal at the Montreux Volley Masters tournament earlier this season, and she's continued that excellent form into VNL.
Against Bulgaria, Smarzek scored 41 points, setting a new VNL single-game record.
Natalia Medrzyk, Magdalena Stysiak, and Agnieszka Kakolewska are Poland's other three top scorers, while Marlena Plesnierowicz and Joanna Wolosz have shared setting duties.
Poland hasn't medaled at a major world-level tournament since the late 1960s, but this young team might just have enough talent to make it happen.
China | Thursday, June 13, 7 AM CT | Watch Live
The U.S. women faced China four times in 2018. At VNL, the USA defeated the Asian powerhouse in pool play and in the semifinals, but at World Champs, it was all China, with the No. 1-ranked team in the world beating the USA twice on its way to a bronze medal.
As hosts of the Final Six, China doesn't have to qualify with its performance in VNL pool play, so head coach Lang Ping has given young talent lots of playing time, while still entering Week 4 with a 7-2 record.
After losing to Brazil and Russia to open the 2019 VNL, China has gone on a seven-match win streak, ending Week 3 with an epic five-set defeat of Italy, in which China's superstar outside hitter Zhu Ting had 26 points.
Yuan Xinyue, a 6-foot-7, 22-year-old middle blocker leads China with 82 total points so far in VNL and will no doubt be a major factor in the match versus the United States this week.
Non-USA Match of the Week
Turkey vs. Poland | Thursday, June 13 | Watch Live
Poland has made a name for itself in toppling giants in the 2019 VNL. Of course the matchup with USA on Wednesday will be huge, but the very next day, the Eastern European squad faces standings-leader Turkey. How many upsets will Poland add to its tally this week.