2018 Under Armour High School All-America Match
Get To Know The 2018 UA All-American Setters
Get To Know The 2018 UA All-American Setters
When selecting the 2018 First Team Under Armour All-America list, the AVCA tapped five setters from across the country.
Dec 7, 2018
by Megan Kaplon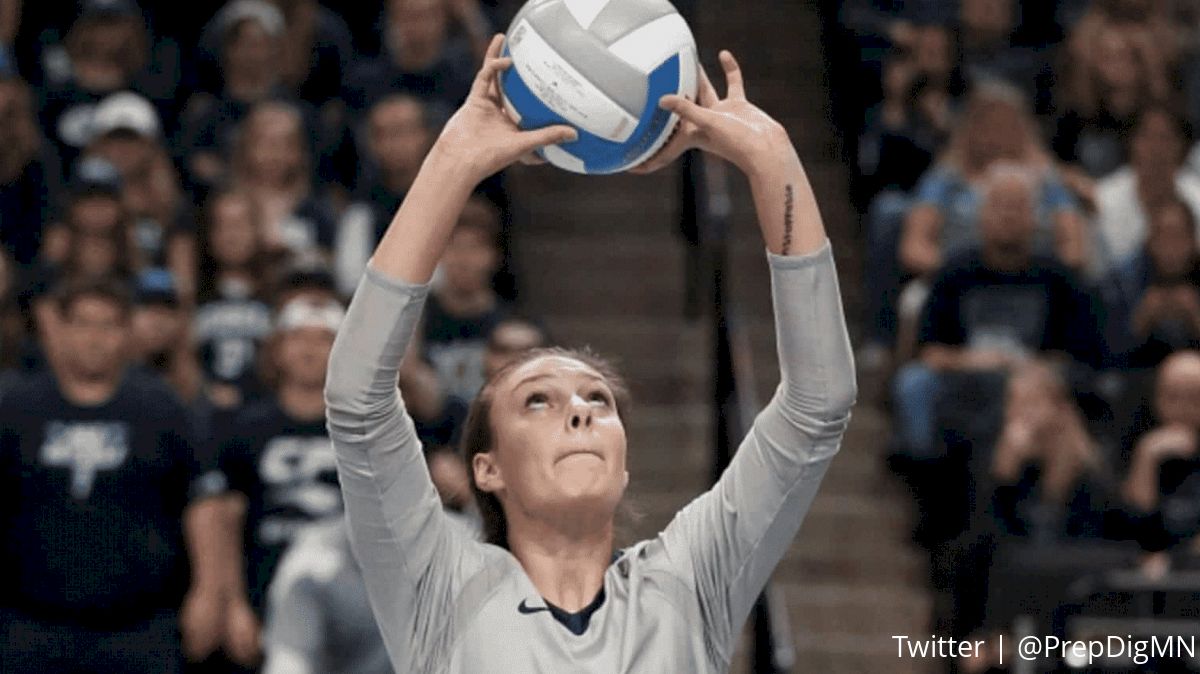 Having a skilled setter at the controls can elevate a good team to greatness. Conversely, even a team stacked with great hitters will struggle if they don't have a good setter.
When selecting the 2018 First Team Under Armour All-America list, the AVCA tapped five setters from across the country. Three of these young women won their state championship this fall and two also played an offensive role, hitting right side and setting in a 6-2 offense.
Watch the 2018 Under Armour All-America Match LIVE on FloVolleyball
Keep reading to get to know these five elite setters, and tune in on Friday, Dec. 14, at 8 p.m., to see them compete in the 2018 Under Armour All-America match, streaming LIVE on FloVolleyball.
Izzy Ashburn | 5-11 | Champlin Park, Minnesota | Champlin Park | Wisconsin
Izzy Ashburn collected more than 1,000 assists in her senior season (3,858 in her high school career) as she led Champlin Park to the 2018 Class 3A state championship.
A ferocious server in addition to being a smart setter, Ashburn had 44 aces on the year and ranked second on the team with 202 digs. At the conclusion of the season, the Minnesota Volleyball Coaches Association named Ashburn Ms. Baden Volleyball, an award highlighting the top senior volleyball player in the state.
Former Champlin Park setter Sydney Hilley served as an important role model and mentor for Ashburn, and the two setters will be reunited next year when Ashburn arrives on campus at the University of Wisconsin.
"Izzy is a really athletic setter with great hands," Wisconsin head coach Sheffield said. "Izzy's been coming to our camps for a few years so we've really gotten to see her progression up close. By the end of last season, we thought she was turning into one of the top setters in her class."
Emily Fitzner | 6-1 | San Diego, California | Torrey Pines | Indiana
An all-around talent, Emily Fitzner contributed on both sides of the ball for Torrey Pines, setting in a 6-2 and hitting right side. The 6-1 setter recorded 255 kills (hitting .351), 43 blocks, 623 assists, 150 digs, and 58 aces.
Welcome to the #IUVB family @EmilyFitzner

As a 14-year old Emily started varsity for national powerhouse Torrey Pines and is a 2018 First Team AVCA Under Armour All-American. #GoIU ⚪️? pic.twitter.com/K6nS8UrLTK

— Indiana Volleyball (@IndianaVB) November 15, 2018
"Emily is one of our leaders and a really hard-working, high level kid who is able to compete and have fun simultaneously," Torrey Pines High School head coach Brennan Dean said in an interview with the Del Mar Times. "She has the ability to let go of points when things don't go right and always finds joy in playing."
Fitzner originally gave her verbal commitment to Southern California as a freshman, but according to an article in the San Diego Union-Tribune, when Brent Crouch took over as head coach of the Trojans last winter, he gave her scholarship to another player who arrived at USC this fall. So instead of staying close to home, Fitzner will take her talents to Indiana, joining her older brother Evan, who plays basketball for IU.
Camille Nazor | 6-1 | Louisville, Kentucky | Assumption | Duke
Camille Nazor cracked the Assumption High School starting lineup as a sophomore, setting half of the 6-2, but it was in Nazor's junior and senior seasons that the 6-foot-1 setter really started to shine.
She took over full-time setting duties and lead Assumption to back-to-back state championships. This fall, in the Rockets went undefeated and were the undisputed top high school team in the country. With Nazor at the helm, Assumption also won the uber competitive Durango Fall Classic in 2017 and 2018.
Nazor was born in Puerto Rico, and her father played goalkeeper on the Fordham University soccer team and then went on to play with the Puerto Rican national team.
Savannah Vach | 5-10 | Oviedo, Florida | Oviedo | Miami
Savannah Vach can't remember life before volleyball. The daughter of former Stetson player and long-time coach Kim Vach, Savannah joined her first club team at age 4.
We're very excited to welcome Savannah Vach to our Canes family! ? #ItsAllAboutTheU pic.twitter.com/P4h0OapfDr

— Canes Volleyball (@CanesVB) November 14, 2018
Now considered one of the top setters in the country, Vach set and hit in Oviedo's 6-2 offense and served as the 9A state champ's go-to hitter. After tallying a total of 417 kills (hitting .412), 30 aces, 55 blocks, 348 digs, and 516 assists, she was named Florida Class 9A Player of the Year.
Vach also won a state championship as a freshman with Winter Springs High School in 2015.
"Savannah is a winner," University of Miami head coach Keno Gandara said. "She's won at many levels and continues to develop. She brings a lot of experience to Miami and we're excited to get her in the gym and work on her skills and help her development."
Madi Whitmire | 5-10 | Prosper, Texas | Prosper | UConn
With Madi Whitmire at the controls, Prosper High School's girls volleyball team made it all the way to the 6A regional final, and Whitmire was named 9-6A MVP. Even while setting full time and collecting 1,537 assists during the 2018 season, Whitmire managed to add 100 kills, maintaining a .448 hitting percentage.
In Whitmire's junior season, the Eagles won the 5A title, and she holds the program record for assists in a season, recording 1,769 in 2017.
"Madi is a mature even-keeled setter who will bring depth and stability to our setting position," UConn head coach Kris Grunwald said. "Madi has been playing volleyball for quite some time, picking it up during her years growing up in northern California. She leads her teams with an air of confidence and has a creative offensive mindset. She is a feisty defender and her work ethic will allow her to compete at a very high level."
Want to learn more about this year's First Team Under Armour All-Americans. Follow the links to read our features on the liberos, outsides (part 1 & part 2), and middle blockers.