2018 Under Armour High School All-America Match
Get To Know The 2018 UA All-American Middle Blockers
Get To Know The 2018 UA All-American Middle Blockers
The '19 class features some especially deadly middle blockers, including five who were named to the first team Under Armour All-America list.
Dec 5, 2018
by Megan Kaplon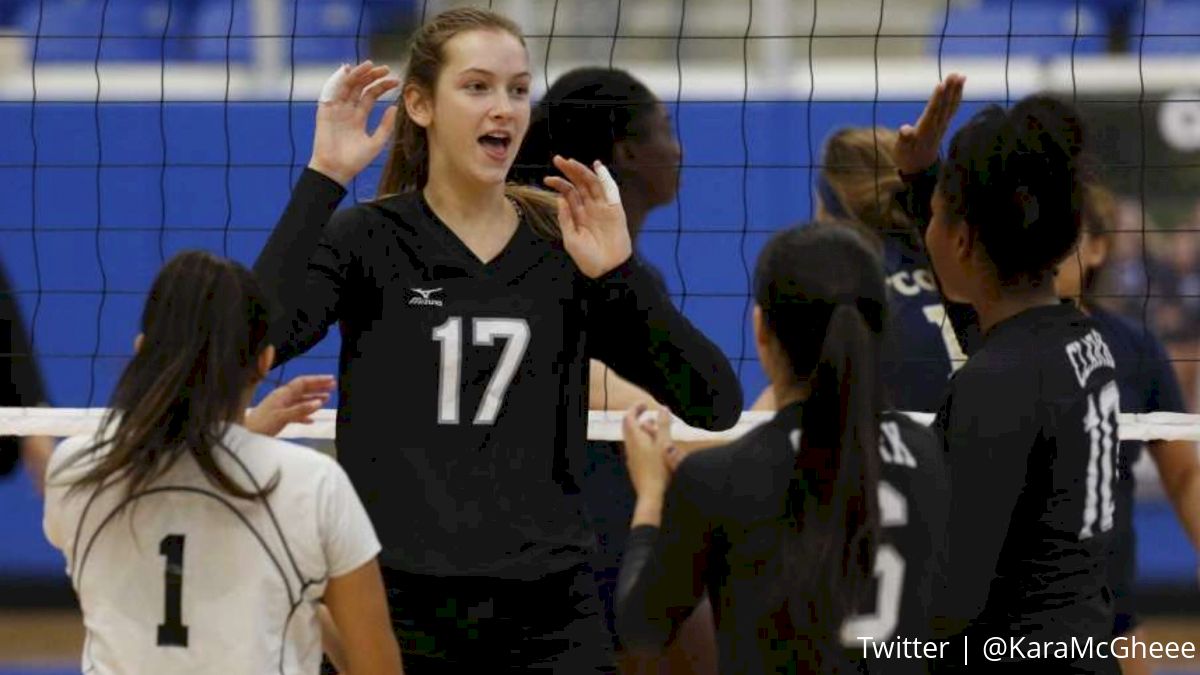 Often the most physically imposing player on the court, middle blockers also have to be quick-thinking and agile.
The Class of 2019 features some especially deadly middle blockers, including five who were named to the First Team Under Armour All-America list and will compete in the 2018 Under Armour All-America Match on Dec. 14 during the NCAA National Championship in Minneapolis.
Watch the 2018 Under Armour All-America Match LIVE on FloVolleyball
Get to know this quintet of high-flying, hard-hit-blocking, quick-hitting athletes and tune in right here on FloVolleyball to watch the Under Armour All-America Match, Friday, Dec. 14, at 8 PM CT.
Miss the previous installments of our Under Armour All-America features? Follow the links to learn more about the First Team liberos and outsides, part 1 and part 2.
Courtney Gorum | 6-3 | Chesapeake, Virginia | Grassfield | Wisconsin
A former basketball player, Courtney Gorum joined her first club volleyball team as a sophomore in high school. A fast-twitch super athlete, Gorum touches 10-4 and ranked in the top 50 of PrepVolleyball's Senior Aces list.
Gorum originally gave a verbal commitment to Chattanooga in February 2018, but after a stellar junior club season, it became clear she could aim even higher. She reopened her recruiting process and in October committed to Wisconsin, joining a team that currently boasts one of the nation's top middles duos in Dana Rettke and Tionna Williams.
Wisconsin Volleyball || Signing Day 2018 || Courtney Gorum https://t.co/ZHo1qkU53O

— WAA-Chicago Chapter (@chicagobadgers) November 14, 2018
"[Courtney] attended our camp this summer and her ability to play above the net was certainly impressive," Wisconsin head coach Kelly Sheffield said. "She's a big jumper and has the potential to be a big-time blocker. Although very quiet off of the court, she can have a fiery personality on it."
In her senior season, Gorum led her Grassfield team with 215 kills, hitting .522, in addition to racking up a team-high 93 blocks.
Madison Horin | 6-3 | Munster, Indiana | Munster | Southern California
Over the summer, Madison Horin earned the title of captain during her time with the U.S. Junior National Team, and the 6-3 Indiana native led the team to a gold medal at the NORCECA U20 Continental Championship. She also served as captain of the U.S. Youth National Team that traveled to Japan for the U18 World Championship in 2017.
On her high school team this fall, Horin scored 310 kills on 563 attempts to finish the season with a .398 hitting percentage and help her team earn a spot in the Class 4A state championship tournament.
Kara McGhee | 6-4 | San Antonio, Texas | Clark | Baylor
The sole Baylor recruit on the 2018 First Team All-America list and only the second first teamer ever for the Bears, Kara McGhee ranked sixth on PrepVolleyball's list of top seniors, making her the highest-ranked recruit in the history of Baylor volleyball.
"[Kara] has a very heavy arm and plays above the net at a high level," Baylor head coach Ryan McGuyre said. "Her size, strength, speed, power and servant leadership will capture our fans awe and hearts."
With 607 kills, hitting .464, and 231 blocks, McGhee led Clark to the state semifinals, where it fell in five to O'Connor.
Shea Rubright | 6-4 | Yakima, Washington | West Valley | Minnesota
A state championship marked the perfect end to an illustrious high school career for Shea Rubright, which also included playing key roles on West Valley's basketball and tennis teams. PrepVolleyball ranked the University of Minnesota signee seventh in the Class of 2019 and this fall, she earned First Team All-State honors.
Please help us in welcoming to the #Gophers @shearubright! pic.twitter.com/FEO7ZkWHDU

— Minnesota Volleyball (@GopherVBall) November 15, 2018
"Shea has unbelievable potential in the middle blocker position," Minnesota head coach McCutcheon said. "Not only does she have length, she is also fast and strong. She knows how to work hard and she knows how to learn.
On her way to winning MVP of the 4A state tournament, Rubright tallied a team-high 340 kills, hitting .505. She also led the team in blocks with 78.
Riley Zuhn | 6-6 | Fort Collins, Colorado | Fossil Ridge | Nebraska
Top college programs started recruiting Riley Zuhn when she was in seventh grade — perhaps even earlier. Five years later, she's lived up to the hype, winning a state championship as a sophomore and earning a spot on the U.S. Youth National Team.
Listed as a middle, Zuhn is a versatile hitter and will likely play outside in college at Nebraska.
"Riley has worked very hard to be a Husker," Nebraska head coach John Cook said. "We admire her passion and drive to be great. She is a player that will without a doubt have a positive impact on the culture of our program with her hard work and dedication. She is a highly skilled attacker and blocker and plays for one of the best club teams in Colorado."
With Zuhn leading the way, Fossil Ridge lost just four matches in 2018 and made it all the way to the quarterfinals of the CHSAA state tournament. Zuhn recorded 353 kills on the year, hitting .421.