The 2018 FIVB Women's World Championship
Inside Megan Courtney's Journey Back To The Top
Inside Megan Courtney's Journey Back To The Top
Megan Courtney tore her ACL more than a year ago, and she's not yet back to 100 percent. Contrary to how it might sound, that's actually a good thing.
Sep 27, 2018
by Megan Kaplon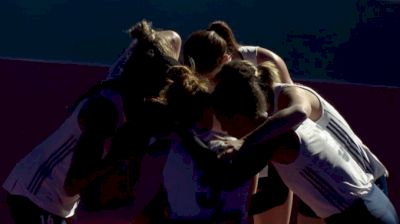 Megan Courtney tore her ACL more than a year ago, and she's not yet back to 100 percent. Contrary to how it might sound, that's actually a good thing.
"At six months, I was like, OK, I feel really good, I'm at like 80, 85," Courtney said. "And then at eight months, I was like, OK, this is my 100. I feel really, really good. Then at 10 months, it's like, no, this is my 100. I'm not having this like weird uncomfortable feeling that I used to have two months ago. I keep thinking I'm at 100, and I keep feeling better and better and better."
In the ultimate vote of confidence, USA head coach Karch Kiraly named Courtney to the final travel roster for the 2018 FIVB Women's World Championship. But instead of playing outside hitter, the position she's played basically her entire life including for four years at Penn State where she won two NCAA championships, Courtney travels to Japan as a libero.
---
During a friendly match on her second day in the gym with Turkish club Canakkale, Megan Courtney rushed over to cover a teammate, eager to perform well in front of her new teammates and coaches, but as she pushed off the ground, Courtney felt a familiar pop in her knee.
"Are you kidding me?" she thought. "Not again."
Before even playing a single real point for her Turkish squad, the former Penn State standout had torn her ACL. Her season was over.
Less than 24 hours later, Courtney boarded a direct flight from Istanbul to LAX.
The 24-year-old outside hitter has now had three knee surgeries: two ACL repairs and a torn meniscus.
"When it happened, I immediately texted my trainer here at USA and said, 'Hey, I think I got hurt, what's the game plan? How are we going to attack this?'" Courtney said. "I was all about trying to get back into the gym and try to get better and healthy and I never had the thought process of 'I think this is it for me.'"
Courtney went home to Ohio to have surgery and stayed there, being cared for by her boyfriend and mom, for two months.
"The first two weeks, I was pretty bedridden because I had really bad swelling and it was super painful to even move just a small amount," Courtney said. "I'm not good with anesthesia or [painkillers], so it was really difficult to eat at times. I had a pretty small appetite. It was really difficult just to get in and out of bed. I would move from my bed to the couch would be my activity for the day."
Courtney tore her ACL for the first time at 17, and this time around, recovery was a lot more painful and slower.
"I had torn my other one eight years earlier, and so I was kind of going into it like, 'Oh, I got this. I did it before, I can do it again,' and I don't know if it's because I'm older or eight years of volleyball can do a lot to your body, but it was definitely a lot tougher this time around."
For Courtney, the boredom presented the biggest challenge. Day after day, she lay in bed, with her feet propped up, reading, watching reruns of Friends and Game of Thrones, and trying to sleep.
Finally, she could have in-depth conversations about GOT with her fanatical mom and brother, but the doldrums served as a powerful motivator to get better, not necessarily as quickly as possible, but as thoroughly as possible.
"Between my first surgery when I was 17 and now I can definitely feel my body has done eight years of grinding," Courtney said. "I would like to think that I would bounce back as fast as I did the last time, but definitely not.
"So that was the hardest part, just accepting the fact that yes, I am still young, but in order to not make this happen again, what are the best options that we can look at? We don't need to rush back, we need to take our time and make sure we're doing it right so we don't have another injury."
One of the hardest things to regain, she said, is the mental aspect of the game.
"Not that you're physically incapable of doing things, but it's just kind of like you lose it because you're not playing. It's weird because you're like, I physically feel 100 percent but I'm like half a step behind every single tip that I can't pick up or something," she said. "You're like, 'What the heck? I feel fine. I'm squatting more than I have ever squatted before.' But it's not the same."
She admitted there are days when she gets nervous, afraid of rushing her recovery and getting injured again. But that too improves with reps.
"The first couple times that you do a certain move, you're going to be tentative or you're going to be a little scared, but the more you do it and the more it comes out in a positive way, the less likely you are to be a little freaked out or to be tentative doing it," she said.
---
In May, around the time Courtney returned to the gym to test her mobility, stability, and strength in live drills for the first time since surgery, the USA squad kicked off the 2018 national team season at the Volleyball Nations League.
The previous summer, Kiraly had moved Courtney to libero to address a deficiency in serve receive, and at VNL, the team once again struggled in that area. After the USA's second match, a five-set loss to Turkey, Kiraly once again attempted to find more first-contact stability in by putting the libero jersey on an outside hitter, this time Olympian Kelsey Robinson.
As Courtney continued to rehab and train and watch the VNL competition from Anaheim, she said she identified intimately with Robinson and rooted for her.
"It's not necessarily an easy transition," Courtney said. "We're just so used to playing outside and the duty and the role that we have as outsides is a lot different than a 'bro. The biggest thing is we probably get a little bored because we're not hitting, we're not blocking, and we can't serve. Most of the time, teams don't serve the libero, so you're just like, 'Well, I guess I'll stand over here and try to figure out how to get involved in the play.'"
For Courtney, the position change meant a different path to recovery, as well. Since Kiraly wanted her on the roster as a libero, she got back in the gym a little earlier, passing and playing defense before she would have been ready for the jumping and fast changes of direction required of an outside hitter.
"I look at it as a compliment that Kelsey and I are both capable of playing both positions," Courtney said. "That's really cool that we can be given the opportunity and the trust from the coaching staff to say, 'Hey, we know that you've played this position basically your whole life, but we think you can do us a lot more favors and help us more by being a libero. Can you do that?'"
---
During rehab, Courtney tried to get her competitive fix by setting goals for herself and playing games with the staff at the USA gym in Anaheim. But for someone who has played in NCAA national championship matches and in huge international senior-level tournaments, it just wasn't enough. Only when she stepped on the court last month for the four friendlies in Brazil did Courtney feel back to normal.
"[There's] nothing like a five-set match in Brazil against a home crowd that is not cheering for you at all, playing with your teammates against one of the best teams in the world. That's one of the most powerful things and that's one of the reasons I continue to play the sport."
Since her surgery last October, Courtney has had a lot of time to meditate on her future with the national team and in the sport of volleyball, and she came to a very healthy, mature conclusion, a mantra of sorts that she'll keep in mind as she hunts for that elusive 100 percent.
"I don't have to be as good as I was last year," she said. "I have to be really good for the team in what they need me to do now."
See Courtney and Team USA in action at the 2018 FIVB Women's World Championship, Sept. 29-Oct. 20, streaming live right here on FloVolleyball.