Two-time Olympic medalist and professional beach volleyball player April Ross has seen the scary side of cancer. When Ross was in elementary school, her mother Margie was diagnosed with breast cancer. Through various treatments and remissions over fifteen years, Margie battled and fought but the disease eventually took her life in 2001. Ross was a sophomore in college.

These days, however, Ross is seeing and spreading hope in the breast cancer community. An advocate for the Side-Out Foundation, Ross encourages high school and college volleyball programs to get involved in breast cancer awareness month by hosting a Dig Pink® event.


Teaming Up For Research
Launched by Rick Dunetz in 2005, the Side-Out Foundation rallies the volleyball community through Dig Pink® matches and fundraising events to bring awareness of cutting-edge research and clinical trials for stage 4 breast cancer, the most advanced stage of the disease. To date, the foundation has raised nearly $12 million and averages between $1.3 million to $1.5 million a year.
Dunetz, who lost his mom to the disease in 2010, found the volleyball community was more than willing to support this cause. But it was a social media connection that brought Ross, Dunetz, and individual teams who raised money for the foundation together in one place -- the volleyball court. This past year, Ross met with teams after four AVP tour stops: Cincinnati, New York, Huntington Beach, and Chicago. DePaul University was among those teams.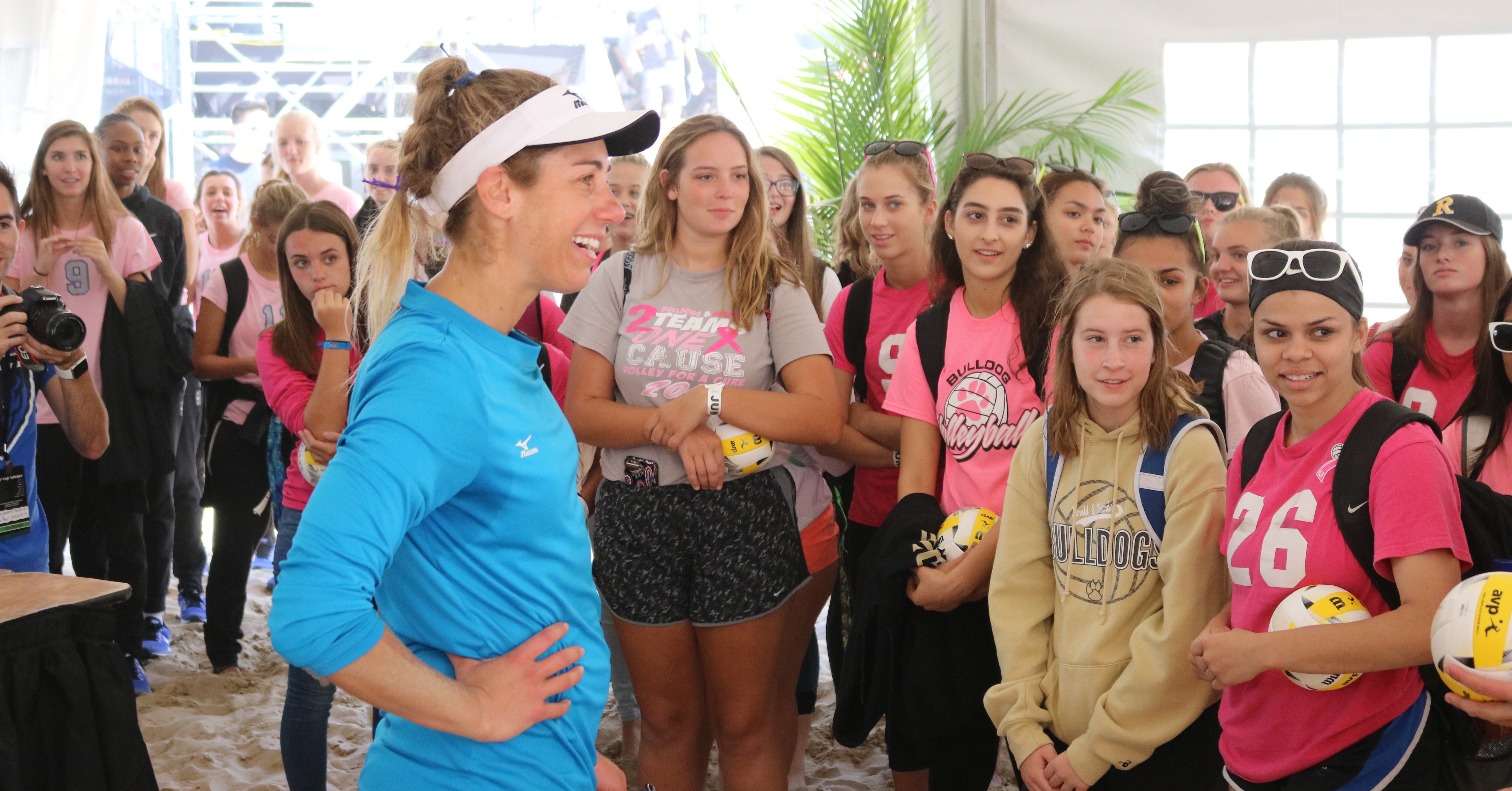 "It was very compelling for our girls to meet April Ross and to think about her personal story. I think our girls can relate to her and what she stands for," DePaul head coach Nadia Edwards said.
DePaul's women's volleyball program has hosted eight Dig Pink® events since 2009. The cause is particularly special to the program as the DePaul athletic director Jean Lenti Ponsetti is a breast cancer survivor herself.
It's an honor for these teams to meet the Olympian Ross, but it's a special experience for her, too.
"It's cool to meet them because I know their interests go beyond just playing volleyball and I feel like I'm meeting people who are really interested in making a difference," Ross said. "As an athlete, it's important to be well-rounded. I'm very impressed with these athletes."
Serving A Purpose Through Volleyball
When the lights go down on the stadium court and the sounds of a volleyball crowd fade into the bleachers, scientists are busy putting Dig Pink® dollars to work. One of the four facilities doing research with the Side-Out Foundation is Caris Life Sciences in Phoenix, Arizona. Ross had an opportunity to tour the facility last December and was blown away by the progress this industry has made since her mother was in treatment -- specifically the knowledge that every cancer behaves differently and there is no "blanket treatment" that works for everybody.
"It's definitely very different than my experience with my mom," Ross said. "This research really breaks it down for every individual. They take a biopsy from each person, and they cut the tumor down and see exactly how it's acting for each individual person."
Since 2009, the 66,000 square foot research facility has received, catalogued, and analyzed over 125,000 patients, performing millions of different tests. As physicians and patients become aware of what's available, the number of cancer features to study continues to grow, making more and more data available for new and highly effective treatment plans. Simply put, the more knowledge the doctors have, the more widely available effective treatment can be found for each patient, resulting in a higher quality of life for metastatic breast cancer patients.
"We might be biased, but we believe more information is better and bringing awareness that this industry is still improving and growing is important," Inga Rose, vice president of laboratory operations at Caris, said.
Every day, scientists at Caris receive and prepare a patient's tissue sample to study at the molecular level (DNA, RNA, and proteins). Each sample is bar-coded and divided onto glass slides in order to profile the tumor and decode the particular behavior and/or commonalities of the individual's cancer. This technology and research is called the Caris Molecular Intelligence (CMI) and it "reveals the highest quality molecular blueprint to guide precise, individualized treatment decisions."
This individualized approach to treatment accounts for the different responses of every patient to every intervention. So as the patient progresses through treatment, the research is learning and adapting right along with it. More patients, more awareness, and more research is the key to continually progressing treatment for metastatic breast cancer patients.
Raise Awareness, Then Educate
"Holding a Dig Pink® event is a no-brainer," Ross said. "In the month of October, if every high school would throw a Dig Pink® event, I think it would go so far. I want to encourage everybody to take the next step and think about putting one of these together."
[tweet url="https://twitter.com/DigPink/status/913555558225063936" hide_media="0" hide_thread="1"]
October is breast cancer awareness month and hosting a Dig Pink® event is a fun, engaging way to raise money and awareness for the advancement of research and treatment. But don't be limited to the philanthropic aspect -- take time to educate yourself, your teammates, and your community to what is currently being done with the money you raise from your event and how you can help on an ongoing basis.
"I honestly believe it goes back to how much success you are going to experience," Ross said. "If you are purely doing things for a selfish reason, I don't think it drives you as much as having a greater purpose."




Don't Miss a Beat
It's time to step up your game. Fill in the information below to get the best of FloVolleyball delivered directly to your inbox.
MUST SEE FloFilms
Lauren Carlini: Setting the Standard
Watch full episode here.


The Program: Penn State
Watch Episode One here.

All In: USA Women's National Volleyball Team
Watch Episode One here.