Middle blockers are cut from a different cloth. Not only are they head and shoulders (literally) above the competition, they have to think quickly, assess multiple scenarios in a second, and become experts at reading a setter or hitter's body language.

While they are a part of every play, they may not always touch the ball every time. For 15-year-old Yazmin Pitpit, that's exactly why she loves playing the position. Whether she's blocking, covering a hitter, hitting, or transitioning to hold the block for her pin hitters, the 6-foot-1 right-handed middle loves contributing on every play -- even if she doesn't touch the ball.



--


Yazmin Pitpit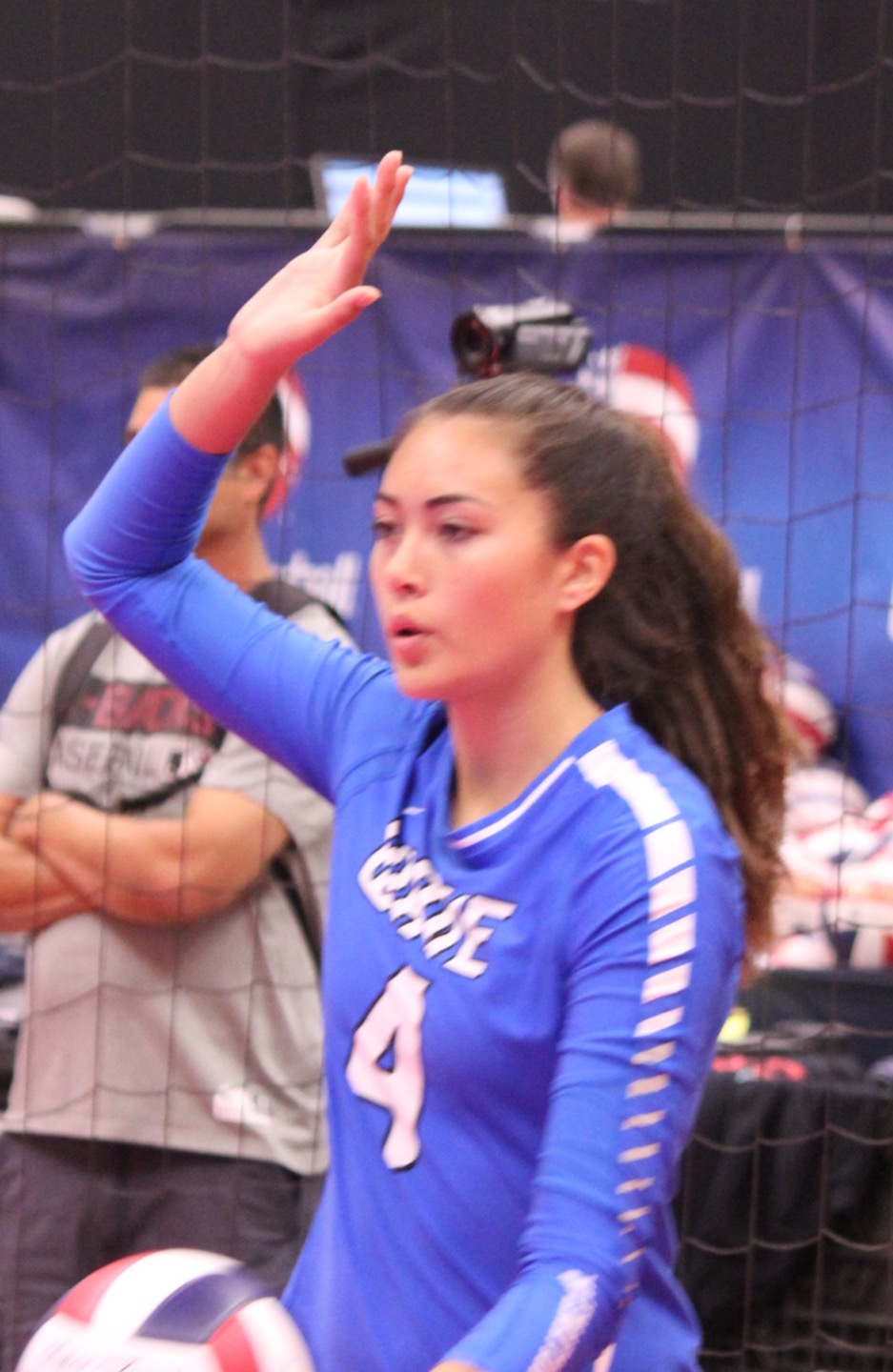 Position:
Middle Blocker
School:
Scripps Ranch High School
Club Team:
Wave 15 Brennan
Hometown:
San Diego, California
Grad year:
2019
When did you start playing volleyball and why?
I started in sixth grade. Everybody kept telling me to quit soccer and go out for volleyball or basketball. My mom signed me up for a couple camps, and I fell in love with it.
What is your favorite thing about playing middle blocker?
My favorite part is being able to contribute to a play no matter what. Whether it's blocking, covering a hitter, or hitting, middles are always in the play.
Do you have a pre-game routine or ritual you do to get pumped for a game?
I usually listen to hype music. I talk to my team and get them excited to play. I usually say things like "we got this -- if we work as a team, we can beat anybody," and we just have fun and play.
What would be your go-to songs/genres for pre-game?
Anything with Chainsmokers or EDM -- it gets my team pumped!
What's the best part about being on your team?
How we are like family. I trust them and can go to them with anything. We see each other almost every day and we make each other laugh. It's the best.
Do you have an interesting quote or something that motivates you or fires you up?
My coach Brennan and John Scott told me to be aggressive in everything I do. It motivates me to stay aggressive throughout every play.
Who inspires you?
My parents really inspire me because they're always a positive influence and push me to my highest. They always see my achievements before I can; it's a positive influence and pushes me to be like them. Also my teammates push me to be my highest.
How would your family and friends describe you?
Talkative, energetic, loving, and funny.
Anything else you would like to add?
Thank you to everyone that has helped me along my journey, those who have made an impact on who I am now and the player I am. Thank you to my coaches and parents. I look forward to the future.




Don't Miss a Beat
It's time to step up your game. Fill in the information below to get the best of FloVolleyball delivered directly to your inbox.
MUST SEE FloFilms
Lauren Carlini: Setting the Standard
Watch full episode here.


The Program: Penn State
Watch Episode One here.

All In: USA Women's National Volleyball Team
Watch Episode One here.