For certain film buffs, October 21, 2015, is known as "Back to the Future" Day. For star volleyball player Courtney Schwan, that day marks a major turning point in her career.

In Steven Spielberg's 1989 sci-fi comedy, Marty McFly and Doc Brown travel forward in time to that October day in order to rescue McFly's yet-to-be-born children. While they were there, Marty and Doc never stopped in on Schwan. Maybe they should have.

As it turned out, she needed rescuing, too. On that same day, Schwan's career with the University of Washington Huskies was in serious jeopardy. Schwan --the 2016 Pac-12 Player of the Year -- was thinking about transferring. Luckily for the Huskies -- who are primed to make a national title run this season, which starts in less than three weeks -- Schwan decided to stay.

But the full story begins a little further in the past.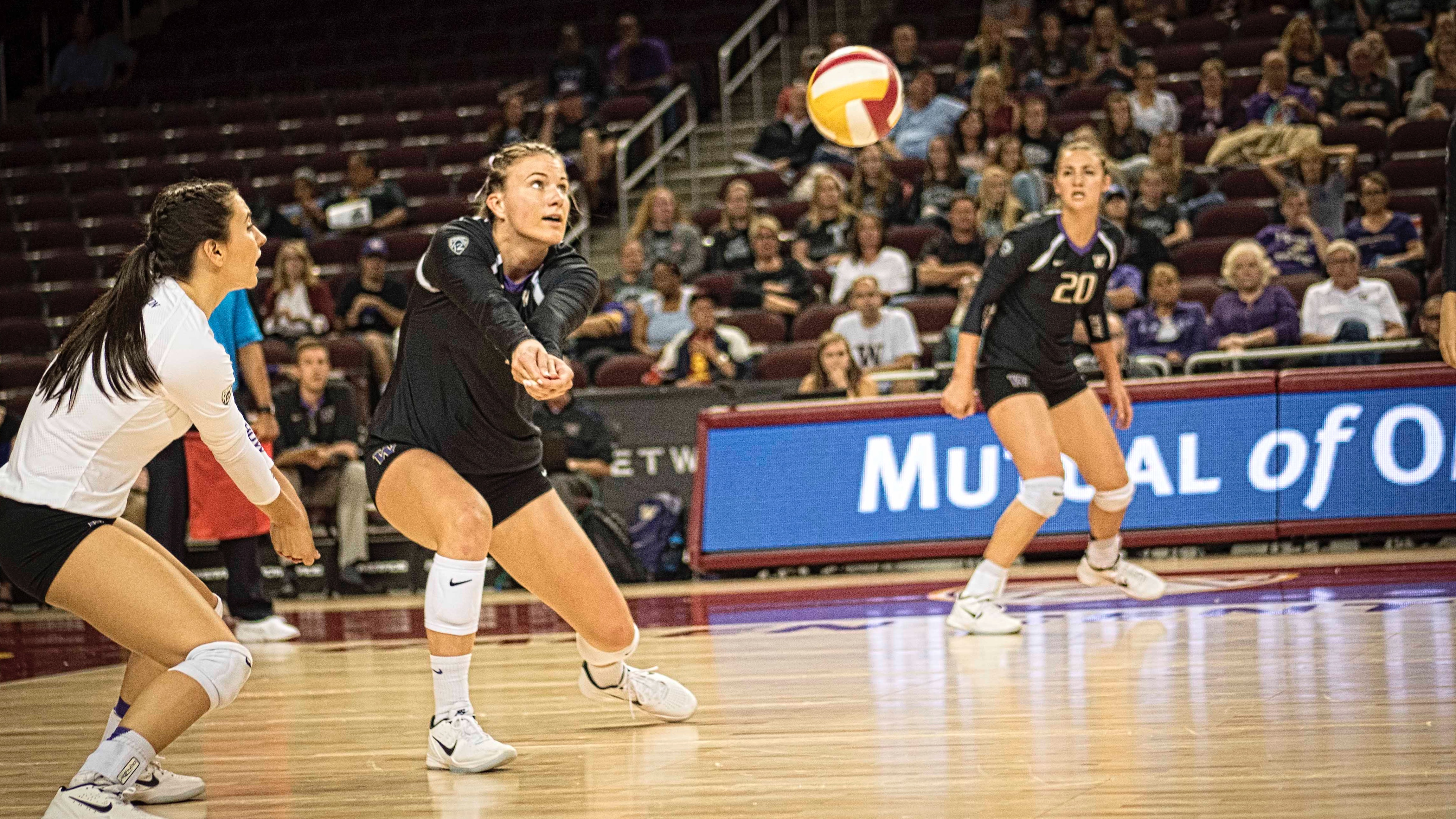 Photo by Leslie Hamann

Schwan played a lot of sports growing up, but volleyball became her favorite. Her mom was a coach, and the local team -- Washington -- was a national powerhouse. Schwan and hundreds of other Seattle-area girls packed UW's Hec Edmundson Pavilion to cheer on All-Americans such as Christal Morrison, Krista Vansant, and future Olympic medalists Courtney Thompson and Tama Miyashiro. Although Schwan was twice named Washington state's high school Gatorade Player of the Year, the powerful 6-foot-1 outside hitter only seriously considered a few college offers, knowing all along she wanted to stay close to family and friends and play for coach Jim McLaughlin at Washington.

But Schwan's picture-perfect walk to Washington didn't go quite as planned.

Just days after Schwan's freshman season ended with a heartbreaking loss in the 2014 NCAA tournament, McLaughlin abruptly quit. At a private meeting, the coach told the team he was taking the head job at Notre Dame, where his wife and daughters would be closer to family.

"Honestly, I was shocked," Schwan said. "And I was a little upset with the way he handled it."

After the meeting, several players told reporters they felt abandoned. McLaughlin even skipped the year-end banquet.

Into the void stepped Keegan Cook. Just 29 years old, Cook had been McLaughlin's assistant for two seasons following six years as an assistant at his alma mater, Saint Mary's College of California. He had never been a collegiate head coach. He had never played intercollegiate volleyball. And to Schwan, Cook had never earned the experience required to take over a high-caliber program like Washington.

Schwan's teammates saw things differently. Not a single player left the program. Not a single recruit rescinded her commitment. Privately, Schwan decided that if Cook fell short of her rather high expectations she would seek a transfer to another program after her sophomore year, even if it meant sitting out the 2016 season. As 2015 got underway, Schwan's future at Washington looked bleak.

"Keegan and I butted heads a lot at the beginning of his head coaching career," Schwan said. "There were a lot of times he would tell me to do something, and I would get extremely upset, because he wouldn't tell me why. Or I wouldn't ask why. So, I would just sit and sulk and be upset about something that he and I could have control over. I just chose not to."

Cook agreed: "We had some moments where I said, 'Hey! You gotta let me coach you. Can I coach you?' And, at times, she wasn't ready to be coached."

Much to her frustration, Schwan had not been able to crack the starting lineup her freshman year on a team that went 31-3 and featured National Player of the Year Krista Vansant. But despite her disagreements with Cook, Schwan started her sophomore season on a tear, hitting a lights-out .415 over her first 12 matches. During the 13th match, a 3-0 win at UCLA, Schwan badly sprained her ankle. She was on crutches as the Huskies went on to lose their first match of the season 3-1 at No. 2 USC.

[instagram url="https://www.instagram.com/p/BQ65gr7ljwB/?taken-by=crschwan04" hide_caption="0"]
And then... "Back to the Future" Day.

October 21, 2015, was the day then No. 4-ranked Washington played at then-No. 11-ranked Stanford. Schwan had struggled since her injury, but Cook started her all five sets in Palo Alto, CA. The Huskies took a 2-1 set lead but lost 15-13 in the final frame. Schwan recorded just five kills and committed three errors in 16 swings.

The next day -- as the Huskies prepared for a match in Berkeley, CA -- Cook called in Schwan for a meeting at the hotel conference room. More than ever, Schwan had doubts about her future at Washington.

"I walked in and I straight up told him: 'I'm trying so hard to respect you as a coach, but I'm having so much difficulty,'" Schwan remembered. "And I started crying."

Schwan had never talked to a coach that way. Cook had never had a player talk to him that way. But something about Cook's reaction -- calm, measured, nonjudgmental -- sparked an instant connection.

"At that exact point, our relationship got a lot better," Schwan said.

Cook recalled, "It was such a moment of complete honesty. She was probably holding on to a lot of guilt about having those feelings. But it's OK. It's what you're going through. We're gonna talk about it, and we're gonna figure it out."

Slowly, player and coach began talking to each other in a different way. Schwan did a better job asking for help. Cook changed the way he listened.

"Early on in my coaching career, I was telling rather than teaching, and that's not a very good form of coaching," Cook said. "So, as I learn to teach better, Courtney learns to learn better."

Schwan said, "Now it's more of a conversation. I'm willing to ask more questions and talk about things and be more open when something's bothering me or I don't understand something that he's doing."

Led by Schwan's .310 season hitting average, the Huskies swept the remainder of the 2015 Pac-12 schedule, won the conference title, and earned the No. 1 ranking from AVCA. But entering the tournament, Washington was controversially seeded No. 5. One match away from the final four, the Huskies once again lost to Nebraska, the eventual national champion.

Last season, Schwan again hit over .300 and led Washington to its second straight Pac-12 title. She was named Player of the Year in a conference that included fellow first-team AVCA All-Americans Inky Ajanaku and Kathryn Plummer -- both of Stanford, the 2016 national champion.

For the third season in a row, the NCAA Selection Committee placed Washington and Nebraska in the same bracket, seeding the Pac-12 champion Huskies No. 8. Forced to travel to Omaha, NE, Washington was yet again eliminated in the tournament by Nebraska, this time a demoralizing 25-16, 25-10, 25-21 defeat.

[instagram url="https://www.instagram.com/p/BN2tFpihclG/?taken-by=crschwan04" hide_caption="0"]
But while the Huskers have since graduated the Rolfzen twins and Justine Wong-Orantes, the Huskies enter 2017 returning every single starter. More important, Schwan and Cook both feel as if they have a new understanding of the game -- and of each other.

"Every player comes in with a vision of how things are going to go," Cook said. "And if we know anything about people trying to predict their own futures, it's (that) we're all really bad at it. At some point, you look around and say, hey, this is not how I drew this up. This is not going the way I thought it was going to go. I think it happens to every player. ... For Courtney, having her head coach change was that thing. And how players respond to that determines the direction of their career. In this case, Courtney responded to it in a pretty positive way."

It's a lesson Schwan would like to share with young players in the throes of the recruiting process.

"What really matters is, what's gonna make you happy when you're there?" Schwan said. "It's gotta be more than just the volleyball program. It's gotta be education. It's gotta be the relationships in that program. Because as much time as you spend with the coaches, you spend a heck of a lot more time with your teammates. If you go where you like the girls, I think you'll be completely fine, no matter where you choose. Because you and those girls have to make it through whatever comes up, even a coaching change or anything like that."

Down the road, Schwan has her eye on a professional career. She's toured internationally with the U.S. youth and junior national yeams and was named MVP of this summer's U.S. collegiate national team's European tour.

[instagram url="https://www.instagram.com/p/BWjqvLOlz3F/?taken-by=crschwan04" hide_caption="0"]
But first, there is her final season at Washington. The Huskies have not won a national championship since 2005. Defending national champion Stanford returns several stars, and other fellow Pac-12 teams such as UCLA and USC look formidable. Beyond that looms possible tournament opponents such as Texas, Minnesota, and, yes, Nebraska.

In 1989, when screenwriter Bob Gale wrote Back to the Future: Part II, he picked October 21, 2015, as a bit of a joke to correspond to the mythical day that the Chicago Cubs would finally win another world championship. Against all odds, Gale almost got it right. After a near-miss season in 2015, the Cubs finally returned to glory.





Don't Miss a Beat
It's time to step up your game. Fill in the information below to get the best of FloVolleyball delivered directly to your inbox.
MUST SEE FloFilms
Lauren Carlini: Setting the Standard
Watch full episode here.


The Program: Penn State
Watch Episode One here.

All In: USA Women's National Volleyball Team
Watch Episode One here.