2017 Association Of Volleyball Professionals Tour
Maddison McKibbin Wins First AVP Title At San Francisco Open
Maddison McKibbin Wins First AVP Title At San Francisco Open
Maddison McKibbin earned his first-ever AVP title, playing alongside Ty Loomis at the 2017 AVP San Francisco Open.
Jul 10, 2017
by Megan Kaplon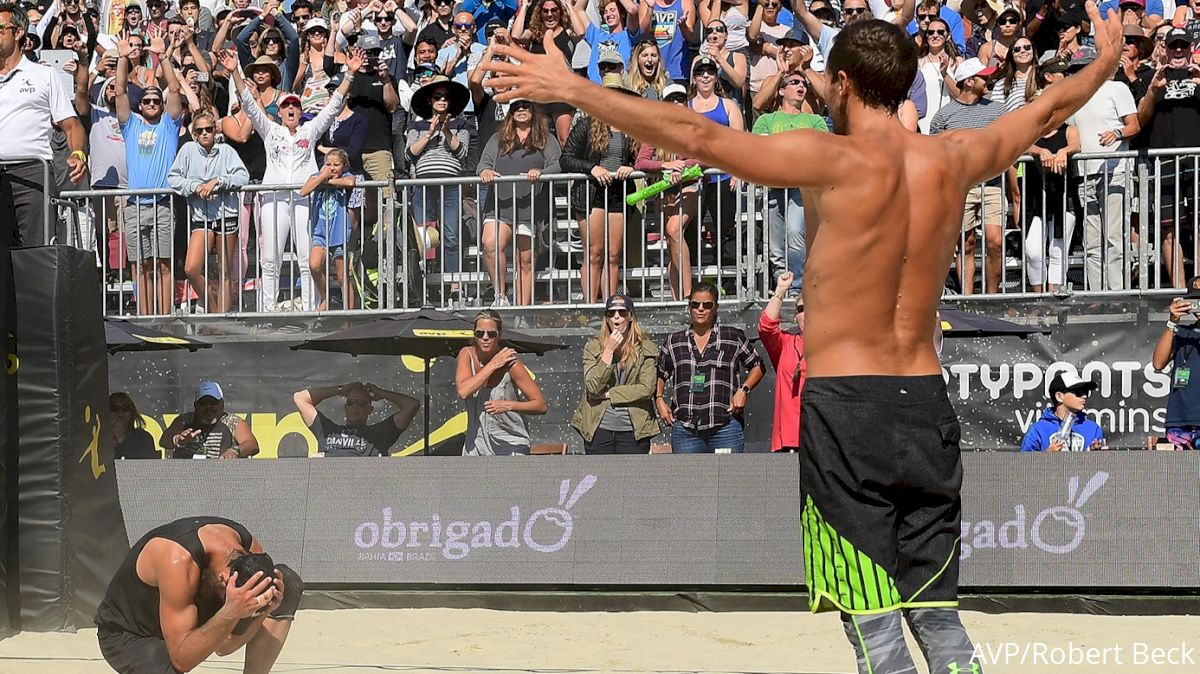 Maddison McKibbin and Ty Loomis defeated Billy Allen and Stafford Slick 24-22, 21-19 in the championship match of the 2017 AVP San Francisco Open on Sunday to win the 26-year-old McKibbin's first-ever AVP title.
McKibbin and Loomis, who won his first title at the 2009 Coney Island Open, lost to Allen and Slick in the third round of the contenders' bracket, but the duo went on to defeat Avery Drost and Chase Frishman in the crossover and Ed Ratledge and Eric Zaun in the semis to engineer a rematch in the final. Before the San Francisco event, McKibbin's best finish was a fifth at the 2017 AVP Austin Open.
"I'm so grateful," Loomis said after the victory. "I've been doing this for 16 years now--I retired for a few and came back with a greater appreciation for the game. I just want to stay in the moment. Get a few more beautiful journeys under my belt. Travel the world. Hang out with all my friends I've met throughout the years."
For Slick and Allen, the San Francisco event marked their third consecutive appearance in the finals; however, Slick strained an abdominal muscle in the pair's semifinal match versus Reid Priddy and Ricardo Santos. In the final, Slick was forced to change his game slightly, and Loomis and McKibbin were able to capitalize on their opponent's new approach.
In the women's final, it was No. 1 seed Besti Flint and Kelley Larsen defeating the first-time pair of Alix Klineman and Lane Carico 21-13, 21-8. The two teams faced each other in the third round of the winners' bracket, with Carico and Klineman earning the victory and forcing Flint and Larsen to fight their way back to the final through the contenders' bracket.
[instagram url="https://www.instagram.com/p/BWWW_nbjLDv/?taken-by=avpbeach" hide_caption="0"]
"It feels awesome!" Larsen said of the win. 'We've been grinding, and we've been in a couple finals and lost a couple times. We've been on a mission, ready to win. Alix and Lane played great all tournament and we were ready for some payback because they beat us earlier on."
The next event on the AVP tour is the Hermosa Beach Open on July 20-23.
Don't Miss a Beat
It's time to step up your game. Fill in the information below to get the best of FloVolleyball delivered directly to your inbox.
MUST SEE FloFilms
Lauren Carlini: Setting the Standard
Watch full episode here.


The Program: Penn State
Watch Episode One here.

All In: USA Women's National Volleyball Team
Watch Episode One here.