The AVP is finally returning to Austin, Texas, after 12 years away, but before the Olympians and tour regulars take the sand on Friday, local players will mix with California up-and-comers and former college stars in the qualifier. Only four teams per gender make it into the main draw, and with 66 pairs signed up for the men's qualifier and 38 pairs in the women's qualifier, it's going to be a long slog to make it to Friday.

Here are the teams we're most excited to see in action.


Women's Qualifier
Taylor Nutterfield and Claire Smalzer
Austinites Nutterfield and Smalzer are hoping to make the home crowd proud this week. This duo made the main draw twice in 2016, in Huntington Beach and Chicago, but lost a tough battle to the Lindquist sisters, aka Tracy Jones and Katie Jameson, in the 2017 Huntington Beach Open just a few weeks ago. Nutterfield is a Texas State alum who has found her niche on the beach, and Smalzer comes to the sand after a successful indoor career at Duke, where she served as the starting libero in 2008 and 2009.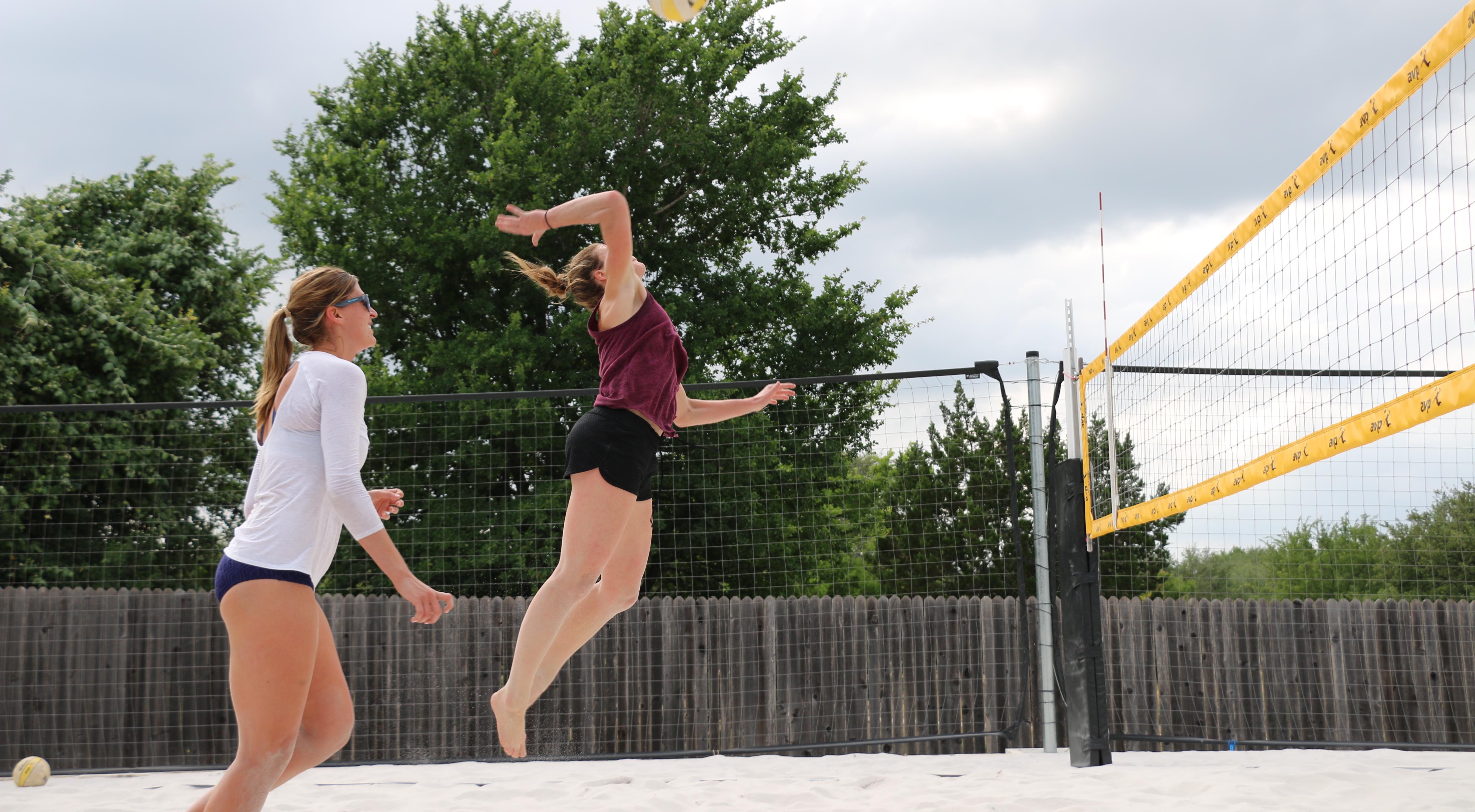 Taylor Bradley and Simone Priebe
Round Rock High School grad Bradley returns to her hometown after her freshman beach volleyball season at LSU. Her partner for the 2017 AVP Austin Open is Priebe, a 2018 Pepperdine beach volleyball commit. Just last weekend, Priebe and partner Sutton McTavish, another Pepperdine commit, defeated some of the top women's teams in Texas to win the AVPNext Dallas Open.
[tweet url="https://twitter.com/TexasVBTour/status/736166446636642305" hide_media="0" hide_thread="1"]
Priscilla Piantadosi-Lima and Maria Clara Salgado
Salgado knocked Piantadosi-Lima out of the 2017 AVP Huntington Beach Open qualifier, and now the pair of Brazilian pros are teaming up. Neither athlete made the main draw in Huntington, so they are hoping for a better result in Austin. At 5-foot-11 and 5-9, this won't be the tallest team on the beach, but the ball control will be on point.
Amy Neal and Lindsay Rosenthal
Neal is best known for her All-American indoor career at the University of Texas, but the 5-9 Austin native just finished her final year of college eligibility as a member of the Texas Christian beach volleyball team. She paired with Jaelyn Greene at the No. 1 spot, completing the regular season with a 21-5 record, and played in the USA Volleyball Collegiate Pairs Championship. Rosenthal is a former Notre Dame middle blocker and Irish assistant coach who is now a coach in the Austin area.
Men's Qualifier
Branden Clemens and Ben Vaught
Clemens and Vaught burst onto the scene at the 2017 AVP Huntington Beach Open, defeating Reid Priddy and Chaim Schalk to make it into the main draw. The pair of young bucks went two-and-out in the main draw, so they'll be looking to take things a step further in Austin. First, however, they'll have to battle through the qualifier once again.
[instagram url="https://www.instagram.com/p/BTzC0j5lXmu/?taken-by=brandenclemens" hide_caption="0"]
Dana Camacho and Elias Aparcedo
Camacho started playing on the AVP in 1998, but the Floridian has been absent from the tour since 2014. Camacho is known for this difficult-to-pass skyball and on-court personality, and he'll be playing in Austin with 25-year-old Elias Aparcedo, who played indoor at Fort Wayne and Ball State.
Francisco Quesada-Paneque and Troy Schlicker
As of late, this Austin pair has been playing some of the best ball in Texas, finishing first or second in each of the last four AVPNext tournaments. Defender Quesada-Paneque has ball control in spades and every shot in the book, while 6-4 Schlicker puts up an intimidating block.
[instagram url="https://www.instagram.com/p/BUEb3QzBMJW/?taken-by=txvolleyballtour" hide_caption="0"]
MUST SEE FloFilms
The Program: Penn State
Watch Episode One here.

All In: USA Women's National Volleyball Team
Watch Episode One here.

Don't Miss a Beat
It's time to step up your game. Fill in the information below to get the best of FloVolleyball delivered directly to your inbox.