FloVolleyball is excited to continue our NCAA Men's Countdown, ranking the top 10 collegiate men's volleyball teams in the country leading up to the start of the 2017 season.

The No. 3 spot goes to UCLA this year, and here's why:


The Upshot
The Bruins return everyone from last year's lineup and hope to ride a tough non-conference schedule to another national title.
Last Season
25-7 overall, 17-5 in MPSF (tied second place)
0-1 in NCAA Tournament (lost 3-2 vs. Ohio State)
Final 2016 RPI: 3
Team Hitting Percentage: .313 (#5 in NCAA)
Team Blocks Per Set: 2.51 (#6)
[instagram url="https://www.instagram.com/p/BOtQHSWgHvl/?taken-by=uclamvb" hide_caption="0"]
The Players
RETURNING STARS
Micah Ma'a
| 6-foot-3 | Sophomore | Setter/Opposite
5.99 assists/set; 2.12 kills/set; .310 (#33 in NCAA); 0.48 aces/set (#5)
Mitch Stahl
| 6-7 | Senior | Middle Blocker
1.86 kills/set; .471; 1.19 blocks/set (#6 in NCAA)
Jake Arnitz
| 6-7 | Junior | Outside Hitter
3.31 kills/set (#12 in NCAA); .313 (#30); 0.63 blocks/set
JT Hatch
| 6-1 | Junior | Outside Hitter
2.76 kills/set; .252; 0.35 blocks/set; 0.39 aces/set (#13 in NCAA)
Davis Gillett
| 5-11 | Sophomore | Libero
2.02 digs/set (#29 in NCAA)
Hagen Smith
| 6-1 | Senior | Setter/Opposite
5.88 assists/set; 1.21 kills/set; .216; 0.66 blocks/set
Oliver Martin
| 6-10 | Junior | Middle Blocker
1.49 kills/set; .447; 0.92 blocks/set
PROMISING NEWCOMERS
Jonah Kay
| 6-5 | Redshirt Freshman | Middle Blocker Hitter
Daenan Gyimah
| 6-8 | Freshman | Middle Blocker
Sam Jones
| 5-8 | Freshman | Libero
Sam Kobrine
| 6-3 | Freshman | Outside Hitter
Reece Salmons
| 6-0 | Freshman | Setter
BIGGEST LOSSES
None.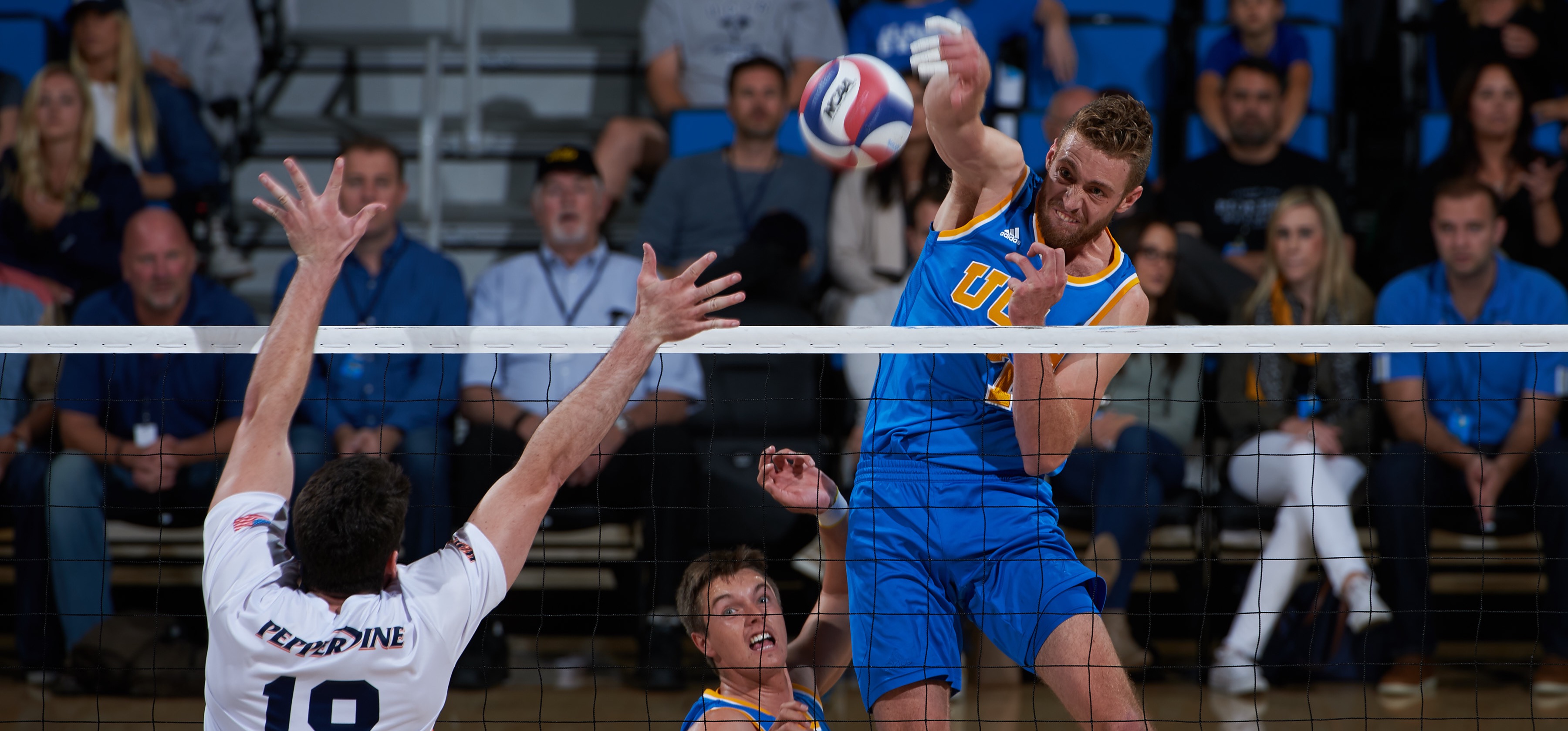 Photo by ASUCLA Photography.
Non-Conference Matches to Watch
January 7 at
Ohio State
March 8 vs.
Lewis
Outlook
Last spring, the Bruins lost in the NCAA semifinals to eventual champion Ohio State. The fifth set score, 18-16, would have been a sad way for any UCLA starters to end their careers. But every single player in that starting lineup is back this year, and coach
John Speraw
(fifth season) can only hope that loss will help motivate his team to a 2017 championship. The Bruins have a dynamic duo of setter/opposites in sophomore
Micah Ma'a
and senior
Hagen Smith
. Both outside hitters are juniors,
Jake Arnitz
and
JT Hatch
, and they combined for six kills/set in 206. Hatch and Ma'a were two of the top servers last year, while Arnitz tallied an exceptionally high hitting average (.313) for a pin hitter. Six-foot-seven senior
Mitch Stahl
and 6-10 junior
Oliver Martin
are a formidable pair in the middle, averaging a combined two stuff blocks per set. Sophomore
Davis Gillett
returns at libero, looking to improve on an already impressive 2.02 digs/set. Among the freshmen is setter
Reece Salmons
, son of 1984 Olympic gold medalist Steve Salmons. UCLA didn't scrimp on its non-conference schedule: The Bruins start the season on the road against Loyola-Chicago, Penn State, and Ohio State, with a March match against Lewis looming large.
Prediction
The Bruins know that championships often turn on the tiniest of details. Even the smallest of improvements may be enough to bring UCLA its 20th NCAA men's volleyball championship.
FloVolleyball NCAA Men's Volleyball Countdown
10. USC
9. Stanford
8. UC Irvine
7. Hawaii
6. Lewis
5. Pepperdine
4. Long Beach State
3. UCLA
2-1. Check back every day to see the remainder of the rankings!