NCAA Men's Volleyball Countdown: No. 7 Hawaii
FloVolleyball is excited to continue our NCAA Men's Countdown, ranking the top 10 collegiate men's volleyball teams in the country leading up to the start of the 2017 season.

The No. 7 spot goes to Hawaii this year, and here's why:


The Upshot

The return of prodigal son and USC transfer Larry Tuileta could thrust the 'Bows into the 2017 elite.


Last Season

16-12 overall, 11-11 in MPSF (seventh place)
0-1 in MPSF Tournament (lost 3-1 at UCLA)
Final 2016 RPI: 9
Team Hitting Percentage: .284 (#16 in NCAA)
Team Blocks Per Set: 2.19 (#17)


The Players
RETURNING STARS
Stijn van Tilburg | 6-foot-8 | Sophomore | Outside Hitter
3.26 kills/set; .255; 0.64 blocks/set
Kupono Fey | 6-5 | Senior | Outside Hitter
2.61 kills/set; .241; 0.50 blocks/set
Jennings Franciskovic | 6-5 | Senior | Setter
5.64 assists/set; 0.53 blocks/set
Joe Worsley | 6-5 | Sophomore | Setter
7.33 assists/set
Hendrik Mol | 6-6 | Senior | Middle Blocker
0.97 kills/set; .351; 0.99 blocks/set (#28 in NCAA)
Iain McKellar | 6-7 | Senior | Opposite
1.10 kills/set; .282; 0.73 blocks/set


PROMISING NEWCOMERS
Larry Tuileta | 6-4 | Junior | Libero/Outside Hitter (transfer from USC)
Austin Matautia | 6-3 | Freshman | Outside Hitter
Brandon Rattray | 6-5 | Redshirt Freshman | Outside Hitter
Rado Parapunov | 6-9 | Freshman | Opposite
Patrick Gasman | 6-10 | Redshirt Freshman | Middle Blocker
James Anastassiades | 6-5 | Redshirt Freshman | Outside Hitter
Evan LaRochelle | 5-9 | Freshman | Libero
Jack Reese | 6-8 | Freshman | Middle Blocker


BIGGEST LOSSES
Sinisa Zarkovic | 6-4 | Outside Hitter
4.02 kills/set (#9 in NCAA), .300 (#39); 0.20 aces/set
Kolby Kanetake | 5-8 | Libero
2.31 digs/set (#16 in NCAA)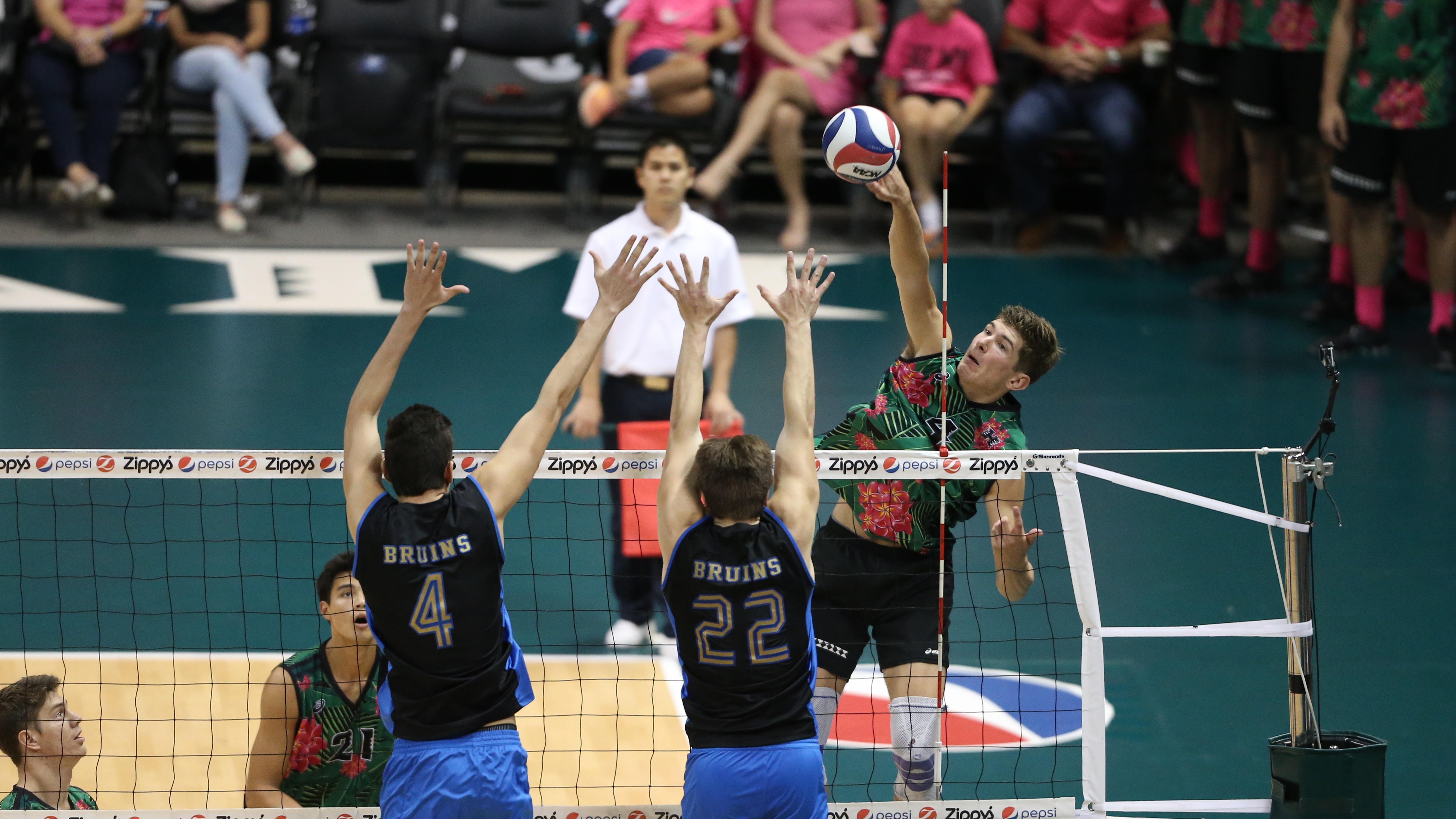 Stijn van Tilburg. Photo courtesy Hawaii Athletics.
Nonconference Matches to Watch

January 7 vs. Ball State


Outlook

Growing up on Oahu, Larry Tuileta was a volleyball phenom: his club teams won national age-group titles for 12s, 13s, 14s, 15s, 16s, and 17s, and he was the national tournament's MVP for the 15s, 16s, and 17s. But the Punahou School athlete was also a star quarterback, and in 2014, he took his dual-sport act to USC. Now, he is back in Hawaii, and could be a key link to reaching the final four. Although Tuileta came up as a 6-4 outside hitter with hops, coach Charlie Wade said Tui may move in this season as libero.

That leaves pin competition to sophomore Stijn van Tilburg (who moves from right side to the left), senior Kupono Fey, redshirt freshman Brandon Rattray and true freshman Austin Matautia, who earned a spot on the U.S. junior national team. Although the Rainbow Warriors will run a 5-1, two setters are in the mix: senior Jennings Franciskovic and sophomore Joe Worsley. Worsley also made the junior national team--as a setter, after two years at libero. Senior Hendrik Mol should grab one middle spot, with sophomore Dalton Solbrig and freshman Patrick Gasman among those competing for the other.


Prediction

If Tuileta, van Tilburg and the other outsides can learn to pass nails by season's end, Hawaii could reach the final of the MPSF tournament.


FloVolleyball NCAA Men's Volleyball Countdown

10. USC
9. Stanford
8. UC Irvine
7. Hawaii



MUST SEE FloFilms of 2016
The Program: Penn State
Watch Episode One here.

All In: USA Women's National Volleyball Team
Watch Episode One here.