Best Middle Blockers in the College Game
Best Middle Blockers in the College Game
FloVolleyball brings you a list of the top-10 middle blockers in women's college volleyball.
Nov 1, 2016
by Megan Kaplon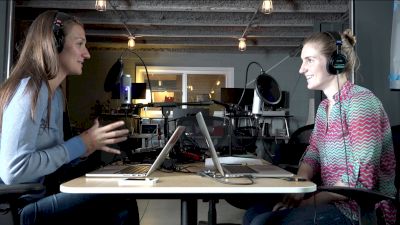 No volleyball team is complete without a pair of solid middle blockers. The first line of a team's defense, a good middle must be dynamic, athletic, and never fail to close the block.
Wondering who are the best middles currently competing in NCAA volleyball? Here's our list of the top 10.
10. Taylor Sandbothe, Senior, Ohio State
First team All-American Taylor Sandbothe plays a unique role for her Ohio State squad. She's the Buckeyes' go-to hitter with 714 attempts, hitting .329. The leading blocker on the team, Sandbothe stuffs an average of 1.10 blocks per set and has 95 total on the year. Also a threat behind the service line, the senior has 25 aces, good for second on the team.
[instagram url="https://www.instagram.com/p/BLJjiQ_jpp9/?taken-by=ohiostatewvball" hide_caption="0"]
9. Audriana Fitzmorris, Freshman, Stanford
Although only a freshman, Audriana Fitzmorris has already begun to make her mark on NCAA volleyball. Her 1.45 blocks per set ranks 13th nationally, and with 113 blocks, she's second only to Inky Ajanaku on the best blocking team in the country.
[instagram url="https://www.instagram.com/p/BJ_o1rHBXTY/" hide_caption="0"]
8. Briana Holman, Redshirt Junior, Nebraska
Briana Holman earned first team All-American honors as a sophomore at LSU. After transferring to Nebraska and sitting out the 2015 season, Holman is once again terrorizing opponents at the net. Six-foot-one and athletic, she has contributed 170 kills to the Huskers' 20-1 season, hitting .346 and has 90 total blocks. Holman put away a season-high 17 kills and a team-leading 10 blocks in Nebraska's recent five-set victory over Minnesota.
[tweet url="https://twitter.com/Huskervball/status/787082525147443200" hide_media="0" hide_thread="1"]
7. Amy Boswell, Senior, BYU
Amy Boswell's 203 total blocks (1.63/set) were a large part of BYU's run to the national championship match in 2014. Those numbers ranked her second nationally as a sophomore. As a junior in 2015, Boswell led the West Coast Conference in hitting percentage (.365) and blocks per set (1.40). The 6-4 senior and second-year team captain is leading the conference in blocks per set once again with 1.26, and with a .393 hitting percentage, she ranks 17th nationally.
[tweet url="https://twitter.com/BYUwvolleyball/status/792193414204837888" hide_media="0" hide_thread="1"]
6. Haleigh Nelson, Senior, Wisconsin
Haleigh Nelson is a middle who does so much more than hit and block--although she can certainly do both those things. Hitting .381, Nelson ranks 32nd nationally and is second on the team with 79 total blocks, but she is also a threat behind the service line and an accomplished backcourt defender with 24 aces and 64 digs so far this season.
[instagram url="https://www.instagram.com/p/BMMrSKvjcmf/?taken-by=badgervb" hide_caption="0"]
5. Amber Rolfzen, Senior, Nebraska

Amber Rolfzen transitioned to the middle after playing outside her freshman and sophomore seasons at Nebraska. That first season in her new position, Rolfzen ranked fourth in the nation with 1.58 blocks per set, and she hit .625 in the national championship match against Texas. As a senior, Rolfzen leads the Huskers with 94 total blocks (1.32/set, 33rd in nation).
4. Molly Lohman, Junior, Minnesota
Hitting .393 with 135 kills, Minnesota's Molly Lohman ranks 19th nationally. The junior leads her team with 109 blocks (1.42/set, 18th in nation), and she earned the Big Ten Defensive Player of the Week honor on October 31 after hitting .889 and contributing seven blocks in a sweep of Penn State over the weekend.
3. Rhamat Alhassan, Junior, Florida
Rhamat Alhassan's sophomore season was incredible to say the least. She ranked second in the nation in blocks and blocks per set and broke a school record with 14 blocks in a match. Her 189 total blocks in 2015 rank second all-time in school history. As a junior, it's more of the same for Alhassan. The 6-4 junior is hitting .416 (eighth highest in the nation) and leads the Gators with 1.44 blocks/ set (15th in the nation).
[instagram url="https://www.instagram.com/p/BMJ3mKBDcSE/?taken-by=gatorsvb" hide_caption="0"]
2. Haleigh Washington, Junior, Penn State
In her freshman season, Haleigh Washington earned the Big Ten Freshman of the Year honor and won a national championship with her Penn State squad. As a junior, Washington is a bona fide master of the slide attack and the most effective hitter in the Big Ten. Hitting .446, she ranks third in the nation and leads her team with 89 total blocks.
1. Inky Ajanaku, Redshirt Senior, Stanford
As a junior in 2014, Inky Ajanaku led her Stanford team in blocks and kills and earned first team All-American honors for the second straight season. She sat out the 2015 season with a knee injury, but now as a redshirt senior, the Tulsa, Oklahoma, native has returned to national prominence. Her 1.57 blocks per set ranks fourth in the nation, and with a .400 hitting percentage, she's second in the Pac-12 and 13th nationally.
[instagram url="https://www.instagram.com/p/BMPQ0O2Bfdy/?taken-by=stanfordwvb" hide_caption="0"]


Popular Right Now:
Top 10 College Setters
NCAA Volleyball's 10 Best Liberos
The Nation's Top 10 Freshmen
Talk Volley to Me Podcast: New Episode
Who's #1? The NCAA Rankings Show
Get All the Hype
It's time to step up your game. Fill in the information below to get the best of FloVolleyball delivered directly to your inbox.