The high point of every NCAA Division I collegiate volleyball season is the national championship. Two teams meet at the end of a long journey with their hearts set on the same goal, earning the title of champion.
As fans, we all want a match for the record books, a battle of grit between two determined teams striving for the title. The most memorable championships are ones that aren't easily won and have to go to five sets for a winner to be crowned.
Throughout the history of NCAA volleyball, there have been some unforgettable matchups. Let's take a trip down memory lane, reliving the most thrilling five-set national championships matches, in chronological order.
1981 University of Southern California vs. UCLA


USC wins: 9-15, 15-7, 10-15, 15-13, 15-7
In the first-ever NCAA-sponsored women's volleyball national championship, USC and UCLA went to five sets, adding more fuel to the fire of one of the most heated college rivalries. The two LA-based teams traded sets, with USC coming out on top in the fifth and becoming the first NCAA champion in history.
Key Players
USC:
Dana Smith, Cathy Stukel
UCLA:
Patty Orozco, Linda Robertson, Jeanne Beauprey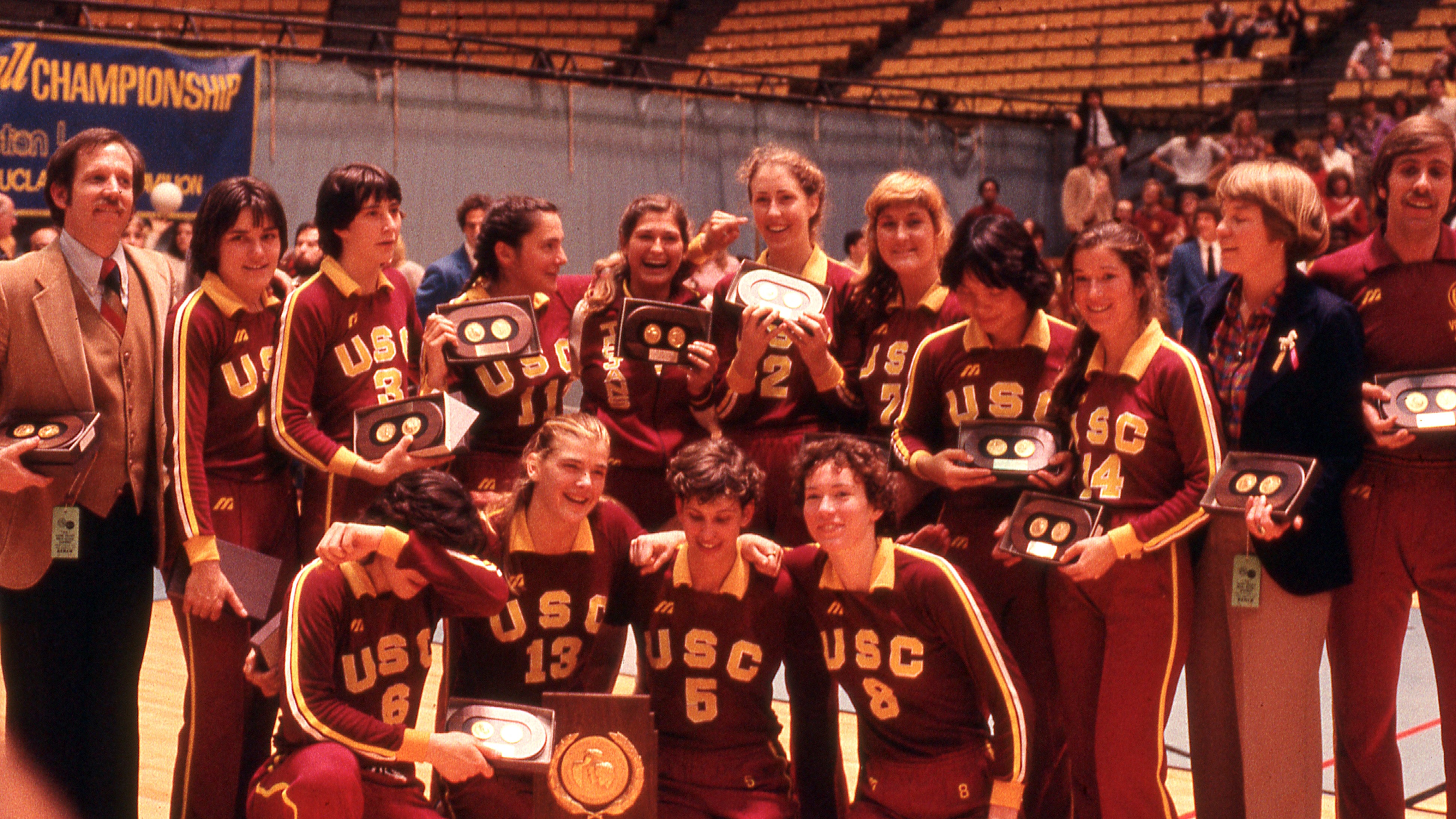 1984 UCLA vs. Stanford
UCLA wins: 15-12, 7-15, 15-10, 9-15, 15-13
In 1984, with UCLA hosting, Stanford held an 11-2 lead over the Bruins in the fifth set of the national championship match. UCLA managed to channel home court advantage to mount one of the most epic comebacks of all time, chipping away at the deficit to take the title 15-13.
Key Players
UCLA:
Michelle Boyette, Merja Connolly, Liz Masakayan
Stanford:
Bobbi Broer, Susan Compton, Kim Oden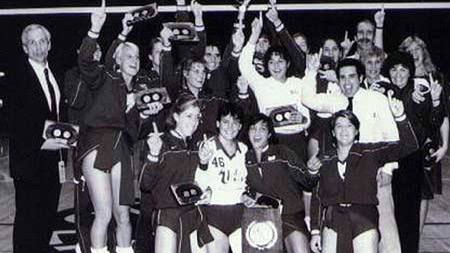 1991 UCLA vs. Long Beach State
UCLA wins: 12-15, 13-15, 15-12, 15-6, 15-11
UCLA entered the match as the defending national champions, but it was Long Beach State who took the first two sets. UCLA battled to win next three sets and earn the school's first back-to-back title.
Key Players
UCLA:
Natalie Williams, Elaine Youngs
Long Beach State:
Antoinette White, Sabrina Hernandez, Danielle Scott, Christine Romero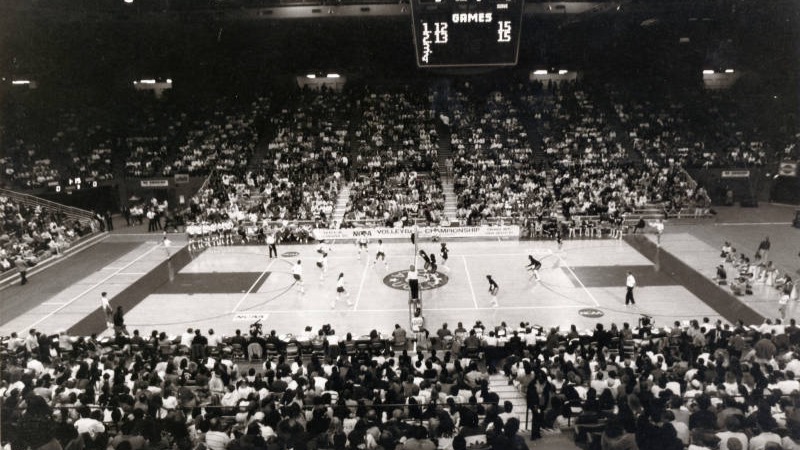 1997 Penn State vs. Stanford
Stanford wins: 15-10, 15-6, 2-15, 15-17, 15-9
Stanford won the first two sets, and Penn State won the next two. Stanford won in five after losing to Penn State twice earlier that year, The Cardinal's only losses in 1997 came at the hands of the Nittany Lions. With this victory, Stanford's senior class became the first class ever to win three titles in four seasons.
Key Players
Penn State:
Terri Zemaitis, Carrie Schonveld, Lauren Cacciamani
Stanford:
Kristin Folkl, Paula McNamee, Lisa Sharpley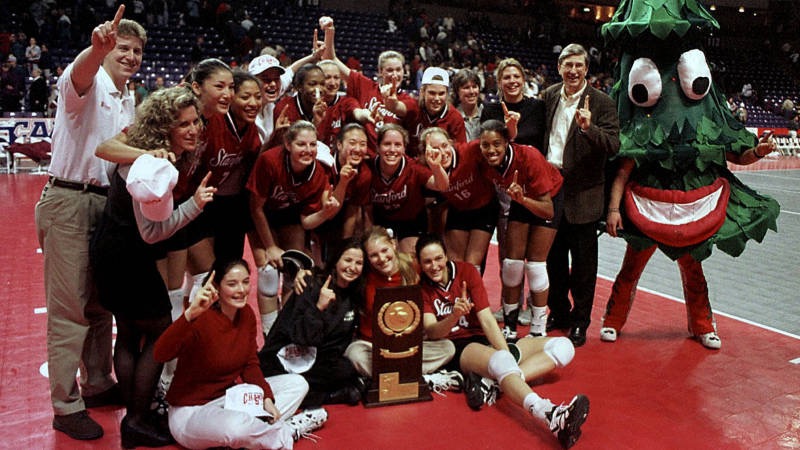 1998 Penn State vs. Long Beach State
Long Beach State wins: 15-3, 15-10, 13-15, 14-16, 15-12
1998 was the first year the NCAA tournament was made up of 64 teams. In previous seasons, only eight teams made the national tournament. The stakes were made even higher for this championship match as both teams entered the finals undefeated. After a hard-fought battle, Long Beach State came out on top and became the first team in NCAA volleyball history to finish a season undefeated.
Key Players
Long Beach State:
Misty May, Banish Dillard, Veronica Walls, Jessica Alvarado.
Penn State:
Lauren Cacciamani, Bonnie Bremner.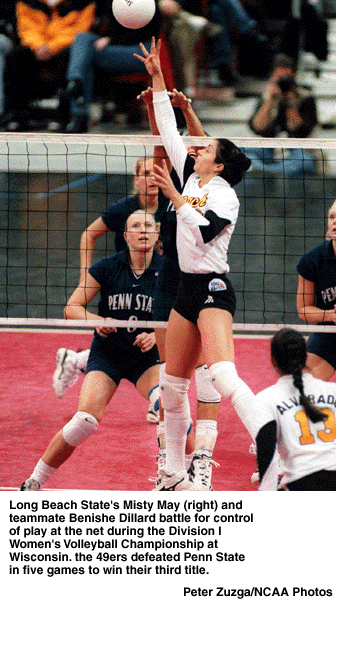 2009 Penn State vs. Texas
PSU wins: 22-25, 20-25, 25-23, 25-21, 15-13

This is the only rally-scoring era match on this list. Penn State entered the match with a 101 match win streak at stake and lost the first two sets. They kept the streak alive, however, winning 15-13 in the fifth. With the victory, Penn State became the first team in Division I women's college volleyball to win three straight titles. This match set a new record of television views with an estimated 1,999,200 watching on ESPN2. The Penn State senior class graduated holding the best winning percentage in NCAA Division I volleyball (142-5/.966).


Key Players
Texas: Destinee Hooker, Ashley Engle, Juliann Faucette
Penn State: Alisha Glass, Megan Hodge, Arielle Wilson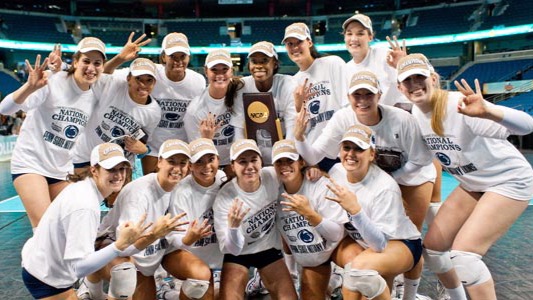 Have you seen the trailer for "The Program: Penn State?" Check it out here.