2023 CAA Volleyball Championships
How To Watch NCAA Volleyball Conference Tournaments On FloVolleyball
How To Watch NCAA Volleyball Conference Tournaments On FloVolleyball
Here's everything you need to know about the NCAA Volleyball tournaments being broadcasted on FloVolleyball.
Nov 16, 2023
by Briar Napier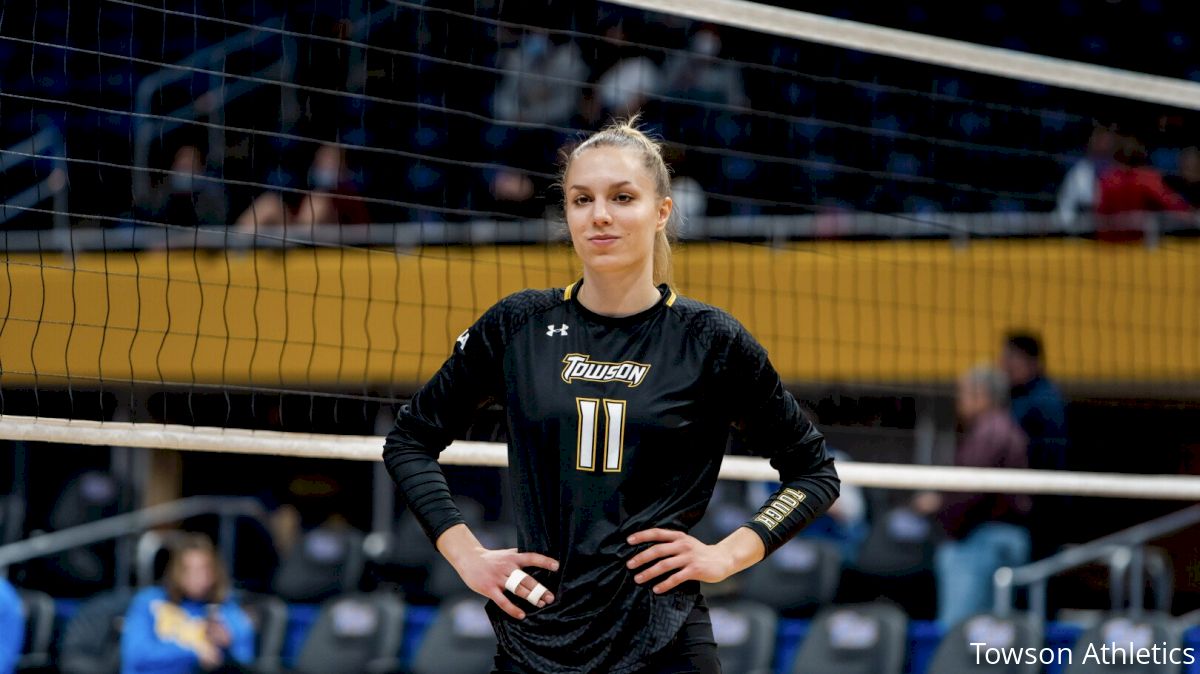 It's postseason time in college volleyball, and the best and brightest will show out in hopes of winning a tournament title and advance to the all-important NCAA Tournament.
FloVolleyball has highlighted the best and brightest from its partner leagues all season, and as the 2023 campaign winds down, the action is only heating up from here.
Here's a look ahead (or at) at the upcoming and ongoing volleyball conference tournaments being streamed on FloVolleyball this month:
NOTE: All match times are listed in Eastern Time and are subject to change.
Watch The CAA Volleyball Championship
Unsurprisingly, Towson—after four consecutive CAA Volleyball Championship titles—is the favorite to be the first league program to five-peat since George Mason from 1992-96 following a 23-5 regular season record and conference title. The Tigers are winners of 10 straight entering the postseason, but Delaware and Campbell (the Nos. 2 and 3 seeds, respectively) were the CAA teams to trip up Towson once each in their league matchups.
Seeds
Towson
Delaware
Campbell
Charleston
Stony Brook
Northeastern
Schedule
All games at TU Arena in Towson, Maryland
Thursday, Nov. 16
Friday, Nov. 17
Saturday, Nov. 18
Watch The BIG EAST Volleyball Championship
The BIG EAST volleyball regular season is wrapping up now, with seeds not completely decided yet prior to first-round action this upcoming Wednesday. Creighton is the defending champion, and the Bluejays are currently amid a battle with Championship host Marquette for the six-team tournament's No. 1 seed.
Schedule
All games at Al McGuire Center in Milwaukee, Wisconsin
Wednesday, Nov. 22
Friday, Nov. 24
Saturday, Nov. 25
Championship, TBD (Broadcast on FS2)
Watch The GLIAC Volleyball Tournament
Chalk held as the first round of action in the GLIAC Tournament got underway Wednesday as the top four seeds advanced in four successive sweeps. Defending champion Ferris State is still in the running, but it has a fight on its hands against top-seeded rival Grand Valley State and the rest of the final four as the Lakers are 25-3 on the season.
Seeds
Grand Valley State
Ferris State
Parkside
Michigan Tech
Northern Michigan
Davenport
Purdue Northwest
Lake Superior State
Schedule/Results
Quarterfinals at campus sites, semifinals and championship at Grand Valley State
Wednesday, Nov. 15
Saturday, Nov. 18
Sunday Nov. 19
Watch The GSC Volleyball Championship
West Florida and Alabama Huntsville picked up massive advantages as the top two seeds as both earned double-byes to the semifinals of the tournament, which got going with first-round matchups Tuesday. And speaking of UWF, it's ruled this tournament to the tune of five consecutive championships and brings a 15-1 GSC record to the party in this year's edition.
Seeds
West Florida
Alabama Huntsville
Auburn Montgomery
Montevallo
Valdosta State
Mississippi College
Lee
West Georgia
Schedule/Results
First round games at campus sites, all further rounds at West Florida
Tuesday, Nov. 16
Friday, Nov. 17
Saturday, Nov. 18
Sunday, Nov. 19
Watch The SAC Volleyball Championship
Wingate has won this tournament 13 of the past 17 times, and after a trip to the national quarterfinals a season ago, the Bulldogs (once again appearing primed for a deep postseason run at 27-2) are the favorites to make it 14 out of 18. They're back in the final playing third-seeded Tusculum for all the marbles Thursday.
Seeds
Wingate
Anderson
Tusculum
Lenoir-Rhyne
Carson-Newman
Catawba
Limestone
Mars Hill
Schedule/Results
Quarterfinals at campus sites, semifinals and championship at Rock Hill Sports & Events Center in Rock Hill, South Carolina
Monday, Nov. 13
Wednesday, Nov. 15
Thursday, Nov. 16