South Atlantic Conference Women's Volleyball
SAC 2023 Volleyball Award Winners and All-Conference
SAC 2023 Volleyball Award Winners and All-Conference
The SAC 2023 annual volleyball awards have been announced.
Nov 15, 2023
by Nicole Beckelman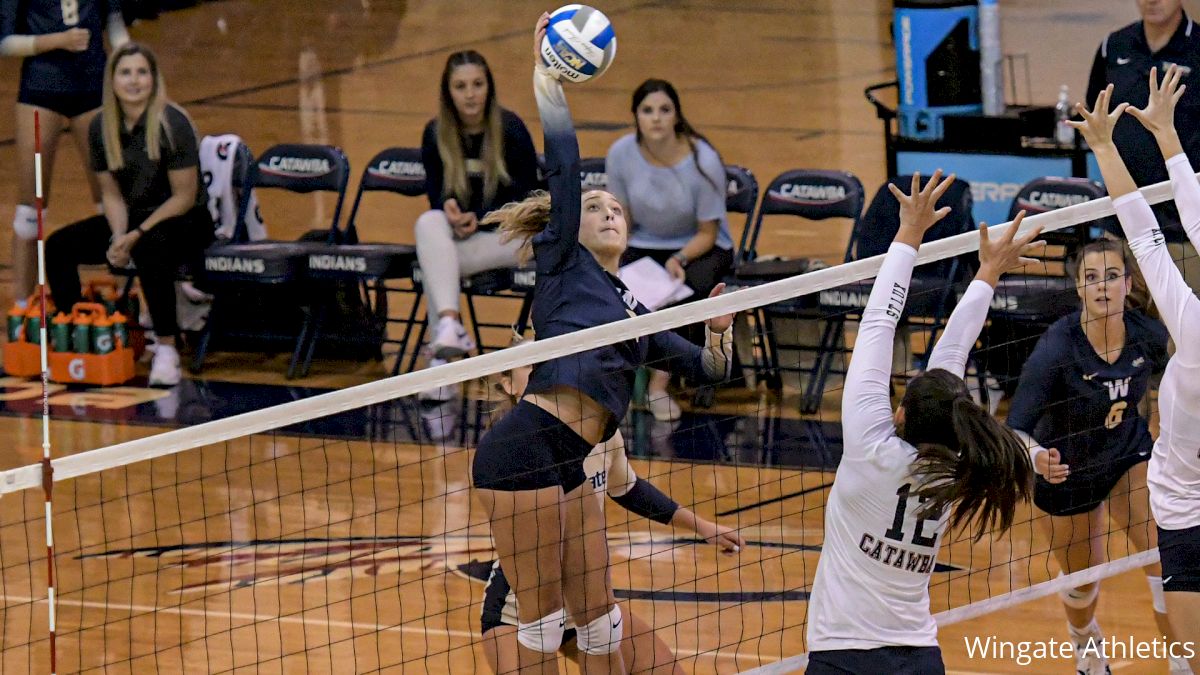 Wingate middle blocker Maggie Young was voted the 2023 South Atlantic Conference Volleyball Player of the Year, while Mars Hill's middle hitter Katilyn Grant was named the Conference's Freshman of the Year, and Anderson head coach Todd Hay was named Coach of the Year, the conference office announced today.
Young, a graduate student from Waxhaw, N.C., leads the SAC and ranks seventh in the nation in hitting percentage. Wingate's all-time leader in career hitting percentage, Young is a key factor in Wingate ranking third in the nation in hitting percentage. She also ranks second on the team in aces and blocks, helping the Bulldogs rank in the top 20 in the nation in opponents' hitting percentage. Young was named the SAC Offensive Player of the Week twice this season for her efforts in matches played during the week of October 2nd and November 13th.
Grant, a freshman from Alabaster, Ala., ranks among the top of the SAC with a .363 hitting percentage on the season. In her 25 matches played, she averaged 2.46 kills per set and recorded 214 kills, 12 assists, 37 digs, 61 blocks for 253.5 points.
Todd Hay earns his third South Atlantic Conference Coach of the Year honors after leading the Trojans to a 16-2 SAC record and a 24-4 overall record. The Trojans lead the SAC in kills (1429) and rank second in hitting percentage (.259), assists (1295), and points (1780.5). Under his guidance, Anderson is currently ranked No. 3 in the NCAA Southeast Region (as of Nov. 5) and earned the No. 2 seed in the SAC Volleyball Tournament.
Joining Young on the first team were Lenoir-Rhyne's Emmaleigh Allen and Kathy Peter, Tusculum's Emiah Burrowes, Anderson's Jaelyn Grimm and Jenna Long, Mars Hill's Laela Jimenez, and Carson-Newman's Julia Wheeler.
2023 SAC Volleyball All-Conference
First Team
Emmaleigh Allen, Lenoir-Rhyne
Emiah Burrowes, Tusculum
Jaelyn Grimm, Anderson
Laela Jimenez, Mars Hill (L)
Jenna Long, Anderson
Kathy Peter, Lenoir-Rhyne
Julia Wheeler, Carson-Newman
Maggie Young, Wingate
Second Team
Brantley Chipley, Anderson
Katilyn Grant, Mars Hill
Riley Hill, Catawba (L)
Emily Johnson, Wingate
Sadie Kluner, Anderson
Kristen Moehring, Lincoln Memorial
Amber Rowoldt, Wingate
Gabby Saye, Wingate
Third Team
Madison Adkins, Tusculum
Aly Freeland, Tusculum
Sydney Karjala, Lenoir-Rhyne
Ketura Margaret, Lincoln Memorial
Maggie Mullen, Wingate (L)
Tatum Riddle, Limestone
Rylie Sargent, Anderson
Tabitha Wheeler, Anderson
All-Freshman
Katilyn Grant, Mars Hill
Riley Hill, Catawba
Sydney Karjala, Lenoir-Rhyne
Sydney Morland, Wingate
Caley Sosnowski, Tusculum
Maya Van Heyst, Wingate
Player of the Year
Maggie Young, Wingate
Freshman of the Year
Katilyn Grant, Mars Hill
Coach of the Year
Todd Hay, Anderson