South Atlantic Conference
SAC Volleyball Weekly Awards - Nov. 7, 2023
SAC Volleyball Weekly Awards - Nov. 7, 2023
The South Atlantic Conference announced its Volleyball Players of the Week for matches played during the ninth week of the 2023 season.
Nov 7, 2023
by Nicole Beckelman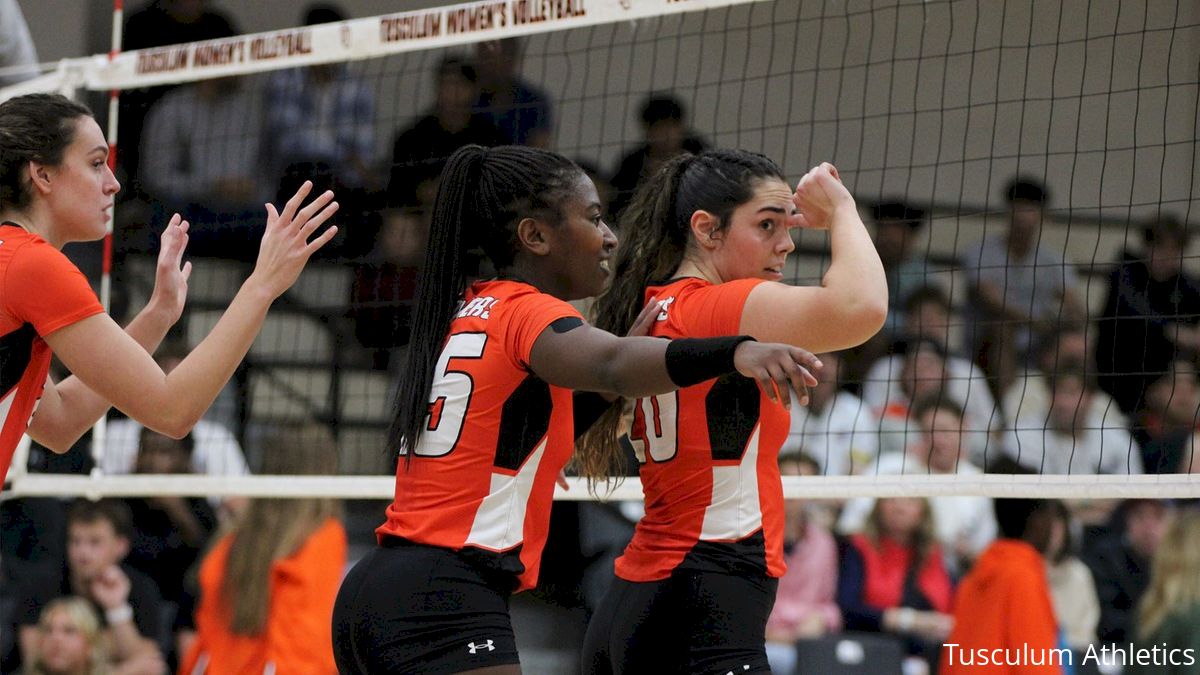 Tusculum's Emiah Burrowes was named the Offensive Player of the Week while Catawba's Riley Hill was named the Defensive Player of the Week.
Burrowes, a graduate student from Wesley Chapel, N.C., averaged 4.22 kills per set on a .341 hitting percentage across Tusculum's three sweeps. The outside hitter had her best outing at Lincoln Memorial, tallying 16 kills on a .414 rate. Burrowes reached double-digit kills in every match, recording double-doubles in the contests at Newberry and Lenoir-Rhyne with 10 and 15 digs, respectively. She also added two service aces and five block assists. On the season, Burrowes is averaging 3.41 kills per frame on a .228 clip.
Hill, a freshman from Salisbury, N.C., totaled 60 digs in Catawba's 2-0 week. She first recorded 27 digs in the five-set win over Emory & Henry before adding 33 (8.25/ set) in Catawba's four-set win over Mars Hill on Saturday. Hill is the second player this season to earn back-to-back Player of the Week honors and the first to do so on the defensive side.
2023 SAC Volleyball Players of the Week
Offensive Player of the Week
Sept. 4 – Jenna Long, Anderson
Sept. 11 – Sadie Kluner, Anderson
Sept. 18 – Emmaleigh Allen, Lenoir-Rhyne
Sept. 25 – Emmaleigh Allen, Lenoir-Rhyne
Oct. 2 – Maggie Young, Wingate
Oct. 9 – Sydney Karjala, Lenoir-Rhyne
Oct. 16 – Kristen Moehring, Lincoln Memorial
Oct. 23 – Emmaleigh Allen, Lenoir-Rhyne
Oct. 30 – Gabby Saye, Wingate
Nov. 6 – Emiah Burrowes, Tusculum
Defensive Player of the Week
Sept. 4 – Cassidy Farley, UVA Wise
Sept. 11 – Brantley Chipley, Anderson
Sept. 18 – Emily Johnson, Wingate
Sept. 25 – Kathy Peter, Lenoir-Rhyne
Oct. 2 – Maggie Mullen, Wingate
Oct. 9 – Kathy Peter, Lenoir-Rhyne
Oct. 16 – Emily Johnson, Wingate
Oct. 23 – Laela Jimenez, Mars Hill
Oct. 30 – Riley Hill, Catawba
Nov. 6 – Riley Hill, Catawba