CAA Women's Volleyball
CAA Women's Weekly Awards - Sept. 11, 2023
CAA Women's Weekly Awards - Sept. 11, 2023
Beatriz Alves, Claranne Fechter and Abby Reck are the CAA women's volleyball weekly award winners for the week ending September 11.
Sep 11, 2023
by Nicole Beckelman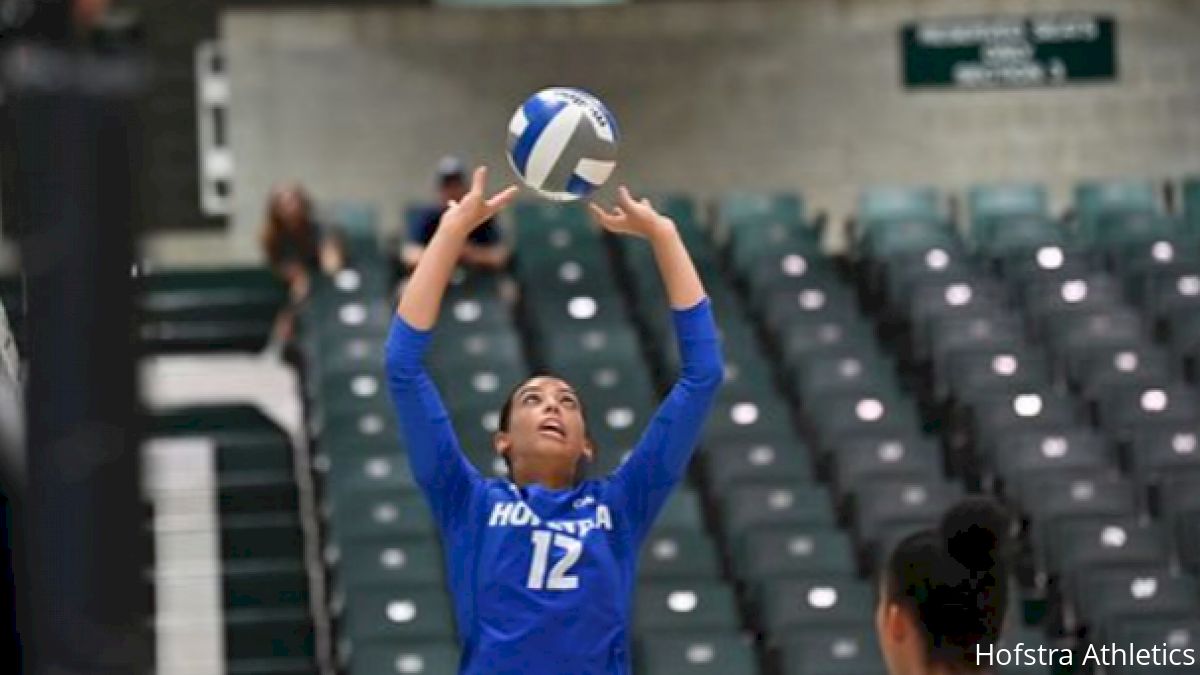 OFFENSIVE PLAYER OF THE WEEK
Beatriz Alves, Hofstra
Junior | Setter | São José dos Campos, Brazil / Colégio Campos Salles
Alves recorded 153 assists, 10.93 per set, facilitating the Hofstra attack in a 4-0 week for the Pride. The junior setter also added 30 digs (2.14/set), 12 kills (0.86/set), 10 blocks (0.79/set) and nine service aces in an all-around effort. Alves tallied at least 30 assists in all four matches, including 40-plus on two occasions. Her best performance came against Seton Hall, recording her third double-double this season with 47 assists and 10 digs in a four-set victory, adding five kills, two blocks and one service ace.
DEFENSIVE PLAYER OF THE WEEK
Claranne Fechter, Campbell
Senior | Libero | Powell, Ohio / Olentangy Liberty
Fechter had her best week of the season thus far, recording 91 digs for an average of 5.06 digs per set for the Fighting Camels. The senior libero tallied double-digit digs in all four matches for Campbell, including 20 or more on three occasions, while posting a .957 reception percentage. Fechter notched a season-high 26 digs in the first match of the Campbell Invitational despite a 3-1 setback to San Jose State. However, she topped the mark with 29 digs in a four-set victory over UTSA the following contest. During the week, Fechter also totaled 22 assists (1.22/set) and seven service aces.
ROOKIE OF THE WEEK
Abby Reck, Northeastern
Freshman | Outside Hitter | Northville, Mich. / Northville
Reck continued an impressive start to her collegiate career with 4.14 kills per set on a .387 hitting percentage, helping Northeastern to a weekend split at its home invitational. Against Northern Colorado, Reck had her best performance this fall with career highs of 20 kills and a .436 hitting percentage, adding four digs and three blocks to lead the Huskies to a four-set victory over the two-time dhttps://www.flovolleyball.tv/teams/6969271-towson-womens-volleyballefending Big Sky Champions. She followed the effort with nine kills, hitting .304 while recording three digs and one block despite a setback to Northwestern.
2023 CAA VOLLEYBALL WEEKLY AWARD WINNERS
Offensive Player of the Week
Aug. 28: Naiya Sawtelle, North Carolina A&T
Sept. 4: Irbe Lazda, Towson
Sept. 11: Beatriz Alves, Hofstra
Defensive Player of the Week
Aug. 28: Irbe Lazda, Towson
Sept. 4: Olivia Esposito, William & Mary; Asia Murray, Delaware
Sept. 11: Claranne Fechter, Campbell
Rookie of the Week
Aug. 28: Beatriz Braga, Hofstra; Asia Murray, Delaware
Sept. 4: Abby Reck, Northeastern
Sept. 11: Abby Reck, Northeastern