CAA Women's Volleyball
CAA Volleyball Weekly Awards -- Aug. 28
CAA Volleyball Weekly Awards -- Aug. 28
The CAA has announced its first volleyball weekly award winners following the opening weekend of the 2023 season.
Aug 28, 2023
by Nicole Beckelman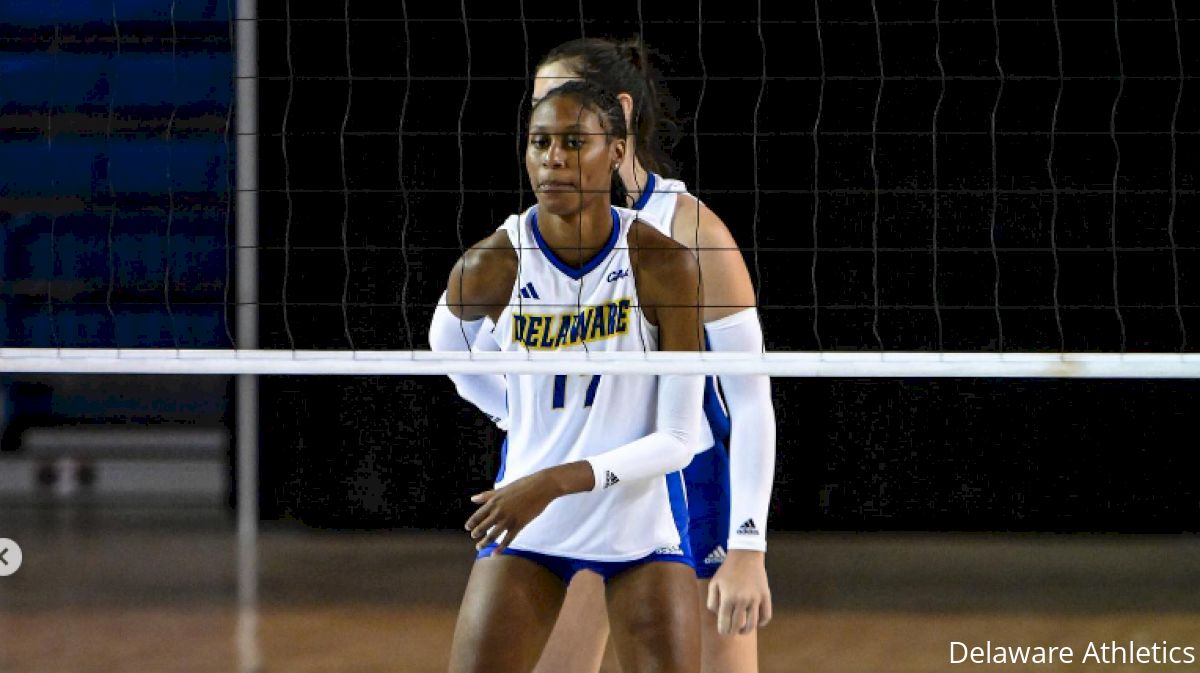 OFFENSIVE PLAYER OF THE WEEK
Naiya Sawtelle, North Carolina A&T
Junior | Outside Hitter | Stuart, Fla. / Jensen Beach
Sawtelle opened the season with an impressive 6.17 points and 5.33 kills per set on a .333 hitting percentage for the Aggies at the Cavalier Classic. The junior outside hitter totaled 32 kills, adding four service aces while contributing 13 digs (2.17 per set) in a 1-1 weekend for North Carolina A&T. Against Rutgers, Sawtelle recorded a match-high 13 kills with seven digs despite a setback to the Scarlet Knights. She improved upon the performance in the weekend finale, recording 19 kills on 34 swings to post a career-best .529 hitting percentage in a straight-set victory over Rider. Sawtelle added four service aces, six digs and one block in the win.
DEFENSIVE PLAYER OF THE WEEK
Irbe Lazda, Towson
R-Junior | Outside Hitter | Marupe, Latvia / Marupe Secondary School
Lazda recorded a league-best 1.71 blocks per set to help Towson begin the year with a weekend split against South Carolina. The redshirt junior added 12 digs (1.71 per set) defensively and impacted both sides of the net with 3.86 kills per set on a .377 hitting percentage. In the season opener, Lazda tallied six blocks and three digs, helping to limit the Gamecocks to a .100 team-hitting percentage while leading the team with 10 kills in a straight-set victory. The Latvia native followed the performance by recording a career-high 17 kills on .452 hitting with nine digs and six blocks despite a setback in the rematch.
CO-ROOKIE OF THE WEEK
Beatriz Braga, Hofstra
Freshman | Outside Hitter | Uberlândia, Brazil / Faculdades Integradas Campos Salles
Braga impacted the Pride immediately by contributing 2.45 kills and 1.91 digs per set as Hofstra opened the season 3-0. The freshman outside hitter got better with each performance this weekend, recording four service aces, four digs and two kills in her collegiate debut versus Siena, followed by 10 kills, eight digs and two service aces against NJIT. Braga concluded the weekend with an impressive 15 kills on a .364 hitting percentage with nine digs and two service aces in a victory over Delaware State.
CO-ROOKIE OF THE WEEK
Asia Murray, Delaware
R-Freshman | Middle Blocker | Chicago, Ill. / Baltimore Polytechnic Institute
Murray was terrific in her first action with the Blue Hens, recording 1.64 blocks and 1.09 kills per set on a .348 hitting percentage as Delaware went 3-0 to open the season. The redshirt freshman began the season with nine blocks, matching the single-game league-high opening weekend, and added five kills in a victory over Loyola (Md.). Murray followed with four kills and three blocks against Niagara before six blocks and three kills in the weekend finale versus Robert Morris.
2023 CAA VOLLEYBALL WEEKLY AWARD WINNERS
Offensive Player of the Week
Aug. 28: Naiya Sawtelle, North Carolina A&T
Defensive Player of the Week
Aug. 28: Irbe Lazda, Towson
Rookie of the Week