CAA Women's Volleyball
CAA Volleyball Preseason Polls, Player Of The Year And All-CAA Team
CAA Volleyball Preseason Polls, Player Of The Year And All-CAA Team
Towson is the favorite to claim the CAA Volleyball title and Lani Mason, an outside hitter on Delaware, was named CAA Preseason Player of the Year.
Aug 16, 2023
by Nicole Beckelman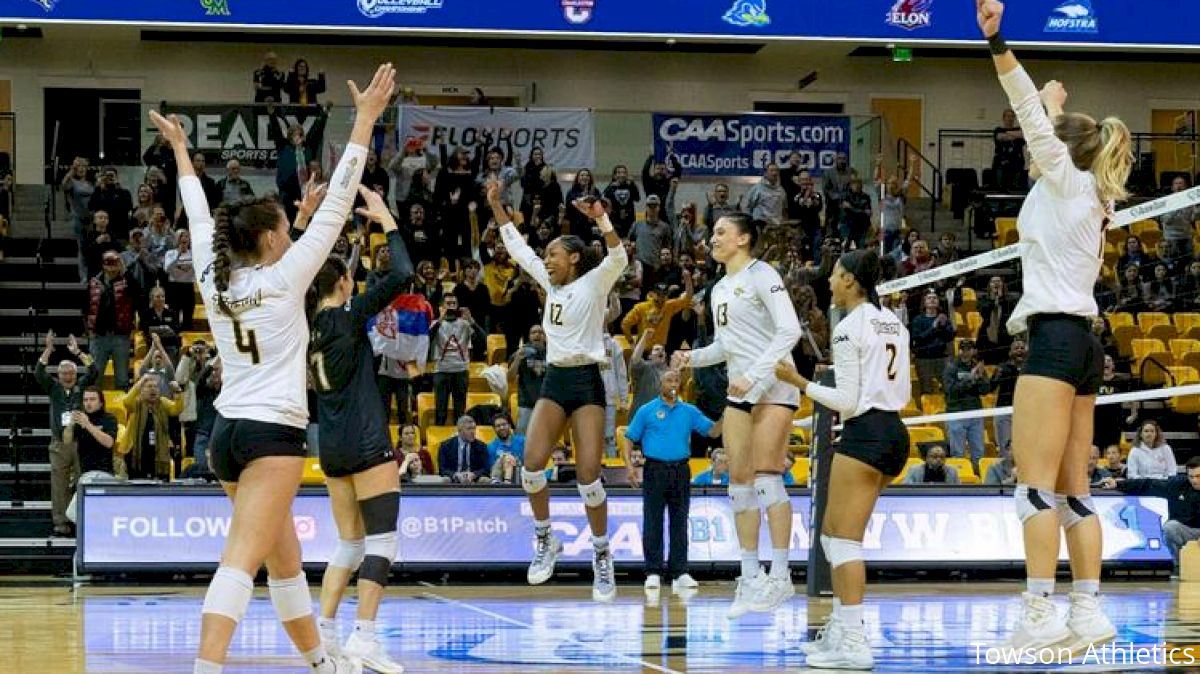 The Tigers tallied 11 first-place votes and the maximum 121 points to be atop the preseason ranks for the third straight season. Delaware followed, collecting 102 points, three ahead of Hofstra, which tallied 99 points. Fourth through seventh were separated by 12 points as Charleston led the conglomerate with 83 points, followed by Northeastern with 81, newcomer Campbell with 73 and Elon at 71 points. William & Mary was eighth, with Stony Brook, North Carolina A&T, UNCW and Hampton rounding out the 12-team poll.
Last fall, Towson posted a 29-2 record, including a 15-1 mark in league play, en route to becoming the first team to win four straight CAA titles since 1996. The Tigers led the conference in hitting percentage (.274), opponent hitting percentage (.142), assists per set (12.89), kills per set (13.79) and blocks per set (2.89) under four-time CAA Coach of the Year Don Metil. Towson is reloaded and welcomes back a pair of First Team All-CAA selections on the outsides in Victoria Barrett (329K, 230D) and Nina Cajic (303K, .374%), as well as a second-team honoree, Aayinde Smith (164K, 129B), in the middle. Barrett and Cajic were two of the league's All-Region honorees in 2022, while Barrett also earned All-America honorable mention recognition.
Delaware returned to the CAA Championship match for the first time since 2016 last season in large part to Mason, who is the reigning CAA Player of the Year. Mason ranked sixth in the NCAA in points (5.54) and kills (5.03) per set, earning First Team All-CAA honors season and All-America honorable mention. The Blue Hens will also benefit from retaining Ezgi Basaranlar (836A) at setter, who has been a Second Team All-CAA selection the past two seasons.
Hofstra finished second in the regular season last fall, finishing with a 14-2 mark in CAA play. The Pride will be among the contenders again in 2023, returning two major award winners. Beatriz Alves (1069A) improved upon CAA Rookie of the Year accolades in 2021, earning CAA Setter of the Year recognition last fall. Meanwhile, Chiara Cucco has established herself as the top libero in the conference, garnering CAA Libero of the Year honors in back-to-back seasons.
Charleston and Northeastern have been consistent forces in CAA Volleyball and look to continue that trend this season. The Cougars have qualified for nine CAA Tournaments since joining the league in 2013 and won the crown in their first season. The Huskies have reached the conference tournament seven straight seasons, including a CAA Championship match appearance in the spring of 2021.
Meanwhile, the new kids on the block, Campbell, looks to carry over its recent success in the Big South to a new league this fall. The Fighting Camels have won back-to-back Big South regular season titles and claimed the 2021 Big South Championship crown, earning an NCAA Tournament bid two seasons ago.
Charleston outside hitter Lexi Wierzbicki and Campbell libero Claranne Fechter accompanied Alves, Barrett, Cajic, Cucco and Mason on the Preseason All-CAA Volleyball team. Reigning CAA Rookie of the Year, Kali Moore of Stony Brook, North Carolina A&T outside hitter Naiya Sawtelle and William & Mary outside hitter Eleanor Stothoff rounded out the preseason all-conference team.
CAA Volleyball will feature 12 teams for the first time in league history, with the 2023 season starting on Friday, August 25. The season culminates November 16-18 at SECU Arena on the campus of Towson University for the 2023 CAA Volleyball Championship, returning to the traditional six-team format this fall.
2023 CAA Volleyball Preseason Poll
Team (1st) , Points
1. Towson (11), 121
2. Delaware, 102
3. Hofstra, 99
4. Charleston, 83
5. Northeastern (1), 81
6. Campbell, 73
7. Elon, 71
8. William & Mary, 50
9. Stony Brook, 46
10. North Carolina A&T, 30
11. UNCW, 25
12. Hampton, 11
2023 CAA Preseason Player of the Year:
Lani Mason, Delaware
2023 Preseason All-CAA Volleyball Team
Name, School, Class, Pos., Hometown
Beatriz Alves, Hofstra, Jr., S, São José dos Campos, Brazil
Victoria Barrett, Towson, Jr., OH, Stafford, Va.
Nina Cajic, Towson, Sr., OH, Subotica, Serbia
Chiara Cucco, Hofstra, Jr., L/DS, Buscate, Italy
Claranne Fechter, Campbell, Sr., DS/L, Powell, Ohio
Lani Mason, Delaware, Gr., OH, Chester, Va.
Kali Moore, Stony Brook, So., OH, Brooklyn, N.Y.
Naiya Sawtelle, North Carolina A&T, Jr., OH, Stuart, Fla.
Eleanor Stothoff, William & Mary, Jr., OH, Pittstown, N.J.
Lexi Wierzbicki, Charleston, Gr., OH, Easley, S.C.
Honorable Mention: Zyare Abdul-Rahim (OH), Towson; Ezgi Basaranlar (S), Delaware; Jordan Gower (DS/L), Elon; Katie Lanz (OH), UNCW; Sydney Love (OH), Elon; Melody Paige (MB), Campbell; Sarah Pierre (MB), Hofstra; Aayinde Smith (MB), Towson