NCAA Men's Volleyball Countdown: No. 1 Ohio State
FloVolleyball is excited to continue our NCAA Men's Countdown, ranking the top 10 collegiate men's volleyball teams in the country leading up to the start of the 2017 season.

The top spot goes to Ohio State this year, and here's why:


The Upshot

The Buckeyes host this season's final four, where they hope to get back-to-back championships and Player of the Year awards.


Last Season

31-3 overall, 15-1 in MIVA (conference champion)
3-0 in NCAA Tournament (national champions)
Final 2016 RPI: 1
Team Hitting Percentage: .350 (#2 in NCAA)
Team Blocks Per Set: 1.90 (#31)


The Players
RETURNING STARS
Nicolas Szerszen | 6-foot-4 | Junior | Outside Hitter
4.23 kills/set (#7 in NCAA); .384 (#12); 0.52 aces/set (#3)
Miles Johnson | 6-6 | Senior | Opposite
3.70 kills/set (#14 in NCAA); .311 (#23); 0.51 blocks/set; 0.39 aces/set (#13)
Christy Blough | 6-5 | Senior | Setter
11.10 assists/set (#2 in NCAA)
Gabriel Domecus | 6-3 | Senior | Libero
2.12 digs/set (#24 in NCAA) (.276)
Blake Leeson | 6-7 | Sophomore | Middle Blocker
1.50 kills/set; .419; 0.73 blocks/set
Driss Guessous | 6-8 | Senior | Middle Blocker
1.71 kills/set; .489; 0.77 blocks/set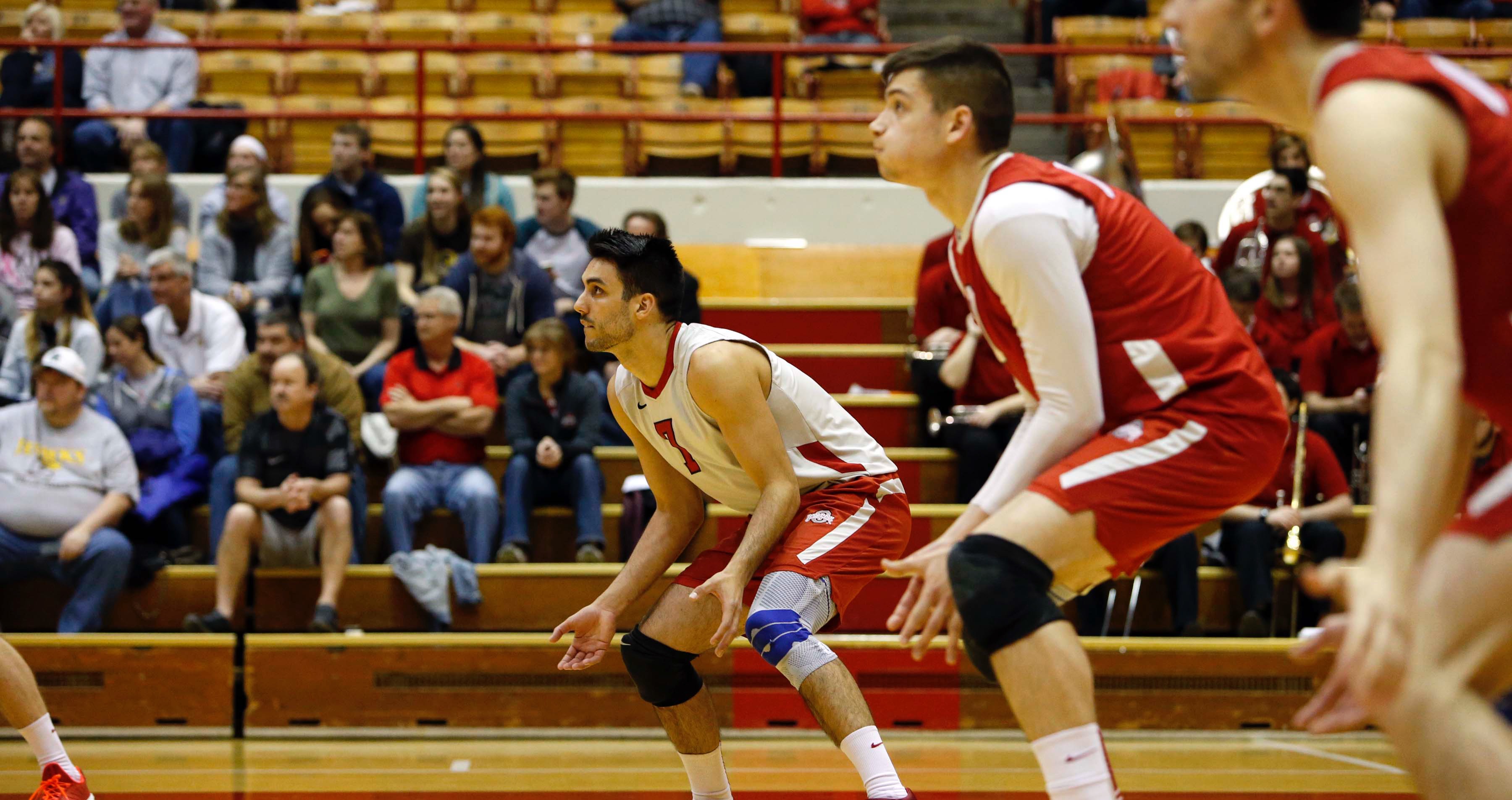 Photo by Ohio State Athletics.
PROMISING NEWCOMERS
Maxime Hervoir | 6-3 | Junior | Outside Hitter (transfer from Montpellier, France)
Reese Devilbiss | 6-2 | Freshman | Outside Hitter
Dejon Clark | 6-5 | Freshman | Opposite
Shawn Hughes | 6-4 | Freshman | Outside Hitter
Andrew Hillman | 6-3 | Freshman | Setter
Zach Yerington | 6-5 | Redshirt Freshman | Middle Blocker
Darcy Taig | 6-6 | Redshirt Freshman | Outside Hitter


BIGGEST LOSSES
Christian Franceschi | 6-3 | Outside Hitter
1.76 kills/set, .227; 0.39 aces/set (#12 in NCAA)


Non-Conference Matches to Watch:

January 7 vs. UCLA
January 13-14 at Stanford
January 28 vs. Long Beach State




Outlook

Ohio State coach Pete Hanson (33rd season) says his defending NCAA champion Buckeyes have more depth this season than last, when he relied heavily on what he calls his "Iron 7." Six of those Ironmen are back, leaving only the OH2 slot to fill. Hanson said freshman Reese Devilbiss may have a slight early advantage over French transfer Maxime Hervoir at the pins; Hanson said both are excellent passers. At OH1, Nicolas Szerszen returns and should make a run at back-to-back AVCA Player of the Year honors. Szerszen and opposite Miles Johnson are two of the best servers in the nation, which should help the Buckeyes improve over their genuinely mediocre blocking last season. Christy Blough should make a case as the nation's top setter, especially if he matches his 11.21 assists/set average from last season. Gabriel Domecus returns as the Buckeyes' libero, but Hanson said "the team's digging and transition needs to continue to improve." After hosting the recent NCAA DI women's championship, Ohio State will host the men's final four this spring. Hanson said, "The chance to play in front of our home fans will be in the back of our minds, but we'll try to make sure it doesn't become a distraction."


Prediction

The teams in last season's final four--Ohio State, BYU, UCLA and Long Beach State--graduated a total of just three players between them. If the Buckeyes are the preseason favorites, it may be by the barest of threads. Let the season begin!


FloVolleyball NCAA Men's Volleyball Countdown

10. USC
9. Stanford
8. UC Irvine
7. Hawaii
6. Lewis
5. Pepperdine
4. Long Beach State
3. UCLA
2. BYU
1. Ohio State



MUST SEE FloFilms of 2016
The Program: Penn State
Watch Episode One here.

All In: USA Women's National Volleyball Team
Watch Episode One here.

Don't Miss a Beat in 2017
It's time to step up your game. Fill in the information below to get the best of FloVolleyball delivered directly to your inbox.