The 2017 Big Ten Women's Volleyball Stats Leaders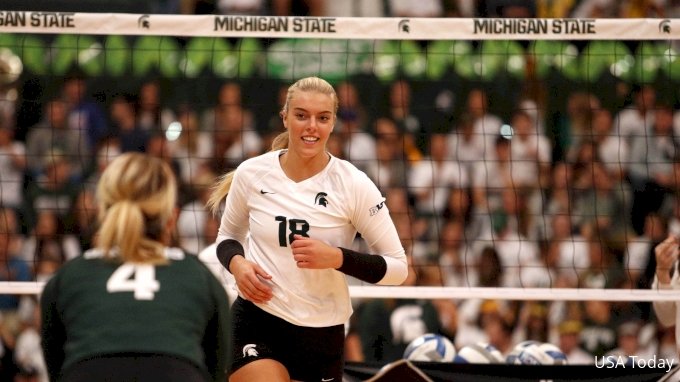 Create a free account to unlock this video!
Get Started
Already a subscriber? Log In
Throughout the 2017 Big Ten women's volleyball season, there were plenty of upsets, breakout performances, and big wins, but these five elite female athletes were consistently excellent and the finished the conference season as statistical leaders in various categories.
Kills Per Set: Danielle Cuttino, Purdue
Leading the conference in kills per set was Purdue's Danielle Cuttino. The 6-foot-4 senior attacker started her collegiate career as a middle, made the transition to outside hitter during the 2016 season, and then split her time between the two positions this fall. With a high reach and fast swing, Cuttino led the conference with 4.17 kills per set in Big Ten matches, terminating from all across the net and in the back row.
Assists Per Set: Samantha Seliger-Swenson, Minnesota
Bad passes? No problem. Minnesota setter Samantha Seliger-Swenson can make a highlight-reel worthy set out of basically anything. The Minnesota junior led the conference with 12.23 assists per set in league matches, and ranks second nationally in the same category.
Digs Per Set: Annika Olsen, Iowa
Iowa libero Annika Olsen's incredible defensive skills are part athleticism and part high-level reading ability. By zooming all over the floor making flying saves and simply being in the right place at the right time, Olsen led the Big Ten with 4.90 digs per set and also led the conference with 343 total digs.
Aces Per Set: Holly Toliver, Michigan State
When teams prepared to play Michigan State this fall, they knew serve receive was going to be a problem. With 1.66 aces per set as a team in league matches, the Spartans were the most feared servers in the Big Ten, and left-handed opposite hitter Holly Toliver had the most ferocious serve of them all. Her jump-topspin serve with its wicked tail fooled many a passer this season, and she averaged a conference-high .38 aces per set.
Blocks Per Set & Hitting Percentage: Haleigh Washington, Penn State
Haleigh Washington had such a spectacular senior season, the Penn State middle blocker led the Big Ten in not one but two statistical categories. With 14 solo blocks and 90 block assists, Washington was first in the league with 1.51 blocks per set. She was also the most effective hitter, not only in the Big Ten, where she maintained a .508 hitting percentage, but also in all of Division I, leading the nation with a .513 hitting percentage in all matches.