Big Ten Match Of The Week: Minnesota Vs. Illinois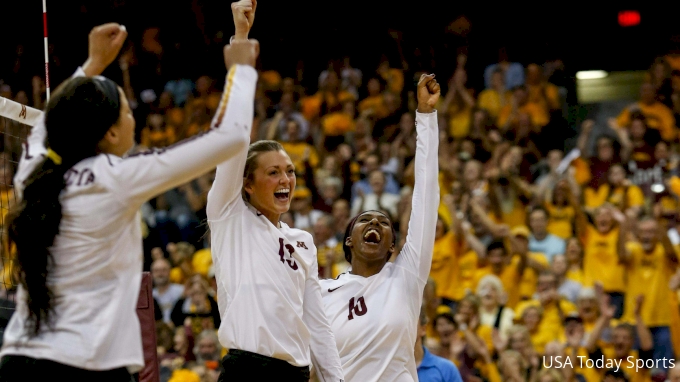 The last time Illinois and Minnesota faced off, the Fighting Illini came up to Minneapolis and gave the Gophers all they could handle.
In that five-set victory for Minnesota, Illinois showed off its defensive prowess at the net, out-blocking the Gophers 17 to six.
On Saturday, Illinois gets another crack at Minnesota, and this time it's the Gophers hitting the road.
Tune in to watch Illinois versus Minnesota right here on FloVolleyball, Saturday, November 18, at 8 PM ET.
Here's the complete list of Big Ten women's volleyball matches that are streaming live on FloVolleyball this week:
| | | | | | |
| --- | --- | --- | --- | --- | --- |
| Date | Visiting Team | Home Team | Site | Time (ET) | Live Stream |
| 11/15 | Michigan State | Michigan | Ann Arbor, MI | 7:00 PM | WATCH LIVE |
| 11/15 | Purdue | Rutgers | Piscataway, NJ | 7:00 PM | WATCH LIVE |
| 11/15 | Indiana | Penn State | University Park, PA | 7:30 PM | WATCH LIVE |
| 11/17 | Iowa | Maryland | College Park, MD | 7:00 PM | WATCH LIVE |
| 11/17 | Minnesota | Northwestern | Evanston, IL | 8:00 PM | WATCH LIVE |
| 11/18 | Penn State | Rutgers | Piscataway, NJ | 7:00 PM | WATCH LIVE |
| 11/18 | Purdue | Michigan | Ann Arbor, MI | 7:00 PM | WATCH LIVE |
| 11/18 | Nebraska | Maryland | College Park, MD | 7:00 PM | WATCH LIVE |
| 11/18 | Minnesota | Illinois | Champaign, IL | 8:00 PM | WATCH LIVE |
| 11/18 | Indiana | Michigan State | Ann Arbor, MI | 8:00 PM | WATCH LIVE |
| 11/19 | Wisconsin | Northwestern | Evanston, IL | 2:00 PM | WATCH LIVE |