Rising Star: 2022 Outside Hitter Mckenna Wucherer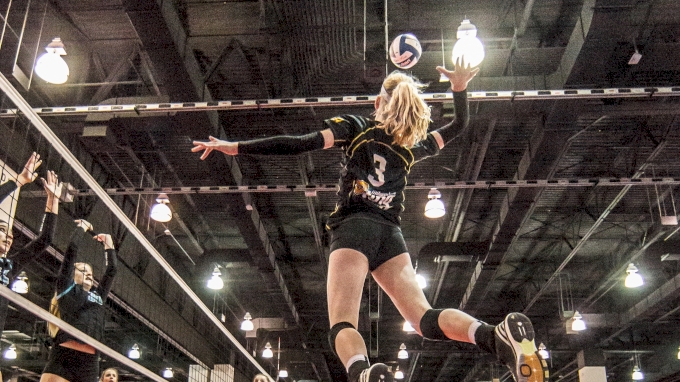 There are a few things you should know about Mckenna Wucherer. First, the "k" in her first name is lowercase, not uppercase. Second, her last name is pronounced "wook-er," and third, although she plays for the Milwaukee Sting 14s Gold team, she just recently turned 13 and is still in seventh grade.

The six-rotation outside hitter not only loves to pass, hit, and dig balls, she recently made some new friends over Christmas break when she attended the USA Holiday Indoor Prospect Training Camp in Tempe, Arizona. Wucherer was one of two nominees from the Badger region to attend the camp and was among 63 other prep athletes to receive top instruction in volleyball, nutrition, and the mental aspect of the game.

Mckenna is also the youngest of three girls who lost their mother to breast cancer in 2007. Although life is certainly different without the daily influence of her mother, Mckenna still dreams big dreams and hopes to someday play on the Olympic team, with the 2024 Games in her sights. In fact, she signs her emails with the tag line "dreams don't work unless I do."

--


Mckenna Wucherer
Position:
OH
Grad Year:
2022
Hometown:
Brookfield, Wisconsin
Middle School:
St. Joseph's Catholic School
Club Team:
Milwaukee Sting 14 Gold
What is your favorite thing about being an outside hitter?
I like to pass, and that's part of being an outside hitter. I like to hit all the shots and I like being a go-to hitter. I love hitting a cut shot in front of the 10-foot line.
Do you have a pregame ritual?
My team and I love to listen to pump-up music and dance around. Pump-up music is like just popular songs and some country that we like.
How long have you been playing volleyball and how did you get started?
My sister Miranda played, and I always wanted to be like her, so I started playing volleyball when I was 6 or 7. I thought it was a really competitive sport and you get to move around and dive.
Who inspires you?
My sister, Miranda. She works hard at anything she does, and in 2018, she is going to play Division I volleyball at Northern Kentucky University.
Do you plan on following in your sister's footsteps and play Division I ball?
I think that me working hard will eventually lead to that. It would be fun to meet new people and new coaches. I like when coaches are vocal, like telling me what I'm doing well or help me on the things I'm doing wrong.
What is your favorite place to visit?
Disney World in Orlando with my family.
Do you have a favorite Disney character?
Donald Duck--I just think he's funny.