Rising Star: 2020 OH/OPP Taylor Landfair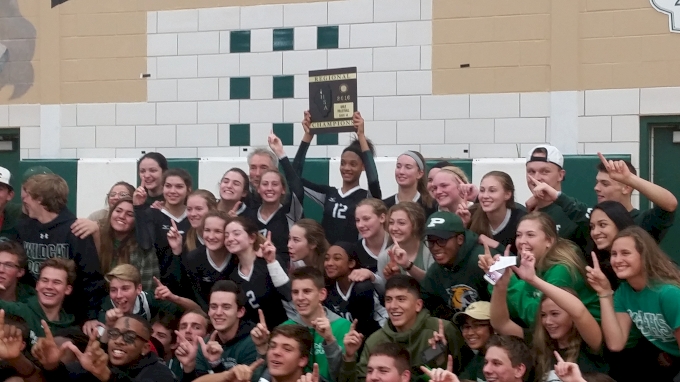 Fifteen-year-old Taylor Landfair is your typical high school freshman. She loves her hometown of Plainfield, Illinois: her house, her neighborhood, her school, and the kids who go there. She loves that her grandmother is a quick 10 minutes away and that the weather is "pretty good most of the time."

But, Landfair may not be typical for long. The 6-foot-4 outside hitter for Plainfield Central High School and SPRI Volleyball Club recently returned from a trip to China with her club team. It's not just her volleyball skills that are making noise in the prep volleyball world. Landfair boasts some pretty impressive athletic numbers as well, running a 20-yard dash in less than three seconds and touching 10 feet 9 inches on the vertex (that's 6 inches above the basketball rim for those who don't know).

The MaxPreps 2016 Underclass All-American is also well above the national average in every statistical category for high school ball, including hitting percentage, kills, digs, and aces. She plays for one of the premier volleyball clubs in the nation and has her eyes set on claiming an AAU championship this summer.

See Taylor Landfair in action with Sports Performance 18 Elite at the JVA World Challenge on April 7-9, streaming LIVE on FloVolleyball.

--


Taylor Landfair
Position:
OH/OPP
Grad Year:
2020
Hometown:
Plainfield, IL
High School:
Plainfield Central High School
Club Team:
Sports Performance 18 Elite
Do you have any lofty goals for volleyball in the next few years?
In the next few years, I want to go to college. Playing on the national team would be cool. Playing in the Olympics, that would be pretty cool. It would be pretty cool to win AAUs this year and carry it on the next three years. Yeah, that'd be pretty cool.
Do you have a pre-game ritual?
My team does a pre-game warmup an hour and 15 minutes early, 30 minutes across the net, 30 minutes passing, and 15 minutes of stretching--getting warm before a game gets me prepared. We also go over what the other team will do. Our coach does a scouting report, and we go to a conference room and go over what we will do as a team to prepare for their play.
What kind of music fires you up or helps you focus?
In the weight room we listen to "pump-up" music over the loud speakers, and that gets me pretty pumped up.
Who inspires you?
The other players that came through SPRI before; those who came before me that passed [the culture] down to us. Also, my mom is a big inspiration, because she introduced me to the sport and taught me the basic foundations like passing, serving, and hitting. She coached me before I started playing club and got me in love with the sport.
Do you have a motto or favorite quote?
Not just one, every day at practice we always do quotes. Someone from one of the teams will have a quote. They read it in front of the group, say who wrote it, and what they think it means. I usually think about that one quote during practice.
Where are you in the recruiting process?
I'm still in the beginning stage, focusing on my club season and AAUs. I'm talking to some schools like once a month, a few visits, but not trying to think about it too much.
What's one characteristic or feature that stands out about you?
My mom says I have a really good personality. I'm focused and determined to win on the court.
How to Watch the JVA World Challenge
On TV:
Now available on Roku and Apple TV 4 -- download the FloSports app today.
Streaming:
Available only on FloVolleyball with a monthly or yearly subscription. A yearly FloPRO subscription provides access to ALL FloSports sites.
SIGN UP HERE.
By Priscilla Tallman