Rising Star: 2020 USC Recruit Tommi Stockham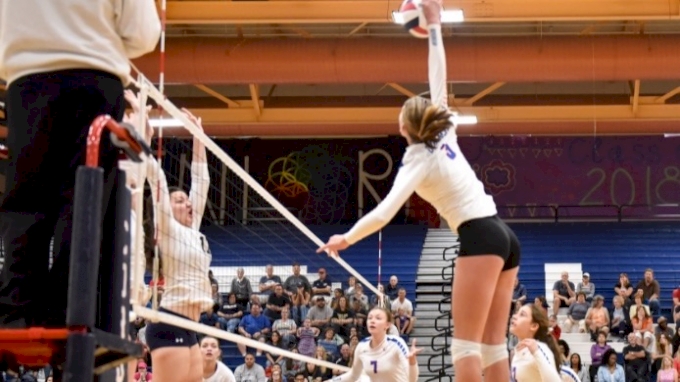 Most kids dread the ride to and from games with their parents but not Tommi Stockham. The 14-year-old outside hitter from Las Vegas doesn't mind talking shop with her dad in the car. Tommi (named after her maternal grandfather, Tom) has formed a close relationship with her father, a former collegiate and professional football player, making drive time productive--and valuable.

Although she put in years as an equestrian athlete before devoting most of her time to volleyball, the high school freshman spends less and less time in the ring and most of her time on the court these days. In fact, Stockham has established herself among the nation's best junior volleyball players, boasting an impressive 282 kills and a .337 hitting percentage in her high school season last fall at Bishop Gorman. She's committed to play both indoor and beach volleyball at the University of Southern California--the first athlete to commit to both for the university.

--


Tommi Stockham
Position:
OH/OPP
Grad Year:
2020
Hometown:
Las Vegas, Nevada
High School:
Bishop Gorman High School
Club Team:
Vegas Aces
What's your favorite thing about your position?
As an outside, I love being the primary outlet to feed the ball to. In school season, I play right side and in club season I play left. I like hitting one-on-one; you have more room to hit and more open court.
What is your pregame routine?
My team and I go outside, dance around, do a dynamic warm-up, pepper. I don't do anything individually; it's more with my team.
How about before you get to the gym? Anything you do personally to prepare?
I visualize playing volleyball. I usually drive in with my dad, so we'll talk about it before practice or a game.
Who inspires you or who do you look up to as an athlete?
Sara Hughes, she is a USC beach player. She has a great attitude and so much energy and looks like she's having fun and she goes for every ball. She's also fun to be around.
You just committed to USC for beach and indoor, what led you to that decision?
I toured other schools, but the vibe I got from USC seemed like the right fit for my family and me. I also thought it would be a cool opportunity to win a national championship for both indoor and outdoor, and if I already knew [I wanted to commit] then why wait?
How would your family describe you?
Athletic, weird, loud, nice, goofy.
How would you describe yourself?
I want to always be nice to others. I love being athletic and playing volleyball. I'm super competitive and crazy and goofy – how my family describes me.
Ice cream, cookies, or broccoli?
Ice cream, it's the best. I even named my dog after it, "Mint Chip."
By Priscilla Tallman