Completed

,

Sep 30-Oct 1, 2016
The 2016 Nike Tournament of Champions, hosted in the Salvation Army Kroc Center in Phoenix, Arizona, will feature 80 elite girls high school teams from around the country.


Show Results
: 2016 Nike Tournament of Champions
The Nike Tournament of Champions features 80 of the most elite high school girls' volleyball programs in the nation competing over two days.
Championship Day: Saturday
Day two of the Nike Tournament of Champions featured the bracket rounds.
The day kicked off with a bang with Mater Dei and Bishop Moore, the No. 1 and No. 2 teams in the country, meeting the Platinum/Gold bracket qualifier match. Mater Dei won the head-to-head matchup and advanced to Platinum, while Bishop Moore moved on to the Gold bracket.
Also in the Gold bracket was Santa Fe Christian, featuring top recruit Lexi Sun. Sun dominated the SF Christian offense, but was not able to keep her team from dropping matches to Gilbert and Walton.
Sacred Heart earned the day's top honor, defeating Corona del Sol of Arizona in the championship match. Florida-recruit Paige Hammons led the charge for Sacred Heart.
Another Florida recruit, Thayer Hall, impressed as she dropped bombs from the pins for her Dorman High School Team. The South Carolina squad finished seventh in Platinum, defeating Gilbert in the final round.
See the brackets below for full results.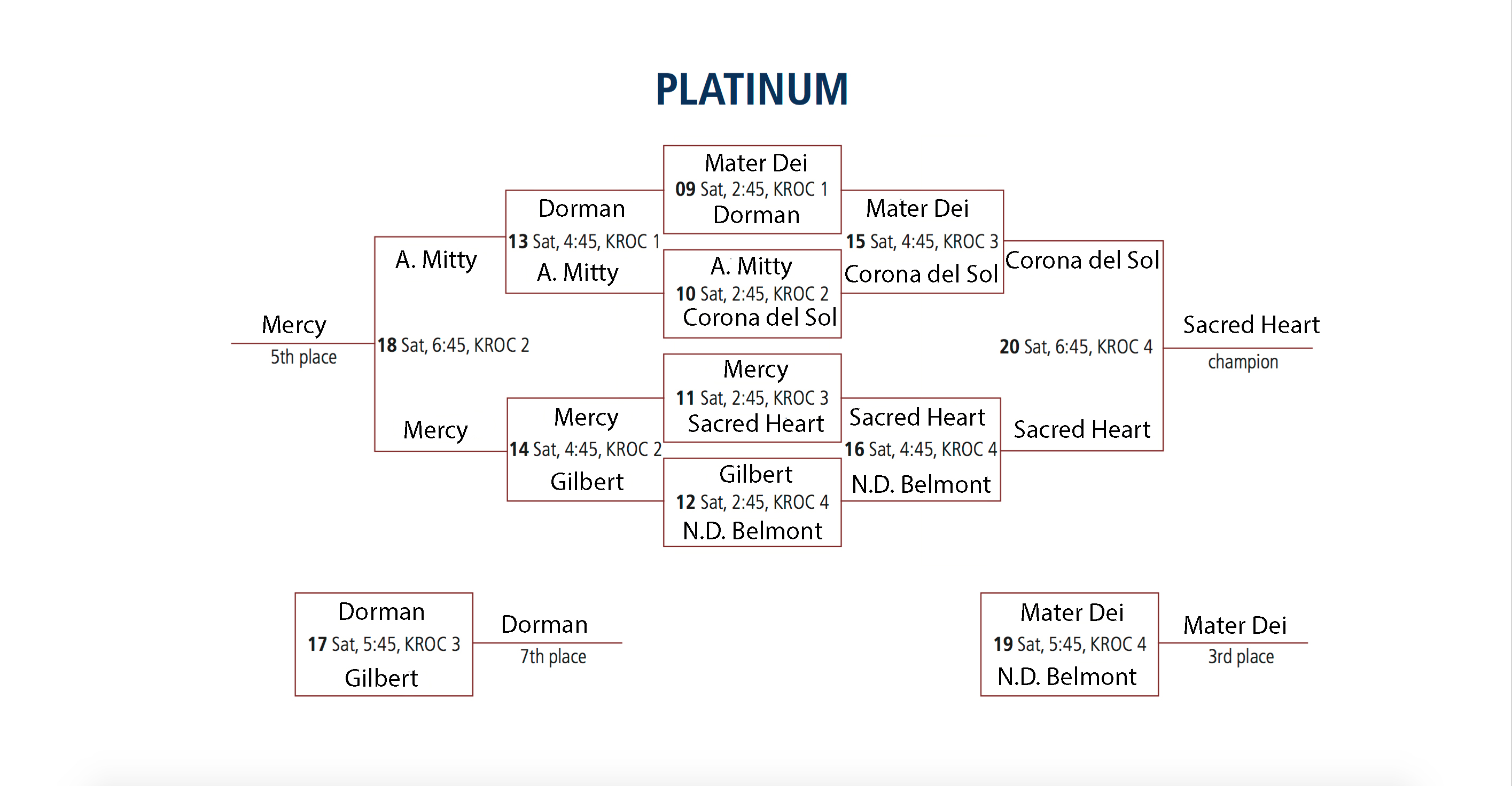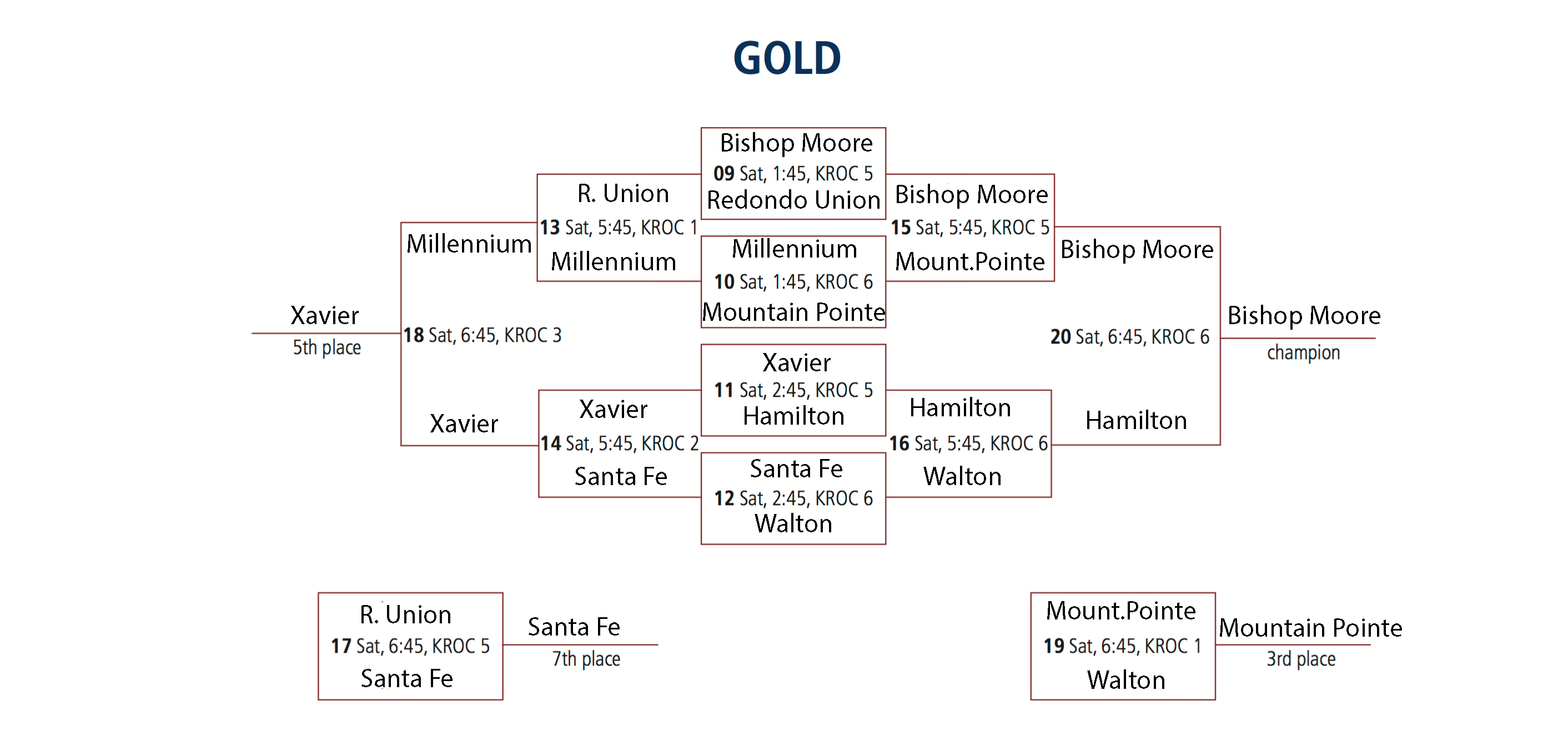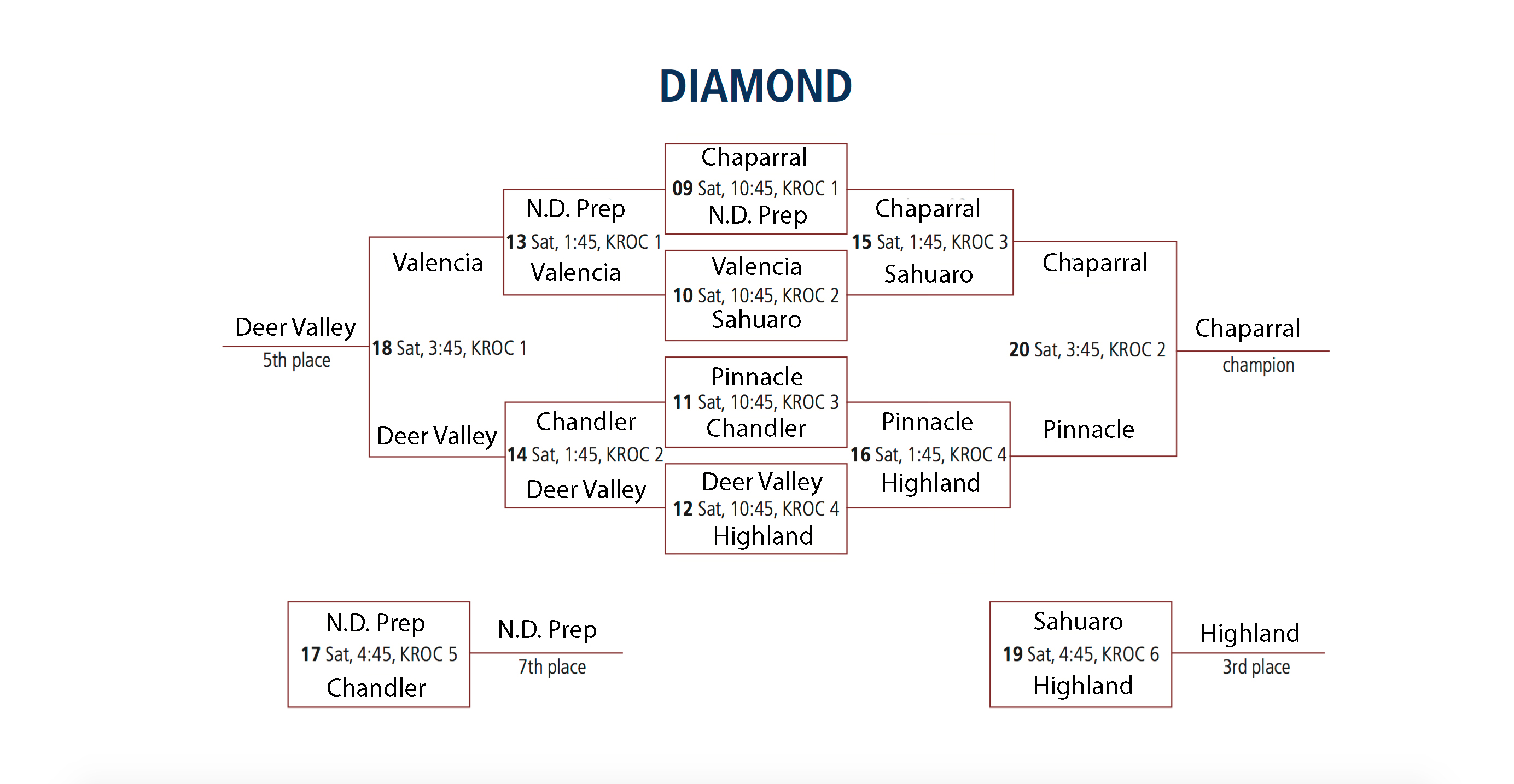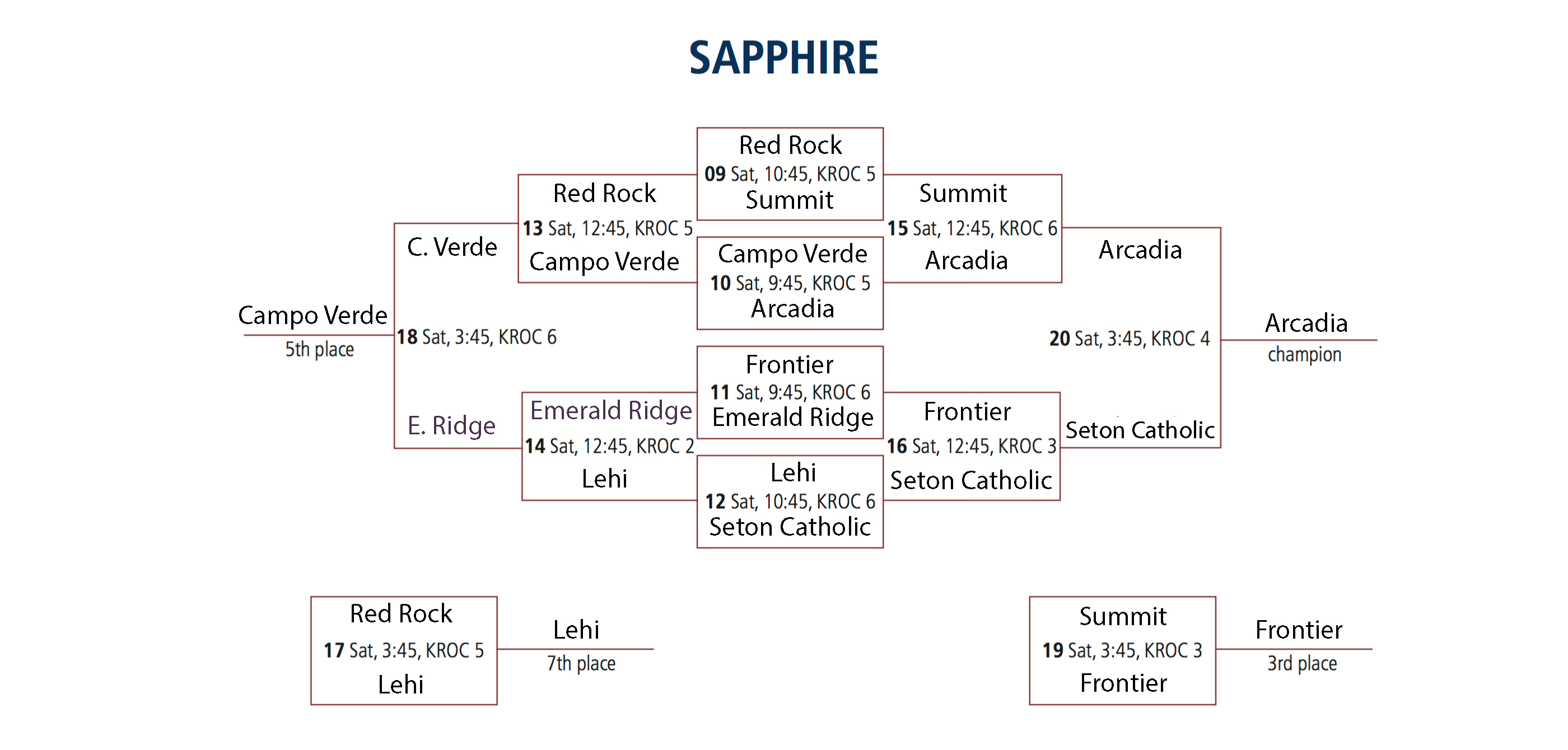 Pool Play: Friday

Day one of the Nike Tournament of Champions featured many exciting girls' high school volleyball matches. With 10 of the top 50 teams in the country competing, the level was top-notch. And that was never more apparent than in the very first round when Gilbert High School of Gilbert, Arizona, upset No. 1-ranked and previously undefeated Mater Dei.
No. 3-ranked Archbishop Mitty met its biggest challenge of the day versus Mercy of Louisville, Kentucky. Although the higher-seeded Mitty emerged with the victory, Mercy pushed the Northern California powerhouse to 16-14 in the third.
The nation's top recruit Lexi Sun helped her unranked Santa Fe Christian squad sweep Bishop Gorman of Las Vegas and then take No. 2-ranked Bishop Moore to three sets.
Tomorrow, tournament play begins, with the top teams competing in the Platnium and Gold brackets.
Make sure to tune in to FloVolleyball to watch all the action
LIVE
from the Kroc Center in Phoenix.

| POOL A | COURT 1 | |
| --- | --- | --- |
| HOME | AWAY | SCORE |
| Bishop Moore | Mesquite | 25-15, 25-20 |
| Santa Fe Christian | Bishop Gorman | 26-24, 25-13 |
| Bishop Moore | Santa Fe Christian | 26-28, 25-12, 15-8 |
| Mesquite | Bishop Gorman | 23-25, 25-14, 15-9 |
| Santa Fe Christian | Mesquite | 25-21, 25-12 |
| Bishop Moore | Bishop Gorman | 25-27, 25-15, 15-13 |
| | | |
| POOL B | COURT 2 | |
| HOME | AWAY | SCORE |
| Mater Dei | Gilbert | 21-25, 19-25 |
| Clovis | West Salem | 25-20, 26-24 |
| Mater Dei | Clovis | 25-22, 25-18 |
| Gilbert | West Salem | 25-11, 25-20 |
| Clovis | Gilbert | 10-25, 15-25 |
| Mater Dei | West Salem | 25-13, 25-13 |
| | | |
| POOL C | COURT 3 | |
| HOME | AWAY | SCORE |
| Archbishop Mitty | Desert Vista | 25-13, 24-26, 15-9 |
| Mercy | St. John Lutheran | 25-16, 25-19 |
| Archbishop Mitty | Mercy | 25-19, 20-25, 16-14 |
| Desert Vista | St. John Lutheran | 25-10, 25-15 |
| Mercy | Desert Vista | 25-19, 22-25, 15-9 |
| Archbishop Mitty | St. John Lutheran | 25-17, 25-21 |
| | | |
| POOL D | COURT 4 | |
| HOME | AWAY | SCORE |
| Xavier College Prep | St. Mary's Lancaster | 25-12, 25-9 |
| Millennium | The Bishop's School | 25-12, 25-13 |
| Xavier College Prep | Millennium | 25-14, 25-21 |
| St. Mary's Lancaster | The Bishop's School | 19-25, 7-25 |
| Millennium | St. Mary's Lancaster | 25-19, 25-7 |
| Xavier College Prep | The Bishop's School | 25-15, 25-21 |
| | | |
| POOL E | COURT 5 | |
| HOME | AWAY | SCORE |
| Sacred Heart | Sunnyslope | 25-16, 25-14 |
| Corona del Sol | Skyridge | 25-7, 25-20 |
| Sacred Heart | Corona del Sol | 25-8, 25-21 |
| Sunnyslope | Skyridge | 25-7, 25-23 |
| Corona del Sol | Sunnyslope | 25-19, 25-14 |
| Sacred Heart | Skyridge | 25-18, 25-14 |
| | | |
| POOL F | COURT 6 | |
| HOME | AWAY | SCORE |
| Hamilton | Mountain Pointe | 25-17, 17-25, 15-13 |
| Pope John Paul II | South Anchorage | 25-19, 25-12 |
| Hamilton | Pope John Paul II | 10-25, 27-25, 15-11 |
| Mountain Pointe | South Anchorage | 25-11, 25-5 |
| Pope John Paul II | Mountain Pointe | 25-27, 14-25 |
| Hamilton | South Anchorage | 25-11, 25-12 |
| | | |
| POOL G | | |
| HOME | AWAY | SCORE |
| Walton | Basha | 25-17, 25-15 |
| Redondo Union | Cheyenne East | 25-21, 23-25, 15-5 |
| Walton | Redondo Union | 25-19, 25-22 |
| Basha | Cheyenne East | 25-11, 25-21 |
| Redondo Union | Basha | 25-22,25-23 |
| Walton | Cheyenne East | 25-15,25-12 |
| | | |
| POOL H | | |
| HOME | AWAY | SCORE |
| Dorman | Horizon | 25-16, 25-22 |
| Notre Dame Belmont | Ironwood Ridge | 25-18, 25-18 |
| Dorman | Notre Dame Belmont | 26-24, 23-24, 15-10 |
| Horizon | Ironwood Ridge | 25-21, 25-15 |
| Notre Dame Belmont | Horizon | 25-19, 30-28 |
| Dorman | Ironwood Ridge | 25-12, 25-18 |
| | | |
| POOL J | | |
| HOME | AWAY | SCORE |
| Chaparral | Thunderbird | 17-25, 25-20, 15-10 |
| Faith Lutheran | Deer Valley | 25-21, 25-17 |
| Chaparral | Faith Lutheran | 25-17, 25-20 |
| Thunderbird | Deer Valley | 25-23, 25-21 |
| Faith Lutheran | Thunderbird | 25-13, 25-16 |
| Chaparral | Deer Valley | 25-12, 25-5 |
| | | |
| POOL K | | |
| HOME | AWAY | SCORE |
| Red Rock | Sabino | 20-25, 26-24, 15-12 |
| Lehi | Mayfield | 23-25, 25-20,15-12 |
| Red Rock | Lehi | 25-17, 20-25, 17-15 |
| Sabino | Mayfield | 25-22,25-21 |
| Lehi | Sabino | 25-17, 30-27 |
| Red Rock | Mayfield | |
| | | |
| POOL L | | |
| HOME | AWAY | SCORE |
| Frontier | Campo Verde | 25-23, 25-16 |
| West Anchorage | Thatcher | 25-21, 25-15 |
| Frontier | West Anchorage | 25-6, 25-18 |
| Campo Verde | Thatcher | 25-22, 25-18 |
| West Anchorage | Campo Verde | 25-17, 25-22 |
| Frontier | Thatcher | 27-25, 25-10 |
| | | |
| POOL M | | |
| HOME | AWAY | SCORE |
| Mesa | Valencia | 21-25, 25-9, 10-15 |
| Pinnacle | Tri-City Christian | 25-19, 25-23 |
| Mesa | Pinnacle | 20-25, 25-12, 15-13 |
| Valencia | Tri-City Christian | 25-17, 25-22 |
| Pinnacle | Valencia | 25-22,25-20 |
| Mesa | Tri-City Christian | 16-25, 25-19, 15-12 |
| | | |
| POOL N | | |
| HOME | AWAY | SCORE |
| John W North | Chandler | 25-15, 25-12 |
| Arcadia | Coronado | 25-19, 25-17 |
| John W North | Arcadia | 25-9, 25-13 |
| Chandler | Coronado | 22-25, 25-9, 15-11 |
| Arcadia | Chandler | 17-25, 25-19, 15-5 |
| John W North | Coronado | 6-25, 15-25 |
| | | |
| POOL O | | |
| HOME | AWAY | SCORE |
| O'Connor | Emerald Ridge | 24-26, 25-23, 15-13 |
| Sahuaro | Pacific Ridge | 25-18, 25-15 |
| O'Connor | Sahuaro | 27-25, 16-25, 10-15 |
| Emerald Ridge | Pacific Ridge | 22-25, 25-22, 15-9 |
| Sahuaro | Emerald Ridge | 25-21, 25-18 |
| O'Connor | Pacific Ridge | 25-11, 25-14 |
| | | |
| POOL P | | |
| HOME | AWAY | SCORE |
| Desert Edge | Highland | 25-21, 18-25, 15-13 |
| St. Paul | Summit | 25-21,15-25, 15-11 |
| Desert Edge | St. Paul | 23-25, 25-19,15-13 |
| Highland | Summit | 25-20, 25-21 |
| St. Paul | Highland | 25-14, 25-23 |
| Desert Edge | Summit | 25-23, 22-25, 12-15 |
| | | |
| POOL Q | | |
| HOME | AWAY | SCORE |
| Valley Christian | Legacy | 17-25, 25-21, 15-10 |
| Notre Dame Prep | Seton Catholic | 25-17, 25-22 |
| Valley Christian | Notre Dame Prep | 23-25, 22-25 |
| Legacy | Seton Catholic | 21-25, 25-20, 16-14 |
| Notre Dame Prep | Legacy | 25-14, 22-25, 15-5 |
| Valley Christian | Seton Catholic | 13-25, 25-19, 8-15 |
| | | |
| POOL R | | |
| HOME | AWAY | SCORE |
| Centennial | Paradise Valley | 11-25, 13-25, 15-8 |
| Dobson | Clark | 25-8, 25-13 |
| Centennial | Dobson | 25-8, 25-15 |
| Paradise Valley | Clark | 25-14, 25-20 |
| Dobson | Paradise Valley | 25-22, 24-26 |
| Centennial | Clark | 25-5, 25-6 |
| | | |
| POOL S | | |
| HOME | AWAY | SCORE |
| Mountain Ridge | Agua Fria | 25-22, 25-12 |
| Durango | Sweetwater | 25-6, 25-14 |
| Mountain Ridge | Durango | 25-20, 25-17 |
| Agua Fria | Sweetwater | 25-11, 25-8 |
| Durango | Agua Fria | 25-20, 23-25 |
| Mountain Ridge | Sweetwater | 25-15, 25-17 |
| | | |
| POOL T | | |
| HOME | AWAY | SCORE |
| Desert Mountain | Ridgefield | 25-23,19-25, 12-15 |
| Buena | Casteel | 15-25, 24-26, 15-11 |
| Desert Mountain | Buena | 25-18, 25-12 |
| Ridgefield | Casteel | 25-14, 25-16 |
| Buena | Ridgefield | 16-25,12-25 |
| Desert Mountain | Casteel | 25-11, 25-17 |
| | | |
| POOL U | | |
| HOME | AWAY | SCORE |
| Chugiak | Rancho | 25-22, 25-21 |
| Valley Lutheran | Goldwater | 14-25, 23-25 |
| Chugiak | Valley Lutheran | 25-15, 20-25, 15-11 |
| Rancho | Goldwater | 25-23, 25-12,15-17 |
| Valley Lutheran | Rancho | 18-25, 15-25 |
| Chugiak | Goldwater | 25-20, 7-25, 16-14 |