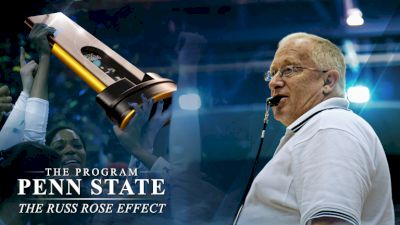 The Program: Penn State (Trailer)
Dec 7, 2016
Penn State volleyball. When you hear it, when you say it, you immediately think winners. Champions. And you think: Russ Rose.
This historic program has reached unparalleled success due largely to Rose, who is currently in his 39th season as head coach in Happy Valley. Rose is the winningest Division I women's volleyball coach in the country, and under his leadership, Penn State has won seven national championships, more than any other NCAA program.
The Nittany Lions also lead the Big Ten, arguably the strongest volleyball conference in the nation, with 16 league championships. Many records have been set by Rose's program over the years but few are as impressive as Penn State's four straight national championships from 2007-10 and a 109-match winning streak that shattered the previous NCAA mark. Around Rose, a tradition has been built that is unlike any other.
FloVolleyball's original two-episode series "The Program: Penn State" goes all the way back to when Rose first took the Penn State job in 1978 and chronicles the way he's forged the program's success over the years, producing elite athletes and championship teams with an unrivaled frequency.