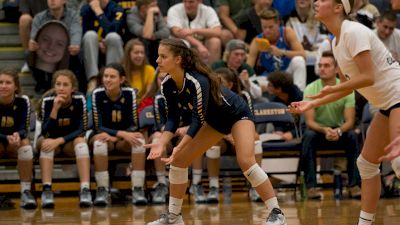 Rising Star: 2018 DS/Libero Jennifer Chupinsky
Mar 20, 2017
Legacy 17 Elite of Michigan finished third in 17 Open at the JVA Rock 'N Rumble and won the Central Zone Invitational. Competing in the 18 Open division at the Mizuno Sports Performance Presidents' Day, the talented group of high school juniors didn't drop a set until the championship match on its way to a runner-up finish.

One key member of this lights-out squad is Jennifer Chupinsky. The 5-foot-5 defensive specialist who attends Clarkston High School knows that her position isn't the one that gets all the glory--especially not with Michigan Gatorade Player of the Year Erin O'Leary quarterbacking the offense and Division I-committed hitters Maria Mallon, Abbey Malinowski, Lauren Wenzel, and Chandlar Duff dropping bombs from the front row--but Chupinsky knows there's nothing like stopping the opposing team from scoring thanks to a clutch dig.

"Usually the hitters get all the credit, but when you make a really, really good dig, everyone is just so into it and so energetic," Chupinsky said. "I just love that feeling of I made this play, still go on, and I'm the reason that this is going to be our point."

Although she describes herself as clumsy, Chupinsky looks anything but on the court. A formidable server and smooth defender, it was all too easy for us to put together a highlight reel from our Mizuno Sports Performance Presidents' Day Challenge archives.

Chupinsky is uncommitted, a rarity on her team that ranked in the top 10 of our most recent Flo50 17s ranking, but she wants to play in college and hopes to major in pre-med.

--


Jennifer Chupinksy
Position: DS/L
Grad Year: 2018
Hometown: Clarkston, Michigan
High School: Clarkston
Club Team: Legacy 17 Elite


How did you start playing volleyball?

I quit gymnastics when I was like 11, and the two sports I was deciding between were volleyball and soccer. My soccer team fell apart, and so I just went right into volleyball when I was 13.


What is your greatest strength on the volleyball court?

I get really, really energetic. I'm a very energetic person as it is, and so if we're in a slump or we're kind of down, I can really bring my team up. It's a contagious personality, so everyone starts to get really energetic.


Tell us about your club team Legacy 17 Elite.

I moved up a level [this season] so I'm on this amazing team now and all the girls are so fun and the coaching's great. Playing with such an intense and high-level team has been the most fun I've had playing volleyball in the five years I've been playing.


Where are you in the recruiting process?

I've emailed a couple of schools. I've always wanted to play DI, but most of the time it's DII and DIII schools that have contacted me. I'm hoping for a DI school to email me back and say they're interested, but I'm looking more towards DII, I think.


What school is at the top of your list?

I really liked Grand Valley. I've gone and visited their campus and everything.


What would be your dream school if you could play anywhere?

Honestly, Michigan State. [I grew] up as a Spartan.


What are you looking for in a school?

Strong academics. I want to go into pre-med, which is I know really, really hard and it's a really hard program to get into. So I definitely want a strong school with a good med program. And then small enough classes to where I can get one on one with the professor when I need to and I can really like thrive academically. Volleyball-wise, I just want it to be a fun team, good year.


What is your family like?

Oh, boy. My family is crazy. They're a bunch of fun-loving people. We have the most random traditions that we do. We'll watch MMA together as a family.


How did you guys get into MMA?

My parents used to watch it and I came down one night and they were just like, 'Oh, you can't watch this.' But I kept coming back and just looking through the counter trying to watch it, and then we just ended up watching when we eat dinner.


How would your friends and family describe you?

High energy, clumsy, and a big personality. Fun, I would hope, and adventurous.


What's your favorite food?

This is going to sound really weird but any meat. I just love all the protein.


What are your volleyball superstitions?

I have very weird superstitions. I will eat half of a Subway sandwich before every match we play, and then during every set I will eat a Snickers bar on the bench.


How did that start?

When I first started playing I would just eat normal breakfast food, and I would just play terribly and then one day I had a Subway before I played just because it was an afternoon game and it was probably the best game I'd had all season. So my family and I were like we need to do this. And then with the Snickers bar, I get low blood sugar sometimes while I'm playing and so just to always have that quick sugar, really fast, just helped a lot with my playing.


What if there's no Subway where you're playing?

It's never happened so far.


What's your most treasured possession?

My dogs. I love them; they're my babies. I have a miniature pinscher with three legs and a toy Yorkie who's in a diaper because he hurt his back.