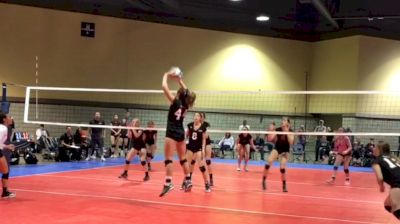 Rising Star: 2020 Setter Cassandra Newman
Jul 5, 2017
Setters who have good court sense and can read the game well usually have pretty happy hitters. Cassandra Newman, a 5-foot-10 righty out of San Clemente, California, thinks knowing where and when to set is one of the main strengths of her game.

Dedicated and hardworking, Newman started playing volleyball at the age of 11. She hopes to continue playing at the collegiate level and is inspired by her two sisters (she plays on her high school varsity team with her sister, Sam) and her brother (a football player at Cal Berkeley).

At AAU National Championships, Newman played up on A4's top 17s team, winning bronze in Premier and earning a spot on the All-Star team. A week later, her 15s team won the title in 15 American at USA Volleyball's Girls' Junior National Championships, and she was awarded the division's MVP honor.

--


Cassandra Newman
Position: Setter
School: San Juan Hills High School
Hometown: San Clemente, CA
Club Team: A4 Volleyball
Grad Year: 2020


FloVolleyball: What is your favorite thing about playing setter?

Newman: I like to be able to set up my hitters so they can kill the ball. Being able to know what to set and when and taking the initiative.


When did you start playing volleyball and why?

I started playing when I was 11, so I played two years of 12s. I was influenced by both my sisters who played. One of my sisters is still playing, and we play varsity together in high school.


Do you have any pre-game routines or anything that helps you focus?

I'll set against the wall or ask one of my teammates to set with me to warm-up. I also try to get mentally prepared and hyped. Sometimes I listen to fast music or jump around and get excited with my teammates.


Who inspires you?

My brother, he's an athlete. His work ethic inspires me. He's playing football at Cal Berkley. Also Alisha Glass, she has beautiful hands and can run down a ball easily.


What's the best part about being on your team?

My teammates! We're all together and want to win and we do it together. When we lose, we are all there for each other. We are all just like family.


Do you have a favorite quote or life saying?

"Make a difference." I was down and one of my teammates said to me: "Once you walk on this court, make a difference, doesn't matter how, just make a difference." It's like going after every ball or helping someone out on the court to maybe help change an attitude--everyone can have that mentality to make a difference.


How would your friends and family describe you?

Dedicated, hardworking, and crazy, probably. That's where I got my nickname "Crazy Cat."