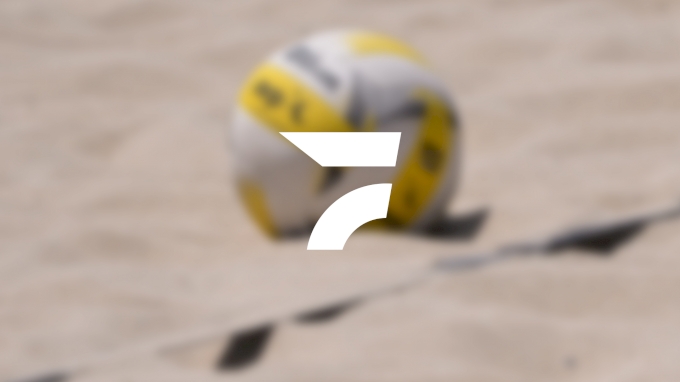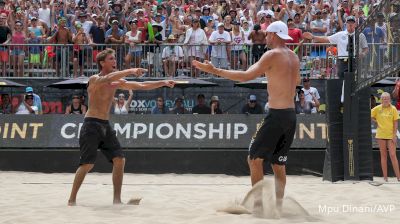 Jake Gibb And Taylor Crabb Win Battle Of Former Partners At AVP Hermosa Beach
Jul 24, 2017
In any sport, the stakes are elevated when opponents share a history. Between the four men on the court for the championship match of the 2017 AVP Hermosa Beach Open in California over the weekend, there was literally a lifetime of connections, emotions, and baggage. The fierceness of the competition on the court reflected that.

Jake Gibb and Taylor Crabb ultimately won the men's title over Sean Rosenthal and Trevor Crabb in three sets: 21-16, 17-21, 15-11. Taylor and Trevor, as the shared last name might hint, are brothers and former partners, and they played most of the 2015 and 2016 seasons together. Rosenthal and Gibb are also former teammates, partnering from 2006 to 2012, and competing in two Olympics together.


"That definitely was a really fun energy match because Rosie's like a brother to me," Gibb said after the match. "We golf a lot together, we're close, our families are close and playing together for seven years, two Olympics together, he's one of my closest friends, so that was really special."

"Trevor is like a brother to me, too," Taylor quipped.

To add to the drama, the championship wasn't the first time the two teams met during the tournament. Taylor and Gibb beat Rosenthal and Trevor in the third round of the winners' bracket to punch their tickets into the semifinals. Trevor and Rosenthal were then forced to win an additional match in the contenders' bracket before making the crossover back into the semifinals.

"Most importantly, it's that Jake and I won as a team together," Taylor Crabb said after the final. "It's our second win together and I'm thrilled that I have him as a partner. I have the utmost respect for him as a player and as an athlete and I'm just excited for this year and what we've accomplished so far."


The 41-year-old veteran Gibb appreciates the change of pace the 25-year-old Taylor Crabb provides.

"The young kid is honestly, he honestly calms me. I get so anxious because I want to win so bad that sometimes I can't contain myself, and I look over at him and I feel like he's not even breathing hard."

That calming spirit was much-needed in the championship match, as Taylor and Gibb had to rally back after Trevor and Rosenthal got off to a fast start, holding a 12-9 lead at the technical timeout.

"They came out with a lot of energy. They had the Rosie's Raiders behind their back, but we knew it was a long match, a long set," Taylor said. "At the technical timeout we took a breath and said, 'Ok, let's weather the storm, and we came out of that technical timeout pretty strong.'"

Strong enough to win the first set, but Rosenthal and Trevor reclaimed the momentum in the second, sending the match to a third.


"It was kind of crazy, that match, the back and forth, right?" Gibb said. "It wasn't like we got the lead early and just held it. Sometimes you can do that, but we had to grovel and fight and just try to figure out the game, win the chess match while you're out there. We had to just kind of work some things out, and some of the stuff that Rosie did out there is going to be on YouTube for a while. He is ridiculous, so I'm just really proud of my guy and really happy for our team."

Taylor Crabb and Gibb got one night to celebrate their victory before boarding a flight to Vienna for the FIVB World Championships. Although they're feeling good about their victory in Hermosa Beach, the pair admitted that the world tour is a whole other animal. New ball, new teams, new location.

"We've got to reset and refocus and restart," Gibb said. "We know we're playing well, but we've got to clean some things up, too. I mean, it's not like we exactly dominated them out there, we won by two points or whatever. To be honest, it's just a full reset."

For Rosenthal and Trevor Crabb, the sting of the loss might have been slightly dulled by an appearance on ESPN's SportsCenter Top 10. We'll let the video speak for itself.


Since they didn't have the points to qualify for Worlds, Trevor and Rosenthal will stay home and train for the Manhattan Beach Open, where we might see yet another Crabb vs. Crabb battle.